Anna-lee Kewley's profile
Anna-lee Kewley's Profile
About
Mooooooo mooo moooo Anna, I believe that's cow for Hello my name is Anna!

I own & run Baby Moo's, after the birth of my son in 2010 I was so fed up of the pastel offerings in the UK shops, that something just had to be done about it!
I gathered up just short of £250 & so it begun.....

Now multi-award winning & having been featured in numerous UK media publications, things have grown & I am now unable to sew all my designs due to time constraints but do still design them, a new design can take 3-4 months from sketching & sending the manufacturer the specs , although our printing is still kept in house & done by my good self.
Female
Joined January 17, 2011
Bournemouth, England, United Kingdom
Shop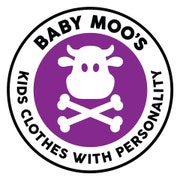 BabyMoos
Baby Moo's : Unique Baby & Toddler...