The Zipper Lady's profile
The Zipper Lady's Profile
About
Heather Merritt of Ortonville Michigan is the talent and creative mind behind Re-Zip It! Through her love for art, design, fashion and recycling she creates unique pieces using recycled vintage zippers. Her journey began while working as a therapist, treating substance abusing offenders. She realized that she needed a healthy stress release and a way to process all the negative energy that she dealt with on a daily basis. This is where her art work allowed her to release all her negative energy through expressing her feelings and emotions in a positive manner. Creating beauty out of something so unappealing, just like she did in therapy.
Female
Born on February 10
Joined June 2, 2008
Favorite materials
Ortonville, MI, United States
Shop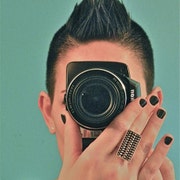 Rezipit
Recycled vintage zippers transformed into...