Brian Kainulainen's profile
Brian Kainulainen's Profile
About
I recieved my Bachelor of Fine Arts degree from Michigan State University, East Lansing, MI in 2004 with a primary concentration in Painting and secondary concentration in Graphic Design. I worked as a Computer Artist for Dart Container Corporation for about a year after graduation. Then, my wife and I moved to Scottville. I worked as a Graphic Artist for Oceana's Herald-Journal (weekly newspaper for Oceana County, MI) for about 2 years, but now I am getting back in touch with my Fine Arts side and trying to make a living selling my work. I have a renewed energy toward making art and am finding myself, as an artist, through Photography. I live, and work, on a 50 acre farm in Scottville, MI with my beautiful wife, Gwyn, our twin boys Kieran and Niko, our dog, Olivia, horses Elsa and Max, and pony, Sugar.
Male
Born on May 7
Joined November 13, 2008
Scottville, US,
United States
Shop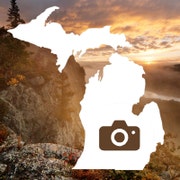 bwana
Michigan photography by award-winning...