Carol Sloan's profile
Carol Sloan's Profile
About
I am a mixed media artist living in SC, USA.

I love to spend my time experimenting with different techniques and mediums. I often approach my art in a "mad scientist" sort of way.

One of my favorite things to do is draw.
I found that using my drawings to make Thermofax (screen print) screens is a great way to share the creative images that I draw and help people that do not draw to have unique images to print.
I also provide vintage (copyright free) images on Thermofax Screens.
I also love rusting fabric and other items to use in my art and to sell for use by other artists.

Visit my blog at www.carolbsloan.blogspot.com to see more of what I create!
Female
Joined March 29, 2007
Favorite materials
Piedmont, SC, United States
Shop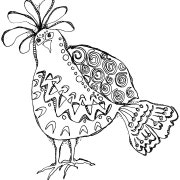 carolsloan
Creative thermofax screens for DIY screen...