Deb Anderson's profile
Deb Anderson's Profile
About
Visit my blog! debrha.wordpress.com

The more I paint the more I love it. In between freelance graphic design jobs and family duties, I try to complete one painting a week, more or less. I also enjoy teaching, filling up sketchbooks, gardening, permaculture, photography, and general diy.

There's a book about the artist Robert Irwin called "Seeing is Forgetting The Name of the Thing One Sees". While my work is nothing like his, I hang onto that phrase when I'm painting, looking at something carefully and long, and losing myself in it, and finding a new sense of awareness and wonder in a carrot or a petal, or whatever it is.

Thanks for stopping by!
Female
Born on November 28
Joined August 29, 2008
Favorite materials
Oil paint, pencil, sketchbook, acrylics, watercolor, digital media, photography
Glenview, IL, United States
Shop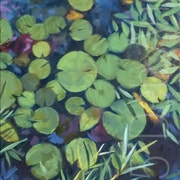 debrha
Deb Anderson, oil paintings