Rachel Rode's profile
Rachel Rode's Profile
About
Welcome to Dirt Rode Boutique! I'm Rachel Rode. Welcome to my virtual vintage camper full of beautiful vintage goodies and handmade treasures (made by me!) www.dirtrode.etsy.com

Here are some random things I have learned...

God loves all people, regardless of where we've come from.
My husband has unbelievable patience.
My children's laughter is musical and precious.
Robin eggs, furry animals, pink roses, cinnamon bears, big yellow sunflowers, cozy fireplaces, English ivy, and Tom Hiddleston make me happy.
Gardening is therapeutic.
Laughter heals.
Kitty cats are furry walking hug monsters.
I stink at video games.
Snow is awesome if I don't have to go in it.

Female
Born on May 19
Joined December 21, 2010
Mokena, IL, United States
Shop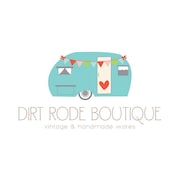 DirtRode
Handmade Gifts and Vintage Finds