John Philbin's profile
John Philbin's Profile
About
I've been exploring this planet for several decades . I've traveled the oceans and several continents. Wow, the people and things I've viewed with my own eyes! Amazing!

I am amazed at the waste of resources in our society over the years. It has been my experience in the later part of the twenty first century that very few products are made with a long life expectancy in mind.

It has become a disposable society. Part of my criteria for my purchases are how well it's constructed and will it last longer than ten years if I take care of it. This is part of what brought me to Etsy's, to create a shop to repurpose unique, long lasting, vintage products.
Male
Born on April 9
Joined July 21, 2010
Favorite materials
Exotic Woods, Brass, Gold, Copper, Glass, Cork, Bamboo, Sapphires, Jade, Silver
Shop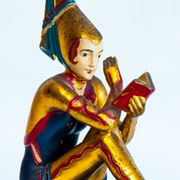 DPSEstates
Unique, Vintage, Eclectic Estate Treasures