carrie's Profile
About
I love to crochet and knit both. I have been crocheting for almost 30 years now thanks to my grandmother who could use both hands. My mother tried to teach me for a very long time and could not do so as she was right handed. My grandmother offered to teach me and did a wonderful job at it. I love to design items and how I feel when an item is complete. I taught myself to knit about 20 years ago, funny thing is that I knit right handed. Over the years I have learned that I do some things better left handed and others right handed.

My family has been telling me for years now that I should sell the stuff that I make as they feel I have a god given talent when it comes to crochet and knitting. So here I am hoping that people like my creations as much as my family and friends do.
Female
Joined August 2, 2010
Favorite materials
Creswell, OR, United States
Shop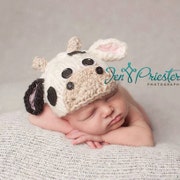 garysangel
Newborn hand knit and crochet Photography...