DL's Profile
About
Born and raised in Chicago IL, currently living in Los Angeles CA. BFA Pratt Institute 1998 in fashion design. Will always be a New Yorker at heart after spending nearly 20 years in Manhattan and Brooklyn. Loves animals, french avant-garde cinema, Woody Allen, psychedelic and classic rock, fine antique jewelry and mineral crystals.

WWW.INGRAMCECIL.COM

stockists:
milly & earl
351 graham ave
brooklyn ny 11211

Jewelry designs in this shop and photos are the sole property of Ingram Cecil and cannot be used or reproduced in any way without permission.
© All Rights Reserved.
Female
Joined December 21, 2008
Favorite materials
GOLD DIAMONDS ROSEGOLD MOONSTONES PLATINUM OPALS ANYTHING MINECUT ANYTHING ROSECUT xx
Los Angeles, CA, United States
Shop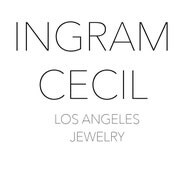 INGRAMCECIL
INSTAGRAM: INGRAMCECILJEWELRY BASED IN LOS...