Jennette Reid's profile
Jennette Reid's Profile
About
Crochet has typically had a stigma as something "Grandmother's" do (Mine sure did), and that's just awesome and totally fine by me!

I live for ugly sweater parties and constantly proclaim that I can't wait to be a rockin' granny who is aloof and can unapologetically run people over with my shopping cart! But for now, I will settle for being me. A 31 year old, mother of two, software tester by day, yarn junkie by night with a complete and utter passion for Crochet (...also for reading, bunnies, and zombies.. but that's another story entirely).

I want to say "this isn't your grandmother's crochet". But, guess what! It totally is, and that's OK!
Female
Born on October 30
Joined October 7, 2009
Favorite materials
Shop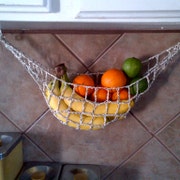 MeAndMyHook
Home of the Original Banana Hammock & More!