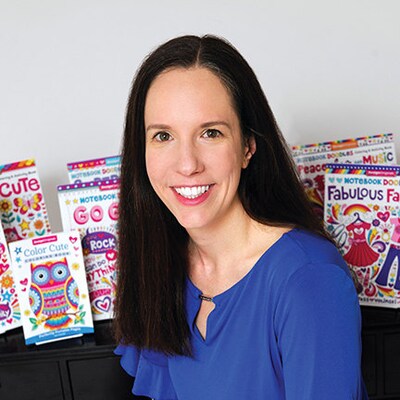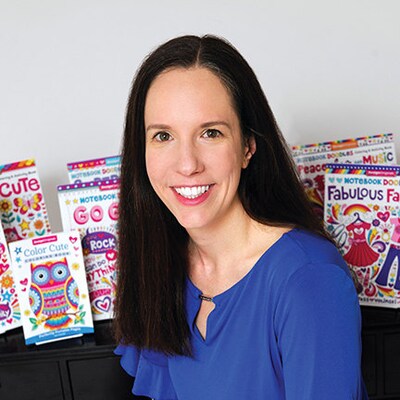 About
Hi there! My name is Jess Volinski (but you can call me Jess V). I'm an illustrator and writer on a mission to encourage creativity and make folks smile!



Inspired by all things cute and colorful, my work is super positive and sometimes a little silly. I'm a sucker for animal puns and …a sticker obsessive.

In addition to Totally Super Cute, I'm also the creator of the popular Notebook Doodles® tween coloring & activity book series that can be found at Michael's stores.

After working for three years straight on back-to-back coloring book contracts (phew!), I decided in 2018 it was time to finally start the product brand I'd been dreaming of for years. And so Totally Super Cute was born! Featuring coloring products including cards, planner inserts, postcards, bookmarks and posters as well as colorful stickers, cards, and wall decor- all in my signature Notebook Doodles style- TSC is all about three things: COLOR, CREATIVITY, and CUTENESS!!!

Follow me in Instagram to see my creative process:
www.instagram.com/jessvolinski

Thanks for stopping by! I hope you find something here you love.

Jess ♥


P.S. For 15% off your order, please join my email list right now!
eepurl.com/dvEiXL
Thank you so much for joining! I promise you will actually want to open them when they pop up in your inbox. :)
Joined July 19, 2007 Contact
Jess V.
Hi there! My name is Jess Volinski (but you can call me Jess V). I'm an illustrator and writer on a mission to encourage creativity and make folks smile!



Inspired by all things cute and colorful, my work is super positive and sometimes a little silly. I'm a sucker for animal puns and …a sticker obsessive.

In addition to Totally Super Cute, I'm also the creator of the popular Notebook Doodles® tween coloring & activity book series that can be found at Michael's stores.

After working for three years straight on back-to-back coloring book contracts (phew!), I decided in 2018 it was time to finally start the product brand I'd been dreaming of for years. And so Totally Super Cute was born! Featuring coloring products including cards, planner inserts, postcards, bookmarks and posters as well as colorful stickers, cards, and wall decor- all in my signature Notebook Doodles style- TSC is all about three things: COLOR, CREATIVITY, and CUTENESS!!!

Follow me in Instagram to see my creative process:
www.instagram.com/jessvolinski

Thanks for stopping by! I hope you find something here you love.

Jess ♥


P.S. For 15% off your order, please join my email list right now!
eepurl.com/dvEiXL
Thank you so much for joining! I promise you will actually want to open them when they pop up in your inbox. :)
Joined July 19, 2007 Contact
Jess hasn't made any lists... yet.