Jorie Jenkins' profile
Jorie Jenkins' Profile
About
Born and raised in Chicago, I relocated to Ann Arbor Michigan for eight years, and started an art business there, appearing at the . I moved to Portland in 2013 and presently work as both a personal fitness trainer and mixed media artisan.

I had many majors (and minors) in college including Theater Arts, Music, Voice, Fine Art and Creative Writing. In the end I embraced the idea of experience over a formal education and have been living a carefree but simple life to the fullest ever since.

Heavily influenced by a nearly constant presence of children in my life, I believe my work reflects the whimsy, imagination and play that is so omnipresent in the true child.

Influences include Betty Nelson Daniels, Hayao Miyasaki, Remedios Varo, the stories of Little Orley and Uncle Remus, Brian Froud and The Muppets.
Female
Born on September 7
Joined May 2, 2008
Portland, OR, United States
Shop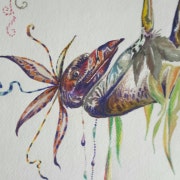 jorie74
Jorie Jenkins : The Feathabees & Fantasy Folk