Kate Winter's profile
Kate Winter's Profile
About
I am an artist, writer and polytheist living in the Pacific Northwest. I don't own a car, I have over thirty tattoos, I'm fascinated by poison plants, my favorite movie is Labyrinth and I have a penchant for YA fantasy novels. I am slowly teaching myself German. When not scavenging for vintage treasures, I am most likely to be found walking through an alley looking for hidden passages, exploring the small patches of magical woodlands scattered throughout my city, photographing mushrooms, or carrying too many books out of the library.
Female
Born on October 24
Joined December 4, 2013
Favorite materials
Eugene, OR, United States
Shop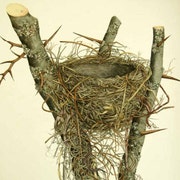 MagpieRook
Vintage Treasures from the 1880's to...