Matejka's Profile
About
Imagine the delight of finding a treasure trove of art you never knew existed?
No one from my generation of my family had any idea that my paternal grandparents, Margaret Noble and Douglas Maxfield, had been such talented artists, so it was a real surprise to find rolled up, stacked and stuffed into an attic cupboard of a cottage in Wales a feast of gems from the Art Deco period that had been hidden away for over seventy years...

Article published in bestofbritishmag.co.uk in July 2007, written by their granddaughter.

So, what you can find in my shop are the prints of an original paintings made in 1920s and 1930s by my husband's grandparents. They are really one of a kind and you can find them just at Natty Matty´s.
Female
Joined July 8, 2010
Shop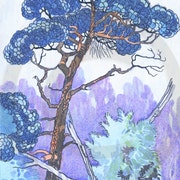 NattyMatty
Art Deco - Style Moderne - 1920s Glamour