Alina Baty's profile
Alina Baty's Profile
About
Born in the heart of the Mission District of San Francisco, upcycled vintage meets hand-crafted DIY. The Ragabond clothing line specializes in topshelf and refashioned vintage as well as handmade eclectic threads. Ragabond isn't just vintage clothing; we take it to a whole new level. Our pieces are selectively sourced from all over the country. We scour through tons of clothing to find the most original, rare and authentic items we can. However, this is only the initial phase in the whole process of Ragabond productions. Each piece is carefully inspected and then revamped to meet the highest standard of style, quality, and originality. We put a great deal of love and care into our collections so that each piece retains a timeless value.
Favorite materials
Lace, Chiffon, Crochet, Fringe, Velvet, Burnout, leather, metal, applique
San Francisco, California,
United States
Shop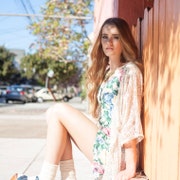 Ragabond
Vintage, Upcycled & In-house Designs by...