Kristen Symons' profile
Kristen Symons' Profile
About
Many people are surprised when they discover that I quilt. I have always been a wild child, a misfit of sorts. I have monster and vampire tattoos and listen to loud music. I have a fascination with comics, Star wars, and horror movies. I guess I don't look like the "type," but I have always set out to break stereotypes. I like to color outside the lines. I am a rule breaker. I am not a traditional quilter. I make quilts that I would want for myself. I don't make Grandma's quilts. No offense, Grandma.
Female
Born on September 5
Joined July 27, 2011
Columbia, South Carolina,
United States
Shop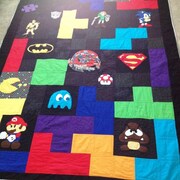 quiltyninja
The Quilting Ninja- A Geek with a Sewing...