Tracy's Profile
About
I live in rural Ireland, near a village that is near a town that is near a city. I love making things, be it food or fabric or art or craft...or mischief.
I'm a Mam, a wife, a daughter, a sister, an aunt, a godparent, a friend. I'm a cat owner, a dog Mammy, a chicken keeper, a vegetable gardener. I'm a teacher and a learner.
I am at my happiest when I am making something, especially when it's a gift for someone or to welcome loved ones.

Female
Joined January 25, 2012
Favorite materials
Pure wool, wool felt, linen, cotton yarn, ceramic buttons, vintage buttons, vintage ribbon, found treasures, ric rac
Shop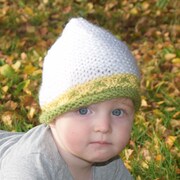 quirkyapple
Big & little hand knits, wonderful patched...