melissa's Profile
About
Vintage has been my passion for over 30 years. I have been educating myself about 40s and 50s goods and buying ever since. I specialize in linens and housewares.
I can spot true vintage a mile away and would never offer an item I would not want for myself.
I have sold to the set dressers of Mad Men and to the Red & White Kitchen Company. My items have been featured in "Red Hot Kitchen Collectibles" a must have book for the collector and I was interviewed by The Glamorous Housewife for her blog :
http://talesofaretromodernhousewife.blogspot.com/2011/09/my-very-first-interview-post.html

My fellow Etysians have included me in over 250 Treasuries! I am grateful and honored to be recognized.

Female
Born on October 13
Joined August 18, 2008
San Diego, CA, United States
Shop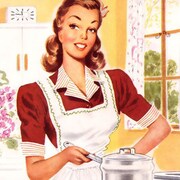 randomretro
Buying & Selling vintage before it was cool~