Sakura's Profile
About
Hi,
I live in South Bend, Indiana. I was born in Tokyo. I am interested in making Mizuhiki, beaded jewelry, knotting, crocheting and knitting. I always look for "east meets west" or "the point of past meets present" kind of things. I love traditional theme as well as modern style.

I have lived in the US for almost half of my life. Here, I discovered "fusion" is my style. My background is a bit odd from the other Etsyians -- I am an engineer. I often look things in engineering or mathematical point of view. I found out that beading and knotting are quite topological (Topology:area of mathematics, development of concept from geometry and set theory) However, our ancient people understood "topology" in beading and knotting empirically with no modern mathematical background. I am thrilled and amazed their works.

Enjoy my store!
Female
Joined January 25, 2012
Favorite materials
Freshwater Pearls, Swarovski, Semi precious stones, Glass beads, Czech beads, Cord, Brass
South Bend, IN, United States
Shop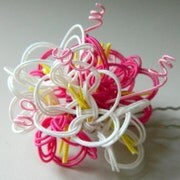 SakuraPink
Sakura Pink -- Unique Rope Jewelry with...