Sherri Chatfield's profile
Sherri Chatfield's Profile
About
My husband, Jay and I are artisans who've been creating side by side for almost 25 years! We both feel incredibly grateful to have been given the passion for creating and to have used that passion not only to make a living but to make a life...
The common spiritual belief that is woven throughout each of our pieces of jewelry is that the artist is the 'conduit' with one hand out to receive, the ideas flow through and back out the hand that is open to give.
It's our hope that those of you who wear our jewelry find that you chose and you wear it because it's an expression of your own creative spirit.
Female
Joined May 10, 2016
Shop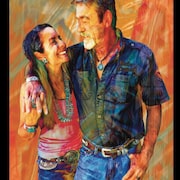 Chatfields
Beautiful Turquoise and Southwestern Style...