Susan Van T's profile
Susan Van T's Profile
About
Hand thrown miniature OOAK pottery. I've been working with clay for many years, both full size and miniatures, wheel thrown and hand sculpted. Utmost attention to form and detail. I love fluid shapes and long neck vases. I admire the Burmantoft style of tall neck vases and the work of Rose Cabat, who made long neck pots called "feelies", globular shapes with tiny necks and satin gloss finishes. I try to create the same look and feel in many of my miniatures. I like to experiment with different textures and glazes. I sometimes add crystals, glass, luster, even 22K gold overglaze for striking details. I work with many types of clay but generally prefer porcelain, for its fine body and translucence.
Member NCECA.
Member IGMA, Artisan.
Female
Joined February 24, 2010
Hampshire, IL, United States
Shop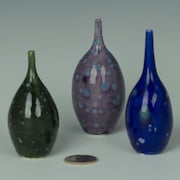 VanTpotter
One of a kind miniature porcelain pottery...