Irita Tīlane Pakalniņa's profile
Irita Tīlane Pakalniņa's Profile
About
UTHA is original and creative label which provides you with spiritual collection of accessories for contemporary fashion shamans, highlights the strong, free-minded personality, endorses creativity of the individual and reflects modern urban lifestyle. The essence of brand has been brewed and gathered by the spirits from most abandoned corners of the world within the last couple of centuries. Each unique piece is handcrafted to a superior standard.

IT's SMTG 4 YO HEAD

I am educated knitwear clothing designer...... I love to create characters, moods.. mixing styles, techniques and materials.. mostly guided by intuition..
I also paint, illustrate.. my latest passion is tattooing, which means moving to a different media.... where try myself.

Female
Joined February 4, 2012
Shop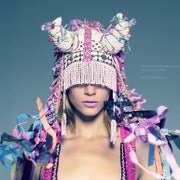 UTHAhats
Handmade headgear for fashion shamans of...