Wesley Fleming's profile
Wesley Fleming's Profile
About
Welcome to the microcosmos of VETROPOD, the best place to find exquisitely detailed, hand-made glass bugs made by glass sculptor Wesley Fleming!

Having worked with hot glass since 2001, I am inspired by the shapes and colors of nature as well as my wacky imagination, spending much of my spare time exploring under rocks and logs outdoors. With my glass insects, I mimic actual species with intricate detail. In other pieces I conjure creatures from dreams and my inner reality.

I individually hand-make all of my sculptures over a torch, using Effetre brand soda-lime (aka "soft") glass rods and properly anneal them in a digitally-controlled kiln.
Male
Joined October 29, 2008
Favorite materials
lampworked glass, Effetre, Moretti, dichroic, goldstone, aventurine, enamel, fairy dust
Ashfield, MA, United States
Shop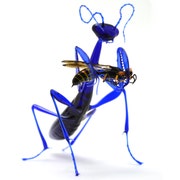 vetropod
Lampworked Glass Creatures made by Wesley...