Take your shop to
new places.
Process credit cards on your mobile device with the Sell on Etsy
App and Reader.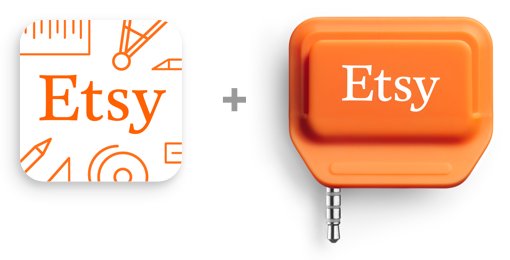 Seamless Integration With
Your Etsy Shop
With our card reader and updated seller app, items sold in person get captured in your Etsy Shop Stats, and your online inventory will adjust in real-time. Even if buyers pay with cash.
Four More Ways This Helps Your Shop
Sell on Etsy Reader
Get Paid Anywhere
Accept credit cards wherever you sell. We'll add the funds to your existing Etsy account and offer email receipts to your buyers.
Sell New or Existing Listings
Choose items from your Etsy shop or use the Quick Sale feature and just enter a price. Your total sales will increase either way.
Just 2.75% per Swipe
There's no Etsy transaction fee for sales made in person, and no listing fees for Quick Sales. Manual card entry costs 3% + 25¢ per sale.
Sell on Etsy App
We've added many new features to our seller app, which you'll need to download or update before using the reader.
What are the fee details?
There is no Etsy transaction fee for in-person sales, just a credit card processing fee: 2.75% per swipe (or 3% + $0.25 if you manually enter the card number). Requesting a card reader, downloading the app, and processing cash payments are all free. There are also no sign up fees or monthly minimums. Visa, MasterCard, American Express and Discover cards are all accepted.
How will this benefit my Etsy shop and my brand?
The Sell on Etsy App lets you sell items from your Etsy shop as well as items you haven't listed yet. The total number of sales displayed in your Etsy shop will increase with each in-person sale. Email receipts will highlight your brand and showcase items from your Etsy shop. And if an in-person buyer has an Etsy account, we'll invite them to review their purchase. These reviews will appear alongside your reviews from online sales.
How do I get paid?
With Etsy Payments, money from your in-person sales will appear in your Shop Payment Account, alongside your online sales. We'll deposit the funds directly into your bank account every Monday, just as we do today. You can also request earlier deposits in your Shop Payment Account, if you'd like.
Is the Sell on Etsy Reader available worldwide?
Only sellers based in the U.S. can use the reader right now, but we plan to expand its availability soon.
To learn more about the reader, view our full list of FAQs.
You can also get expert tips in our guide to selling in person (PDF).