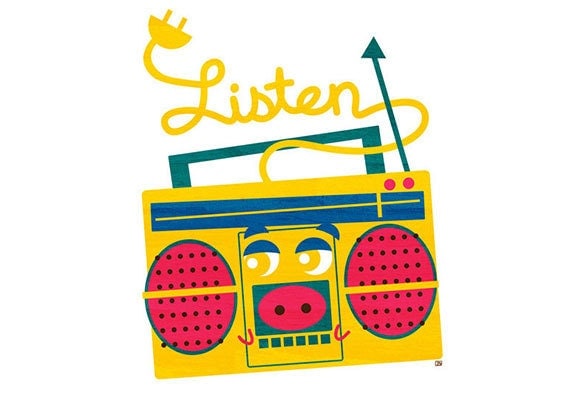 As Etsy shop owners, our days consist of designing, creating, marketing and shipping. With all the tasks required to run and grow a handmade business, pausing to learn new strategies can feel impossible. Where can you find the time? Podcasts are a powerful tool for Etsy sellers who want to get ahead — on a tight schedule. Podcasts work well for an on-the-go lifestyle and you can absorb business advice or inspiration for free while you work. As a busy mother of four, Etsy shop owner Keri Bass listens to podcasts to fuel her creativity while she sews placemats and napkins in her Berwyn, Pennsylvania workspace for her shop, Izy and Oly.
With thousands of options to choose from, finding an illuminating podcast can be overwhelming. To help you get started, Beth Anne Schwamberger co-host of The Brilliant Business Moms Podcast made this handy list of 10 fun and informative podcasts designed to help you strengthen the different facets of your business.
1. Insights From Etsy Sellers
Connecting with fellow business owners can be a vital step in learning, growing and becoming part of a community. To hear interviews with Etsy sellers and learn about their triumphs and challenges, tune in to the Etsy Conversations Podcast. "I discovered that the best way for me to learn is to ask people who have already arrived at the destination I am aiming for," says the podcast's host, Ijeoma Eleazu, owner of Simply Craft Supplies in San Francisco, California.
2. Creative Business 101
For a holistic view of starting, growing and running a creative business with plenty of productivity tips to boot, listen to Elise Gets Crafty. Host Elise Blaha breaks things down, so even a new seller can quickly get up to speed. The episodes span a range of topics, including taking creative work seriously, valuing transparency in business, managing a team and using an e-newsletter effectively.
3. Marketing With Social Media
As makers, we know that the story and person behind our shops makes an impact on the customer and helps to build a lasting relationship. Social media is vital to telling these stories. The Social Media Marketing Podcast provides up-to-date information on social media strategy from experts.
4. Mastering Pinterest
Since Etsy businesses are incredibly visual, many shop owners have discovered the power of Pinterest to share their items. The Oh So Pinteresting Podcast digs deep into this social media platform and shares interviews and case studies on people who are using it with great success.
5. Improving Photography
If you're struggling to take photos that truly showcase the quality of your items, the Improve Photography Podcast can help. While you might need to reference a blog post or two to remember all the details covered in the episodes, this podcast will point you in the right direction by sharing specific methods for taking better photos, lighting and choosing camera equipment.
6. How to Blog
Blogging is an excellent way to build brand awareness and provide additional value to your customers. But building a blog has its own set of challenges. The How They Blog podcast interviews successful bloggers, like Jess Connolly of Naptime Diaries and Emily Jones of Jones Design Company, who share the strategies that got them to where they are now.
7. Product Marketing
If you've ever wondered how other artists get the kind of press you only dream about, check out  Launch Grow Joy. Host Andreea Ayers offers marketing wisdom that draws on her own victories as an entrepreneur.
8. Threads of Inspiration
Podcasts don't have to be all business. They can inspire or challenge you to consider things in a new light. Julie Fuller is the owner of Tokyo Blossom, a knit and crochet accessories shop in Acworth, Georgia. She listens to stories on Woolful, a podcast with a decidedly fiber-focused bent, that have inspired her to make her shop more sustainable. "Woolful has helped me understand how the choices I make as a small-business owner can affect so many lives," Julie says. "It has encouraged me to make choices that will help other local businesses grow."
9. The Lives of Contemporary Makers
For big-picture strategy discussions and a look at business trends in the handmade world, After the Jump, hosted by Design*Sponge founder, Grace Bonney, is on point. Broadcast live from Brooklyn each Wednesday afternoon, Grace chats with leading artisans and indie designers about current issues, challenges and the future of handmade and design.
10.  Professional Development
From the many podcasts that foster personal and professional growth, Rachel Coley, owner of the Can Do Kiddo quilt shop in North Carolina, found one that helps her focus her daydreaming and fuel her creativity. She listens to This is Your Life, hosted by Michael Hyatt. "Once I got over the excessively hokey intro music, I found motivation and resources for goal-setting," she says. "I began pushing myself to meet those goals."
What's your favorite podcast that educates and inspires? Share in the comments below.