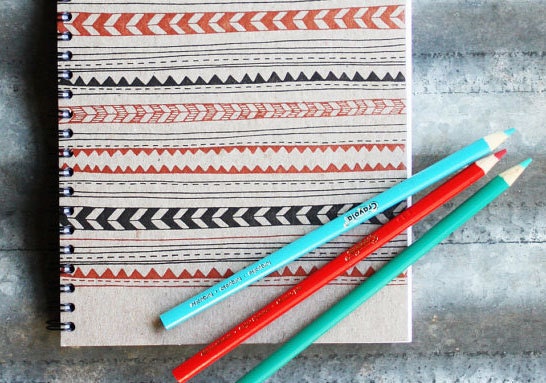 It's a whole new year — a clean slate, a fresh start, a blank page in your sketchbook to fill with new projects and possibilities. What will you make of 2014? In December we asked Etsy sellers for their advice for keeping creatively energized, even when faced with challenges like stress, ruts, self-doubt, clutter and endlessly busy schedules. Whether you strive to make something every day or aim for fearless creativity, keep these ideas on hand to mix things up when you need a jolt of ingenuity.
1. Tidy Up
"There is nothing more inspiring than a clean slate. What artist can resist an empty table, or workspace with no project in it? Need inspiration? Then, put everything away – every distraction, every unfinished task that calls to you and prompts your attention. Lay it down and be refreshed. I assure you, inspiration is just waiting for space." — Victoria from GoodnessInTheCosmos
2.  Get Fresh Air
"Taking a break always seems to refuel my creativity. A friend kept telling me to take a few short walks throughout the day, and for a long time I had a hard time believing that it would work. Finally I tried it every day for a week or so, and she was right! I now force myself to stop and take a walk a few times a day, and it's amazing how it clears my head and mind. I find that I am always refreshed and come back with new ideas." — Carter from WomanShopsWorld
3. Use a Timer
"For motivation, I make lists and set timers and always make time for a 'think hour' or 'think 30' which has really helped me to point my business in the right direction. Timers are the best!" — Cindy from Angelheartdesigns
4. Take a Break
"I find taking off the weekends from actually creating art helps. I'll spend that time refining ideas in my sketchbook, organizing my studio and scheduling tasks for the coming week. Once that is done I fish, take a hike along the beach or build model ships. Come Monday, my creative batteries are usually recharged and raring to go!" — Brian Blacknick from BlacknickSculpture
5. Think Like an Inventor
"I get my inspiration by making items that fill a need. Customizing each design has inspired, challenged and pushed my work to new levels. I share these projects and the cycle continues. This is handmade." — Jen St. Jean from ittybittybag
6. Write It Down
"I am constantly looking ahead to expand new pieces for my shop. I write down every idea when I do find idea gems so that when I have a creative slump, I can fall back on these ideas to become energized again. This continuous cycle ensures that I am always moving forward." — Sharna from PerfectlyCloudy
7. Accept Custom Orders
"I have to say that when it comes to finding a source of creative inspiration, my customers are brilliant! It's such an adventure creating a custom piece of jewelry for customers. My skills as a metalsmith are constantly challenged by custom requests and some of my most beloved creations have been inspired by this work. While brainstorming possibilities for customers, I often come up with two or three new ideas that find their way into my shop." — Jennifer from WatchMeWorld
8. Take a Class
"I keep my creativity flowing by taking classes. Sometimes the class is directly related to my Etsy business, book-binding; sometimes it's similar, such as the art journal workshop I took earlier this year; other times, it's totally unrelated, like cooking. Getting out of the studio and meeting new people really energizes me and keeps my creativity flowing." — Ali from VintagePageDesigns
9. Seek a Fresh Perspective
"I often bounce ideas off my daughter who is into trends, and then off the other generation on the other side, using my mom to see if it will be liked across our generations. It's a fun exercise – teenager, mid-30s (me) and my mom in her mid 60s. Plus the two very different styles surrounding me on either side of my age group keep me on my toes and they think of things I don't." — Maggie from maggiesjewelry
10. Play Around
"Creativity comes naturally to children, so when I feel like I am stuck in an artistic rut, I spend time with my little girls building blanket forts, telling stories, imagining dragons and fighting pirates (while surrounded by pink sharks wearing tutus, of course). It's amazing how much inspiration they can give, and when I go back to my studio I have so many ideas it's impossible to get them all down on canvas."  — Andrea from andralynn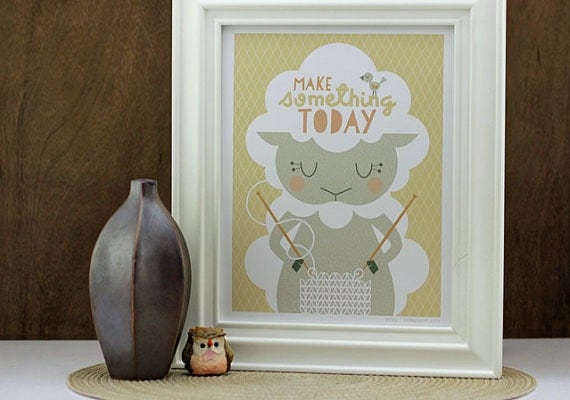 How do you plan to keep your creativity flowing all year-round? Share your tips in the comments.