Etsy shoppers care deeply about supporting small businesses. Today, we're introducing a new way for them to invest in creators and creativity on and off Etsy. Starting today, shoppers in the United States who are purchasing from sellers with Etsy Payments can round up their order total to the nearest dollar and donate the change to Etsy's Uplift Fund. For example, if a shopper's order total is $78.72, they can round up their order to $79 and donate $0.28—and all that spare change can really add up.
Shoppers will see the order total, including their donation, when they check out. But nothing changes for you—the order total, not including their donation, will be available in your payment account like any other order (minus any applicable seller fees, as usual).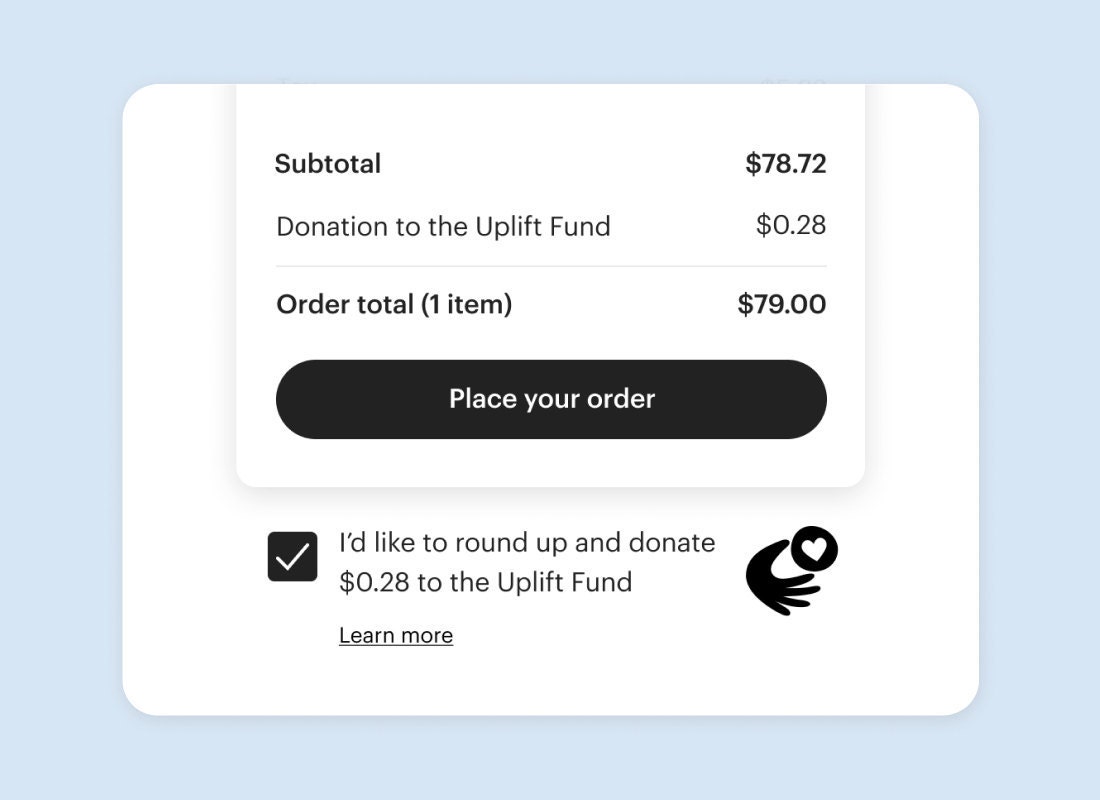 What is the Uplift Fund?
The Uplift Fund will contribute to nonprofits that work to create paths to entrepreneurship for everyone. Owning your own business is an important, fulfilling pathway to economic independence. But many communities face significant barriers to entrepreneurship, including a lack of digital education and training, access to money to get started, and insufficient access to benefits like health insurance and paid leave.
The Uplift Fund is held by the Brooklyn Community Foundation, a 501(c)(3) that supports nonprofits across the United States that work to remove these barriers and foster equal opportunities to creative entrepreneurship. Etsy doesn't profit from money donated to the Uplift Fund and we'll also make contributions to the fund in addition to the change donated by shoppers at checkout.
If your customers ask you about donating their change to the Uplift Fund, you can send them some details:
The Uplift Fund contributes to nonprofits that work to create paths to entrepreneurship for everyone. Visit Etsy's Advocacy site to learn more about who the fund supports and how your donations are used.
At Etsy we believe that together, we can build a more just, equitable, and resilient economy that prioritizes the people at the center of commerce. The Uplift Fund is just one example of Etsy's philanthropic commitment to supporting creative entrepreneurs, check out all of our current projects on the Etsy Advocacy site.

Words by Taylor Combs