In July 2012, Amie Cunningham packed up her family and her thriving screenprinted clothing companies, Thief&Bandit and Thief&Bandit Kids, and moved from Virginia to Canada. The idea of starting over in a new city was daunting, but for Amie, who was expecting her second child, the perks of Canadian citizenship and the close proximity to her parents beckoned. The move marked another exciting shift for her business: Her husband, Johnston Foster, joined Thief&Bandit as a full-time screenprinter, and the duo built a print shop in a garage next to their new home in Halifax, Nova Scotia. Then, they set to work finding new local supply sources and hiring a new photographer and seamstress.
Amie completed a Master's Degree in Painting and Sculpture at Parsons in New York in 2004. After that, she and Johnston holed up in a rustic cabin in New Brunswick, Canada making art and learning how to carve sculptures using chainsaws with help from French-Canadian woodsmen. They eventually moved to Richmond, Virginia, where Amie got interested in screenprinting after participating in a local t-shirt art show. "A lightbulb went off in my head," she recalls. "It was like painting, but in multiples. It was my perfect medium." She started by printing t-shirts, learning from a friend and through trial and error. (One of those errors led to a jewelry collection made from shredded and braided misprints.) Since founding her original Etsy shop in 2009 (and her kids' shop in 2011), she has made a combined total of more than 8,900 sales.
These days, Amie and her husband continue to seek out new directions by refining their workflows, launching two new collections annually and searching for fresh opportunities, from wholesale to creative collaborations — all while raising three boys under the age of five. Amie Cunningham, with her two-week old baby in tow, recently spoke with Etsy's Seller Handbook writer, Julie Schneider, to share how she has built a successful business.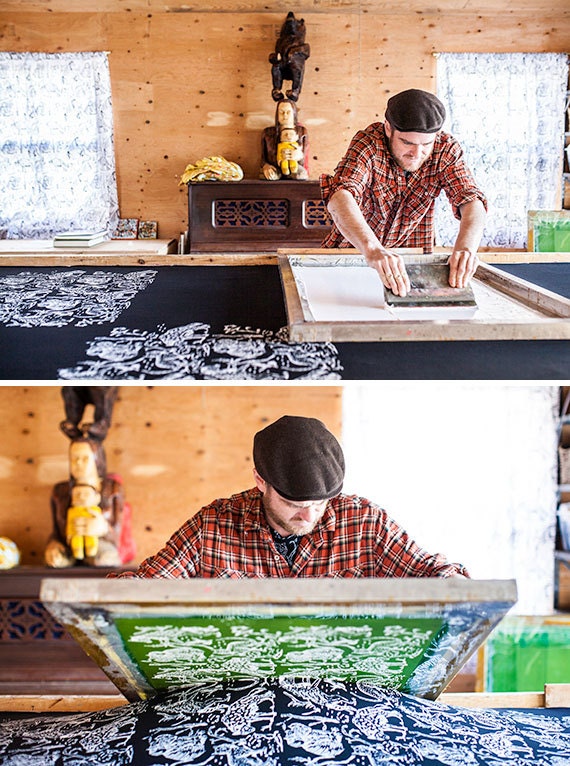 What's a challenge you've conquered?
When I moved to Canada, I realized I needed to increase my prices and start charging for shipping because my costs were going up. I was so nervous. I had this voice in the back of my head saying, "It's too expensive. Who's going to pay $38 for a pair of kids pants?" Even though I know they're really good quality — they're organic, hand printed, and handmade — there's always this voice inside whispering,"You're going to fail." But it didn't matter. I raised my prices. I started charging for shipping. And for whatever reason, my sales doubled that year. If you're not getting enough, there's no point in doing it. There are always going to be people who appreciate that so much hard work goes into making your stuff.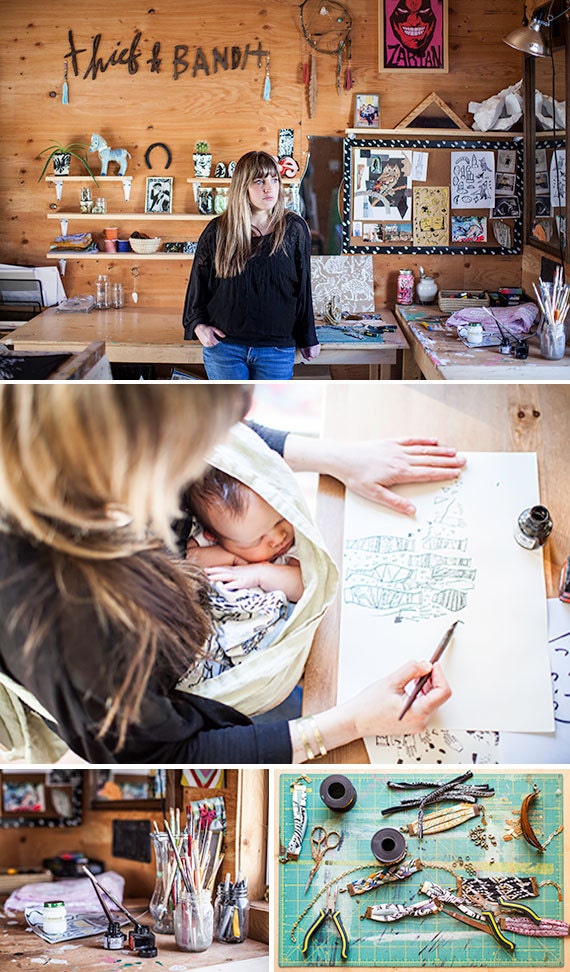 How do you keep your shop fresh?
It's nice to freshen up your shop a little bit and get some new ideas in there, especially while collaborating with artist friends. One fun collaboration I did recently was with Roxy Marj. I contacted her to tell her that I loved her work and she wrote back to say she liked my stuff too. I knew just by her drawings that we would be friends. We decided to do a collaborative print together. She sent me a bunch of little drawings of eyes and I drew around them. My husband and I burned the screens, printed the fabric and made the clothes. I give her a portion of each sale, and we cross promote our stuff on each of our social media and Instagram sites. We did another collaborative print over the holidays and it's been really popular.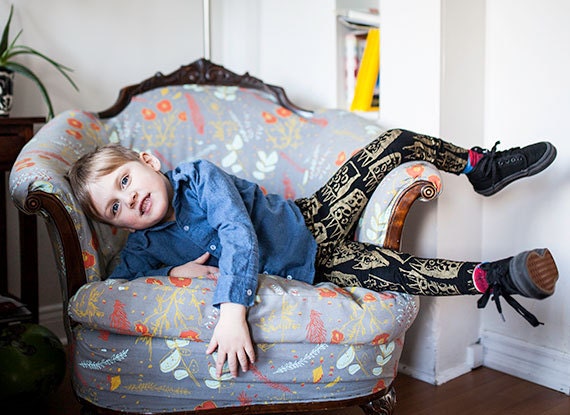 You now employ two seamstresses, a photographer and an assistant. How did you decide to hire help?
As I've grown my business, it's actually been hard for me to let go of control. I feel like I have to be the one to do things to make them just right. For example, I always seem to get into these new projects, like dyeing. I'll really want a certain fabric color that I can't find, so I'll think, "I could just dye it myself." Sure I can dye, but it's actually not very economical for me to do it because I can only dye four yards at a time. I really should hire someone else to do it. It's hard to let go of those creative things though. But in the end, it's not just the money, it's the time that it takes. My friend, who runs a successful business, says, "Do what you do best and hire out the rest." I always try to remember that. Your time is precious and you need to spend it doing what no one else can do — and no one else can do the designing.
When we moved to Halifax, I contacted local art schools and talked to teachers to find a seamstress and patternmaker. Professors are going to send you to the good students. I think people get really excited when there are job opportunities like this, especially for students. In this town, it's really hard for people that go to art school to get a job in their field afterwards. Unless you're in New York or Montreal or a place where there's an industry, it's a challenge to find this type of job.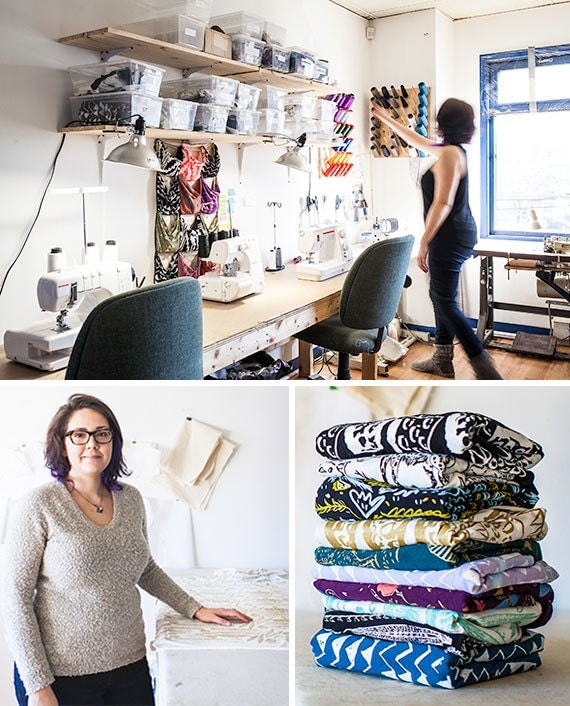 How do you decide what work to delegate?
I would never source myself out. People have suggested this in the past: "You want to get your costs down, why don't you contact a factory?" I would rather not. One thing that's so cool about screenprinting ourselves in-house is that if we want to make a new colorway or a new dress, we can do it so quickly. If I'm like, "Man, that print would look awesome in that color," we could make it happen within 24 hours. Johnston can get the ink; we can cut out the fabric; Carly can sew samples. It doesn't have to go through 10 different hands. I don't have to call the screenprinter in one city and the pattern maker in another city. For us, it all happens within 10 miles of our studio.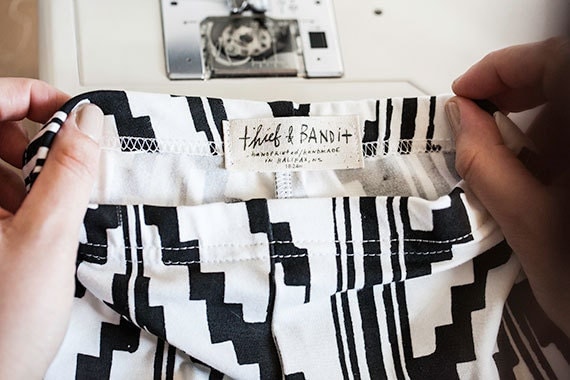 What new opportunities have popped up after your recent pop-up shops?
We did one at Nurture, which is a children's store that focuses on organic and locally sourced things from Canadian brands and designers. That went really well and now we're talking about doing a dedicated Thief&Bandit section at their store. And we did one at Pro Skates, which is a local institution — a skate, surf and snowboard shop. We made men's shirts for it, and they got a really good response, so we're going to introduce those to our shop pretty soon. And, we got to meet a lot of cool people locally. When we moved here, we were finding it quite difficult to meet people because we have kids and a business. We focused all our attention on that and never got out that much. We did Etsy's Made in Canada market and that was awesome. It was super busy and it was the perfect crowd for our stuff. We met a ton of people and later on I would be out and about and people would say, "I bought stuff from you at the Etsy fair!" Now I've started to get a lot more orders locally too.
All photographs by Meghan Tansey Whitton.
How have you conquered a business challenge? Share your story in the comments.

Words by Julie Schneider
When Julie Schneider isn't writing and editing, she's carrying on her family's pun tradition, making custom GIFs, or scheming in her cozy art studio. Keep up with her latest projects on Instagram.