Every day, Etsy shop owners go above and beyond to support each other. That is especially true during the holidays, and the 2014 season was no exception. Whether you joined forces with other sellers to host a pop-up shop, offered advice in the Forums or simply Convo'd a fellow seller who was in need of moral support, your contributions helped make this holiday season on Etsy a big success. Meanwhile, Etsy Admin around the world collaborated on business education, new tools for running your shop, marketing initiatives and more. This spirit of teamwork is what makes the Etsy community so special —and powerful.
In September, we began publishing Etsy Community News to celebrate those connections, fill you in on new ways Etsy is helping your shop grow and explain how you can get involved in community initiatives. Read on for a roundup of news from the past three months and stay tuned for our next installment.
It's a Wrap: Holiday 2014
We know that keeping up with the holiday rush can be both exhilarating and challenging. To support your growth and success throughout the season, we created a variety of educational resources, including a Holiday Boot Camp seminar, Seller Handbook articles and Online Labs webinars. We also invited you to partner with Etsy and the global seller community by participating in the #etsygifts holiday marketing campaign, which included promotional images for you to share on Facebook, Instagram and Twitter.
Etsy Teams around the world participated in craft fairs and pop-up shops throughout the season. In an effort to connect sellers with buyers in person, we supported many of those Teams, including Pop-Up Lyon in Lyon, France and the Toronto Etsy Street Team, whose members participated in the Toronto One of A Kind Christmas Show and Sale. Members of the Munich Street Team set up shop in an Etsy booth at the Munich Maker Fair. In the US, we worked with teams in five cities to expand their holiday sales through in-person events, including the One of A Kind Show in Chicago and the Handmade Cavalcade in New York City, which was organized by the Etsy NY Team.
Etsy also organized a variety of events to support your growth during the season. More than 40 Australian Etsy shop owners took part in Unwrap Etsy at David Jones, a large-scale market held in an historic department store ballroom in Sydney. In London, we launched Etsy House, a three-day pop-up shop featuring products from Etsy shop owners across multiple categories, including art, home decor and clothing. Etsy House visitors were invited to attend workshops hosted by Etsy sellers and order personalized items from sellers crafting products live in the store, including Gemma Gilleard of Hord in Huddersfield, England.
Meanwhile in the US, Etsy shop owners were featured in holiday pop-up gift shops in more than 50 Nordstrom stores around the country. In support of Small Business Saturday, which was held on November 29 in the US, Etsy partnered with American Express to encourage shoppers and small businesses to discover and showcase the local artisans in their communities. More than 200 Etsy shop owners, including Argaman & Defiance in Chicago, partnered with 50 independent boutiques across the US to host trunk shows on Small Business Saturday. Read more about participating Etsy sellers and boutique owners here and here.
To cap off the season in style, Etsy Admin hosted community meetups in cities they visited as part of our Home for the Holidays program. Now in its fourth year, Home for the Holidays gives Etsy shop owners a chance to connect with fellow sellers and Etsy Admin in coffee shops, restaurants and galleries from Sweden to Singapore.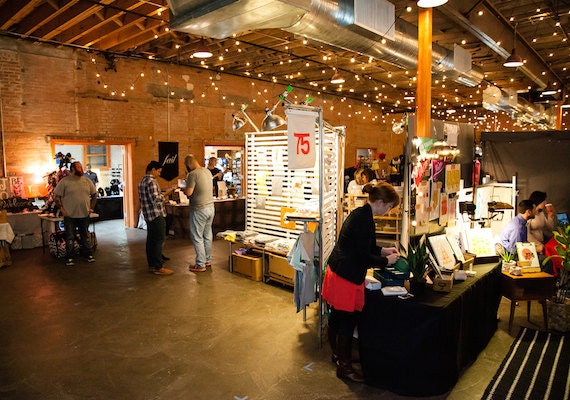 New Features for Your Shop
Supporting Creativity Worldwide
In November, we announced the winners of the Etsy Design Awards for Australian shop owners, including five category winners and one overall Community's Choice winner: Carl Holder of Foreply, Mei Ong of Vice and Velvet, Jo and Andrew Olive of Olive and the Volcano, Britta Boeckmann of BoldB, Kylie Gusset of Ton of Wool, and Fairina Cheng of Fairina Cheng Jewellery. The Community's Choice winner, Fairina Cheng, was awarded a trip to the Etsy HQ in Brooklyn, New York and will be featured in the December issue of Inside Out magazine. Read more about the winners and judges here.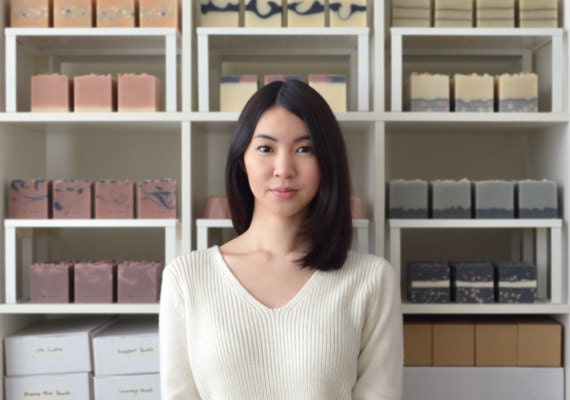 Fifteen Etsy sellers in the United Kingdom, including Kristi Cumming of Islandla in Shetland, Scotland and William White of William White Art in Penryn, England, took part in OPEN, a cross-disciplinary exhibition of artworks that took place during London Art Month in October. Go to the UK blog to learn more about the exhibition and participating Etsy sellers.
Earlier this year, Etsy was honored to receive a National Design Award for Corporate & Institutional Achievement. In October, representatives from Etsy accepted the award – and celebrated – at the 2014 National Design Awards Gala hosted by the Cooper Hewitt, Smithsonian Design Museum in New York City.
Seller Studio Visits
We love hearing what's on the minds of Etsy sellers through emails, Convos, Forums threads and About pages. We also love visiting sellers in person to witness your creative processes and the challenges you face on a daily basis. By doing so, we are better equipped to improve your experiences. This year, more than 250 Etsy Admin visited 36 sellers in their studios around the world, from Brooklyn to Berlin, as part of the Seller Studio Visits program. In October, we capped off a year of visits by spending time at three studios near Etsy's office in Hudson, New York: PetitFelts, PKBrown Woodworking and Bellinger Bags. Interested in having us visit your studio? Send an email to SellerStudioVisits@etsy.com.
Nurturing Entrepreneurship Through Education
Etsy's Craft Entrepreneurship Program expanded into Chattanooga, Tennessee and Albany, New York, and partnered with public libraries in those cities to help underemployed people turn making skills into supplemental income. Craft Entrepreneurship partners in Chattanooga and New York City organized holiday markets that gave students and graduates a chance to sell products in person (in many cases, for the first time). The Craft Entrepreneurship Program is now holding classes in 10 cities in the US and UK and will continue to expand to new locations in 2015. If you are an Etsy seller who is interested in teaching Craft Entrepreneurship classes, please fill out this form. If your city is selected to participate, we will contact you with instructions for submitting your full application. Thanks for your interest!
To foster local connections among shop owners and offer business education to help your businesses grow, we hosted in-person meetups and workshops worldwide. We hosted a variety of workshops for Etsy sellers in New York City and Hudson, New York. Coinciding with the launch of the Sell on Etsy Reader, we also held workshops for Etsy shop owners in Dallas, Chicago, San Francisco, New York City, Los Angeles and Nashville to provide education about selling products in person and using the new credit card reader. We took to the road in the EU, hosting workshops in cities throughout the United Kingdom, Germany and France, among other countries.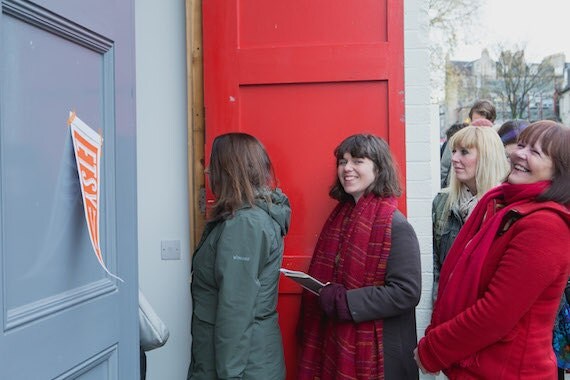 Fighting for Net Neutrality
Since last spring, the Etsy Community has been organizing to protect net neutrality. We've submitted formal comments, met with FCC Chairman Tom Wheeler, and participated in Federal Communications Commission roundtables. More than 30,000 members of the Etsy community contacted the FCC and Congress as part of the #InternetSlowDown day of action. Shop owners "crafted" comments to the FCC, urging them to protect the free and open Internet, and members of our global community joined the effort by spreading the word on social media. In November, US President Barack Obama issued a statement and video calling on the FCC to protect net neutrality under the strongest authority available to it — Title II of the Communications Act. We applaud the President's strong stance on this issue, and urge the FCC to take action to protect the Internet and the millions of micro-businesses who depend on it to reach consumers. Find out more here.
Creating an Etsy Economy Together
Our goal is to build an Etsy Economy that values the people who design and make goods, is transparent about how goods are made, and connects the people who make, sell and buy them. We want to help our shop owners start, responsibly scale, and enjoy their creative businesses, and we know from a recent survey of Etsy shop owners — New Opportunities for US Manufacturing: Partnering With Independent Creative Businesses — that more than half (55%) of those surveyed are currently partnering with or would consider partnering with manufacturers. With that in mind, we gathered more than 50 thought leaders — including small-scale manufacturers, policy makers, Etsy shop owners and others — to envision new models of responsible manufacturing for Etsy shop owners at the Re-Imagine Manufacturing in October. The summit took place in Industry City, a historical manufacturing district in Brooklyn, NY that is also home to the production facilities of multiple Etsy shop owners, including Alexandra Ferguson. Check out this Etsy News post to learn more about the event and read this post by CEO Chad Dickerson to learn more about our vision for an Etsy Economy.
Giving Thanks and Giving Back
We asked sellers in the Etsy Forums to take a moment out of their busy holiday schedules to share what they're thankful for this season, especially as it relates to running a creative business. We were thrilled to receive heartfelt responses from more than 700 sellers, many of whom wrote to say "thanks" for support from fellow Etsy shop owners. We compiled some of the responses in this Seller Handbook post.
In November, we also participated in a global day of giving back: Giving Tuesday. In celebration of Giving Tuesday and our inspiring community, we donated $100,000 to be equally divided among four impressive organizations: Women for Women International, Room to Read, Direct Relief and the Nature Conservancy. Learn more about the initiative on the News blog.
Finally, every year, we mail small tokens of appreciation to Etsy members who've had a positive impact on our community, including those nominated by fellow shop owners. As we begin a new year, we want every Etsy shop owner around the world to know how proud we are to be part of such an amazing community — a community built by creative entrepreneurs like you — and how much you inspire us on a daily basis.
How are you preparing for a fabulous New Year? Share photos of your production process and workspaces with us on Twitter and Instagram with the tags #dayinthelife and @etsy. Participants will have a chance to be featured in an upcoming Seller Handbook article and on Etsy's social channels.
Tell Us Your Community Story
This is just a sampling of recent community news. Do you have an inspiring story about the Etsy community? Please share in the comments below!
Also, check out the Seller Handbook and sign up for the Etsy Success Newsletter for business advice and inspiration throughout the year!

Words by Kimm Alfonso
Kimm Alfonso is Etsy's Director of Seller Development. Her team connects, empowers and educates Etsy's global community of sellers, at all stages of their business development. Kimm was a Team Captain for years before joining Etsy and runs Kimmchi, the T-shirt shop she founded in 2007.