One of the joys of the Etsy adventure is following your inspiration wherever it leads. But allowing your shop to evolve can be daunting if it requires shipping packages in a wide variety of shapes and sizes. When I first started selling vintage in my Etsy shop, The Spectacled Newt, I was terrified at the prospect of having to ship anything larger than collectible pins or jewelry and passed up some lovely items, including a gorgeous wooden map cabinet, as a result. Since then, I've found simple ways to ship whatever strikes my fancy and now offer everything from typewriters to card catalogs.
If this shipping dread sounds familiar, don't let your anxieties hold you back another minute. Now is the perfect time to grab a mug of courage and start selling the things you've always dreamed of — whether you make them by hand or find them on a treasure hunt.
If It Fits, It Ships
Efficiency is important to any business. No one wants to spend time trying to find a new box for each item sold. Instead, you need a system. Luckily postal services in many countries already have one. The United States Postal Service flat rate system offers free boxes, each size shipping for a set price. If it fits, as they say, it ships. You can even have the flat rate boxes delivered right to your door. Canada Post and Australia Post also offer a variety of options, including a range of pre-paid packaging which you can keep on hand ready to fill as needed. You can easily buy shipping labels through Etsy for USPS and Canada Post, too.
If It Doesn't Fit, Build Your Own Box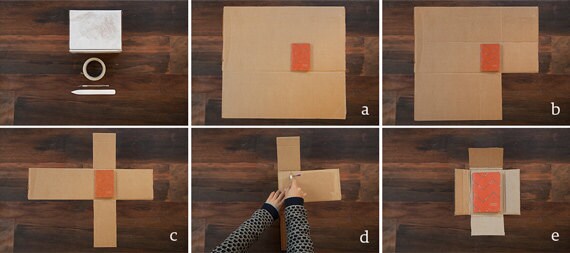 The process of building a custom box is akin to wrapping a gift, but in cardboard. A note to the doubtful: I am terrible at wrapping gifts, but I am fine at box building because it's not about perfection, but instead, sturdiness and safety. And packing tape can cover even the gravest of box-making sins.
What You'll Need:
Old boxes or cardboard
Packing tape
Something to score cardboard, like a dinner knife or bone folder
Something to cut cardboard, like a box cutter or X-acto knife
How to Build it:
(a) Deconstruct a cardboard box to lie flat like a piece of wrapping paper. Place your item on the cardboard. Envision where you would fold paper if you were gift wrapping it. (Note: If you plan to put in packing material after you build the box, then place the fold an extra inch or more away from your item, as needed.) Use a dinner knife or bone folder to score along the envisioned fold in the cardboard. Now fold along that line. Congratulations, you just made your first box wall!
Put the wall back down. On an adjacent side of the item, score along the line where you want to fold the cardboard. If you try to fold both walls up at the same time, as you would with wrapping paper, you'll see the corner where they meet might not cooperate. Here, we must depart from the wrapping paper analogy.
(b) Now you have two options:
Option 1 (which is shown above): The simplest solution is to cut away the section of cardboard that does not comprise either wall (removing the unnecessary cardboard completely). Now sides will meet when folded.

Option 2 (not shown): Make a slightly more secure box by cutting a slit to create an edge for one wall. Fold that wall up (toward your item), then fold the adjacent wall. Wrap the free section around the shortened wall, creating a seamless corner with a double layer of cardboard. Does it seem like crazy origami? It won't once you have cardboard in hand.
(c) Proceed to the remaining corners using the same logic.
(d) Depending on your item's shape and your original piece of cardboard, you may have spots with too much cardboard or with none. Boldly cut away excess and patch freely.
(e) Voilà, a custom box! Break out the champagne — or at the very least, the postage.
If It's Too Big For The Postal Service
Even mighty postal carriers have their limits. Within the US, the postal service won't send packages that weigh more than 70 pounds or with a combined length and girth (which is the distance around the thickest part) more than 108 inches for general parcels, or 130 inches for the oversized Parcel Select service. Post within Canada must be less than 30 kilograms and within Australia, less than 22 kilograms. There are similar limits around the world. But what if your vision is bigger than a mail carrier's muscle?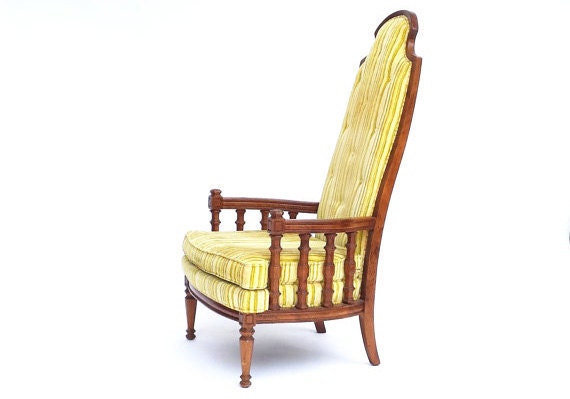 Private carriers, like FedEx and UPS, will take somewhat larger and heavier items. But when your item is really big — as in as bulky furniture — it might be time to buy it a bus ticket. Since opening their shop in 2011, Kim Willson, co-owner of Tim and Kim Show in Vero Beach, Florida, has shipped many mid-century modern treasures, from chairs to cabinets to dining tables, via Greyhound Package Express.
Kim puts her shipment on a Greyhound bus on her end and it is picked up by the customer at a Greyhound stop on their end. "We have used this service a lot with success and no damages," Kim says. "Our customers love the affordable shipping." Kim's top tip? "Package your item well." Your package will most likely be moved from one bus to another as it makes its way to your customer. If it sits outside as it is being shuffled, you want to be sure it is covered well and protected. And, when your item exceeds even Greyhound's 100-pound limit, such as a cumbersome card catalog, many Etsy sellers hire a private moving and delivery service, through sites like Uship.
Despite the extra work, larger items with larger ticket prices can really be worth it. As Kim suggests when considering whether or not to take the leap into selling big, bigger and biggest: "Go for it!"
If shipping wasn't an issue, what would you be selling in your shop?

Words by Carol Yoon
Carol Kaesuk Yoon is a longtime nature and science writer, mom of two adult humans and a lover of pastries, typewriters, insects and Etsy. You can find her at The Spectacled Newt on Etsy, carolyoon.com and on Instagram.