I didn't always manage my time well. When I started my Etsy shop, Le Papier Studio, nearly seven years ago, I tried to do everything myself through ambitious multitasking. I would answer emails as soon as they came in, work on custom orders and handle printing and shipping – all at the same time.
Because I was working alone, I thought that putting in grueling hours was not only possible, but necessary. Then the tireless work began to take a toll, and I didn't have much to show for all of my efforts. Without a firm schedule or clear focus, I was prone to distractions and regularly lost track of my time. By trying to do so much all at once, I achieved very little. The quality of my work began to suffer. Can you relate?
Two years into running my business, I realized I had to change my work habits. I had to work less, but in a smarter way, to preserve my well-being and get more of the right things done. The change really came when I hired my first assistant. Having someone else working with me in my studio forced me to hone in on what I wanted us to accomplish. Suddenly, I had to be very specific about the tasks each of us had to complete every day.
Rather than deciding what to focus on in the morning, as I had been doing, I began laying out each workday the night before. I made a to-do-list of the tasks we needed to complete, prioritizing the top three. Working on what was truly important and eliminating everything else helped me get more done in a shorter amount of time. As a result, the quality of my work was much better. On the days when production work was slower, I focused on planning for the busy times ahead. I was less distracted and able to grow my business faster than ever before. And all while working fewer hours!
My only regret is that I didn't take control of my schedule much sooner. Now, I hope to help other Etsy sellers learn from my mistakes. Whether you're a solo maker doing it all or you have help in your shop, these tips will help you streamline your workdays, improve your work and boost your well-being.
1. Track Your Hours
Like many business owners, I used to believe that being extremely busy and overextended was evidence of being productive. But just because you are sitting in front of a computer doesn't mean you are getting important things done. After doing a quick analysis of how I spent my working hours, I realized that almost 40 percent of my time was spent doing busy work and non-essential tasks. I set out to change that.
2. Break Down Your To-Do List
To break my work into manageable chunks, I make two lists: a big weekly to-do-list and a smaller daily task list. Breaking down the big list into smaller pieces keeps me motivated. I don't feel overwhelmed, and I'm able to make a dent in larger projects by completing smaller, manageable tasks.
3. Prioritize the Night Before
As you prepare for tomorrow's workday, pinpoint three tasks on your daily to-do list that you must complete. These are essential tasks that should have your full attention. Once I began identifying three top tasks for each day, it became easier to stay focused on them and deal with less crucial matters when time permits.
4. Determine When You Work Best
Since I am not a morning person, I schedule repetitive tasks, such as printing and shipping, earlier in the day. I save more thought-intensive tasks for later in the day or late at night, when I tend to do my best work. In contrast, if you find that you're most productive first thing in the morning, use that time to knock off the most challenging tasks on your list.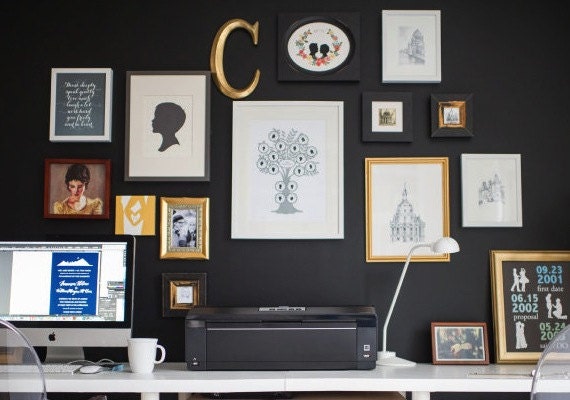 5. Establish a Daily Work Routine
While it may seem counterintuitive, having a strict daily routine is essential for all business owners, even creative entrepreneurs. Because I still tend to jump at whatever tasks strike my fancy at a particular moment, I try really hard to stick with a schedule. Being specific is important. For example, instead of planning to "get up earlier" to start my work day, I make it a goal to "wake up at 6 a.m." If you work hard to stick to a daily routine, you can eventually turn any behavior into a working habit.
6. Set Limits
I used to work until the wee hours of morning, thinking it was the only way to turn work around quickly and keep my customers happy. Soon, my customers came to expect this from me. Now, I maintain set working hours and when time is up, I shut everything down. I do this out of respect for myself and my family, including my two sons. I also find that I have to unplug from all of my work to come back to it recharged. Surprisingly enough, my clients value my time more now.
7. Get Comfortable Saying "No!"
If you are having a hard time keeping up with what you have already set out to do, say "no" to all other inquiries coming your way. Becoming chummy with this two-letter word will force you to commit to only the things you are absolutely sure you can complete. When someone approaches with me with a new project or social commitment, I ask myself, "How is this going to benefit me right now?" If I can't come up with an answer, I decline the offer, which makes space on my calendar for more pressing matters.
8. Automate Repetitive Tasks
I often found myself working on the same old repetitive tasks day after day. Automating some of these tasks helped me streamline my work. For instance, if you find yourself answering the same questions from customers over and over, you might need to clarify your Shop Policies. For more tips on dealing with repetitive tasks, read Crunched For Time? Put Routine Tasks on Autopilot.
9. Avoid Procrastination
Many entrepreneurs struggle with procrastination. It can be tempting to focus on non-essential tasks instead of tackling more important ones. When you have a negative emotional reaction to doing certain tasks, it can help to simply acknowledge your reaction. From there, you can develop tools or resources to help you resist the procrastination pull. For example, I get sidetracked easily when I'm online, so I stick to a clear routine that helps me stay off the Web and on the right course.
10. Keep Your Eye on the Prize
Monitoring your progress is an important part of achieving the goals you've set for yourself and your business. Having a clear sense of how far you've come in achieving your goals and what work still needs to be done can provide the inspiration you need to push through tough times. When you do achieve your goals – or reach smaller milestones along the way – remember those tough times and allow yourself to celebrate. You've earned it!
How do you maximize your time and minimize your stress? Share your tips in the comments below.

Words by Vana Chupp
Vana Chupp is a wife, mother of two sweet boys and the heart and soul behind Le Papier Studio. Before finding success as an entrepreneur, she earned a Master's degree in architecture. When she's not running her business, you will find her blogging about running a small business and capturing life's special moments. Follow her on Instagram,  Facebook and on the web at www.lepapierstudio.com.