A bright yellow glow commands your attention when you step inside the Dime Store Emporium warehouse. It emanates from a sprawling, floor-to-ceiling system of yellow bins that covers an entire wall and is accessible via a wooden rolling ladder. This space in Port Washington, New York is where shop owner Terri Ventura operates her robust online jewelry supply business, which sells charms, pewter castings, chain, brass stampings and findings, and more.
Terri has made more than 249,000 sales on Etsy since opening her shop in May 2008. Before that, she worked as a nurse, a FedEx truck driver, a window dresser for a pharmacy and other odd jobs — including running her own antique store. After two cancer scares and subsequent surgeries, she was ready for something new. During her recovery, she started making altered art. Her friend, Rosemary Warren, saw this artwork and encouraged Terri to try her hand at jewelry. Terri took to it, making pieces from an eclectic mix of nontraditional materials. Shortly thereafter, Rosemary and her partner commissioned a collection of Terri's jewelry for their booth at ABC Home and Carpet in New York City. "I was selling necklaces that I couldn't afford to buy myself," she says of the jewelry, which sold for $600 or more. But when the recession hit, the gig ended. So, she decided to try selling her jewelry on Etsy. She also experimented with listing supplies, which sold faster than the completed pieces. A lightbulb went off and Dime Store Emporium was born. She started with a collection of just 100 items and her inventory — and business — have continued to grow.
While trays of patinated charms dried by the window and her employees chipped away at the day's orders, Terri took Seller Handbook writer-editor Julie Schneider on a behind-the-scenes tour of her bustling workspace. Join us!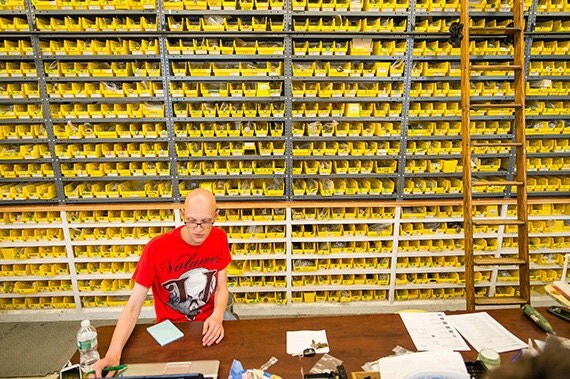 Two years ago, Terri moved the business out of her basement and into this sunny 1,000-square-foot warehouse. The natural light has improved the process behind a crown jewel of the business: verdigris. Verdigris is a labor-intensive patina process that results in an antiqued-green hue. After three different chemical steps, plus drying time in between, the brass gains a century-old look. Once the desired patina is achieved, each piece is polished to a fine sheen with museum-quality Renaissance Wax to accentuate the raised areas. Before the move, Terri would do this process on her front porch with all the pieces laid out on cookie sheets. Now, the warehouse windows provide the light and heat needed for oxidizing.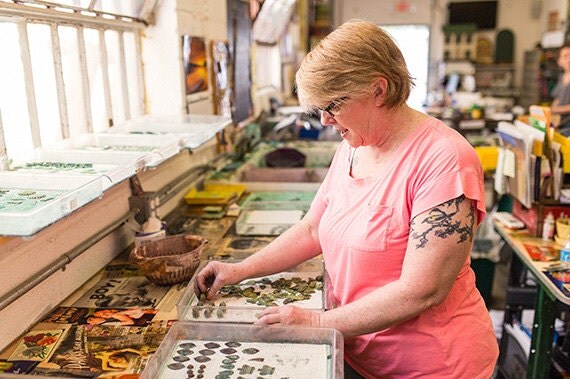 In addition to verdigris, each of Dime Store Emporium's pieces is available in five finishes: raw brass, hand oxidized (a blackened look they do in-house), and oxidized finishes in silver, brass and copper. Terri also sells vintage findings, including vintage Swarovski crystals, cabochons from the 50s and 60s and all sorts of weird and wonderful finds that she purchases from a secret warehouse in Manhattan.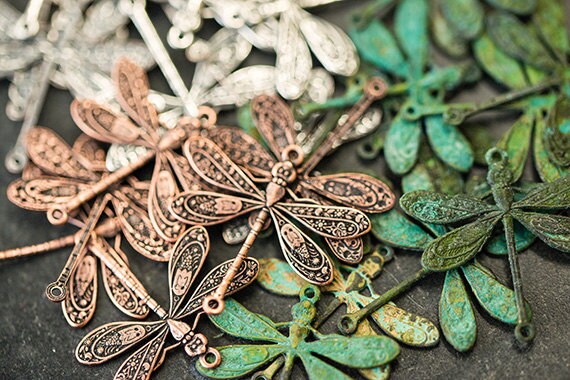 An avid treasure hunter, Terri's love for antiques is evident in every nook and cranny of the space. She has decoupaged the countertops throughout using vintage ephemera, including labels and magazine clippings. Vintage signs for Campbell's Soup and Coca-Cola adorn the walls, while knickknacks, like a Charlie's Angel lunchbox, old telephones with curlicue cords, vintage Vogue covers, a doll house and mannequin heads, are displayed everywhere you look.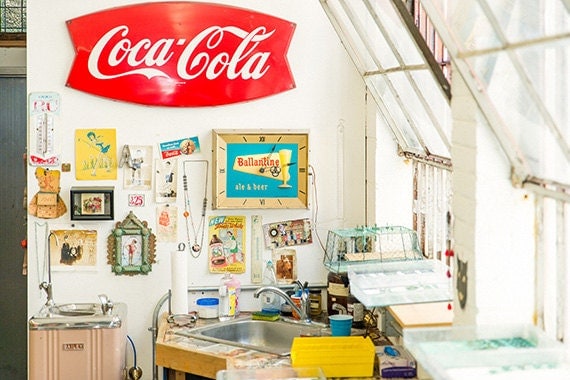 Terri has five employees who make the daily operations for Dime Store Emporium run smoothly. Typically, she and her team start the day by printing out and examining new orders. Cara Fields, Terri's assistant, helps with Convos and other customer communications. Designer Kristen Bock helps polish, oxidize and prepare items for each order. Eric Drezner, Chris Turano and Terri's son Bob Ventura handle fulfillment, shipping and inventory.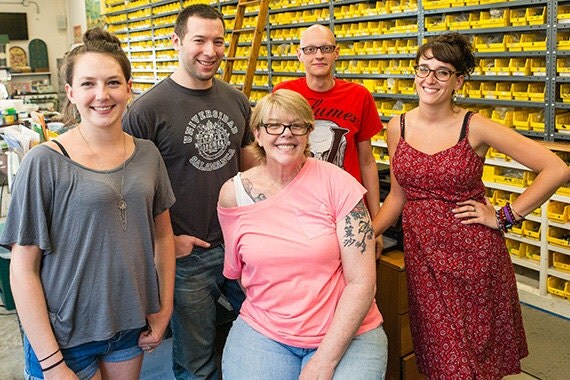 Given that her shop has more than 2,000 items multiplied by five finishes, organization is crucial. Each of the yellow inventory bins is numbered from 1-2281 with permanent marker  to correspond with numbers in her Etsy shop's item listings. She and her staff use these numbers to locate orders, and her regular customers refer to them when making repeat orders to ensure they're buying the correct pieces. Terri says that Stitch Labs, an inventory management app, has been a real life-saver. It allows her to efficiently manage the extensive stock in both her Etsy shop and her personal website (though more than 90 percent of her sales come Etsy) and prevent back-orders.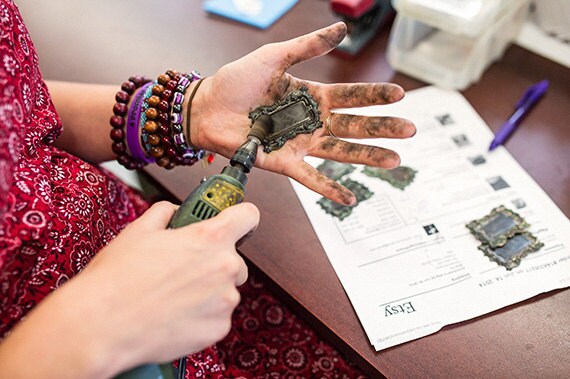 While they work, music plays from speakers mounted on the far wall. Although Terri and her staff have different musical tastes, they can agree on a classic rock Pandora station. When a Gypsy Kings song plays, Terri's rule is that no one is allowed to turn it off. Each night, after a day at the warehouse with her staff, Terri takes home any remaining pieces in need of polish, often working till midnight, seven days a week.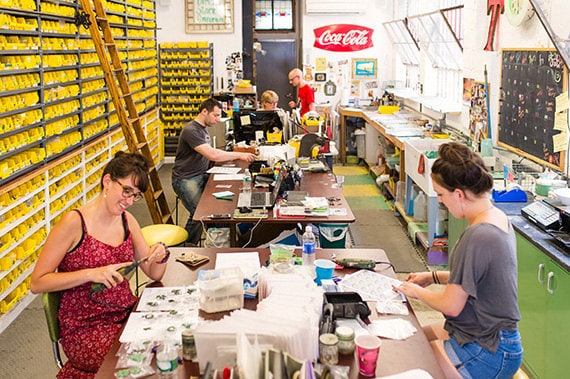 Over the years, Terri has generously shared her knowledge and success with others. She has helped even the most un-tech-savvy antique shop owners start their own online businesses. "People need to be inspired," she says. "They need a cheerleader." Her top tip for the budding Etsy seller? "List every day, no matter what. I find the more you have, the more sales you make." She also encourages sellers to continuously seek inspiration outside of Etsy (such as in nature), stay on top of trends and work on product photography.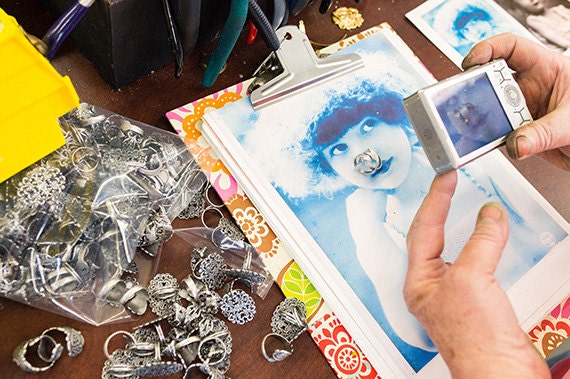 As Terri looks to the future, she hopes to one day open another vintage shop. She would love to make jewelry again too, but only for herself and as gifts, since she isn't interested in competing with her loyal customer base. Surveying the possibilities in her extensive stock of supplies, Terri says, "I get choked up at the idea of what everyone can make from this stuff."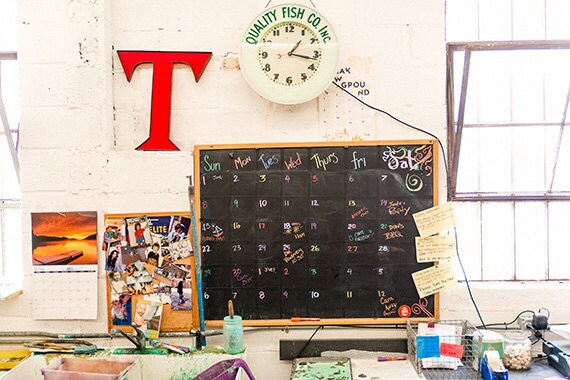 Photography by Erik Valind.
How do you manage inventory? Share your tips in the comments below.

Words by Julie Schneider
When Julie Schneider isn't writing and editing, she's carrying on her family's pun tradition, making custom GIFs, or scheming in her cozy art studio. Keep up with her latest projects on Instagram.