Last May, five Etsy sellers in the Netherlands decided to increase their own networks by joining forces. Annabel Thomas, Babette Zijlstra, Barbara Pater, Karin van Heeringen and Margriet van der Goot immediately started brainstorming ways to attract more in-person buyers by setting up pop-up shops, markets and other events. Around the same time, Annabel, who runs SecondhandSandy, a vintage kitchenware shop based in Overveen, Netherlands, read Etsy's announcement for last year's Craft Party. "We had just started our team and we only had five members, so we thought it would be a great opportunity to meet other like-minded people and to just make stuff together," Annabel says.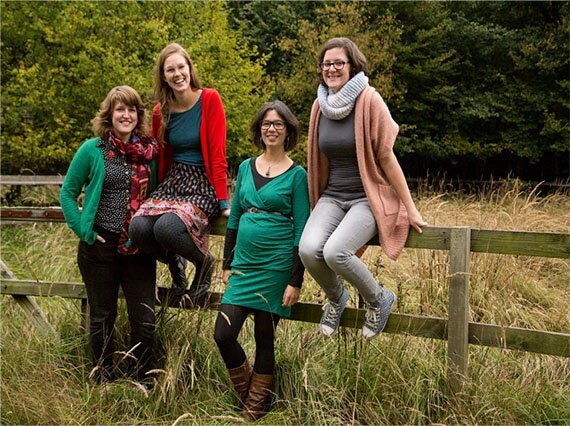 Soon after, the team, aptly named Ka-Ching Collectief, signed up to host its first Etsy Craft Party. On the day of the party in Amsterdam last June, local Etsy sellers, neighborhood small business owners and passerby took part in card-making, bookbinding and other craft activities. Meanwhile, more than 500 other Etsy Craft Parties were happening simultaneously around the world. Etsy sellers from Norway to New Zealand hosted events, making Craft Party a global success.
Now is your chance to plan your own Craft Party! This year's event is happening Friday, June 6, and the suggested theme is Recapture: Bring New Meaning to Old Photographs. We'll ask partygoers to transform old photographs into new handmade heirlooms using needle and thread, paint or a pen. Sign up to host Craft Party 2014 in your location today and then check out our Craft Party Site for downloadable goodies and inspiration.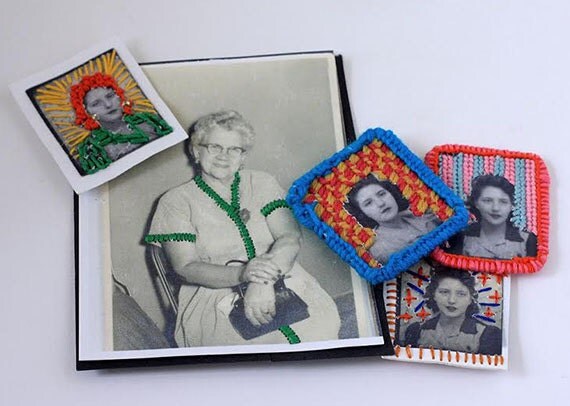 As the Ka-ching Collectief learned, hosting a Craft Party is a great way to connect with other sellers and your community. Anyone can sign up to host a party, which range in size from intimate groups of friends to high-profile events with 150 attendees. Hosts that receive 25 or more RSVPs on their Eventbrite page will receive credit to buy supplies for their party on Etsy.
Embroidering photographs is great fun, and we can't wait to see what you and your guests make. If you're thinking about planning your own Craft Party, here are some quick and easy tips for hosting a fantastic, low-stress event.
1. Enlist other Etsy sellers to help.
Having a few craft demonstrations will give some structure to your party and help it go more smoothly. Recruit a few volunteers — perhaps local Etsy sellers — to conduct quick how-to demonstrations of the craft project at the beginning of the party. When the Ka-ching Collectief decided to host a Craft Party, they scanned their RSVP list for Etsy artisans and asked them to help out by welcoming guests and leading how-to sessions. As an organizer, don't be shy about reaching out to a few attendees in your area to see if they'd like to join you and help out. Many sellers are happy to share their crafty skills with other creative people.
2. Treat everyone like a special guest.
Make sure your party guests feel welcome and appreciated as soon as they arrive at the party, just as you would when hosting a party at your home. The Ka-ching Collectief  made their guests feel special by stationing a volunteer at the party's entrance to greet guests and hand out goodie bags that included a magazine and a few small items from participating Etsy shops. Goodie bags can also be a great way to reach new customers. With that in mind, ask sellers in your area to contribute loot — a small promotional item, for instance, or a coupon code — to your event's goodie bags or giveaways.
3. Provide clear directions.
Post signs throughout your party to point the way to food tables, restrooms and other key locations. Also, provide clear, step-by-step instructions for completing craft projects. The Ka-Ching Collectief learned this lesson at last year's Craft Party in Amsterdam when many guests had trouble finding the onsite photo booth. Looking back, Annable says, it would have been a good idea to post signs pointing to the photo booth and remind partygoers to add the #craftparty hashtag to their photographs when posting them on social media.
Keep an eye on the Seller Handbook in the coming weeks for more tips on hosting a successful Craft Party in your community. Already a party planning pro? Share your tips in the comments below.