If you're like many Etsy shop owners, you probably spend much of your time responding to customer questions, managing your books and handling other routine tasks. You might find yourself saying that you wish you could clone yourself, or that there aren't enough hours in a day to do everything you need to do.
Now imagine your business running smoothly without your constant attention. What would it take to make that happen? Most successful business owners don't work around the clock. Instead, they establish systems that allow them to complete operational tasks more quickly, freeing up time for them to focus on developing new products and making their businesses more profitable. I learned this lesson the hard way. When I opened my Chicago-based Etsy shop, Le Papier Studio, in 2008, I didn't have systems in place. Like many new entrepreneurs, I performed the same tasks day in and day out without thinking twice about it. Why? Back then, I didn't realize that systems could make running my shop a lot easier. Plus, I didn't want to "waste" my precious time coming up with an easier way to do things.
I had an "aha!" moment when I started thinking about hiring an assistant to handle day-to-day tasks. To make the transition easier for her — and myself – I realized I would have to document the steps I took to complete those tasks. Going through that process has proven to be one of my most important business decisions, one that has allowed me to become much more efficient, allowing me to focus on taking my business to the next level. Even if you don't plan to hire an employee anytime soon, systems can transform the way you run your business. Below are some tips to get you started.
1. Get your priorities straight.
First, think about what makes your business stand out. My shop's biggest asset, for example, is my skill as an illustrator. Next, keeping  your most important business assets in mind, write down a list of lower priority, repetitive tasks. These are the tasks that can be systematized so they're easier for you — or your employees – to accomplish. For me, those include shipping, marketing, bookkeeping and responding to frequently asked questions from customers.
If you have helpers, you can set up systems for tasks that you don't excel at or enjoy. Since I'm not a tech person,  my husband handles Le Papier's IT issues. I know my assistant is great about following up with our customers, so she handles those interactions, unless there's an issue that needs my attention. I could handle these tasks — and did handle them all in the early days — but now I focus on my main talents and passion.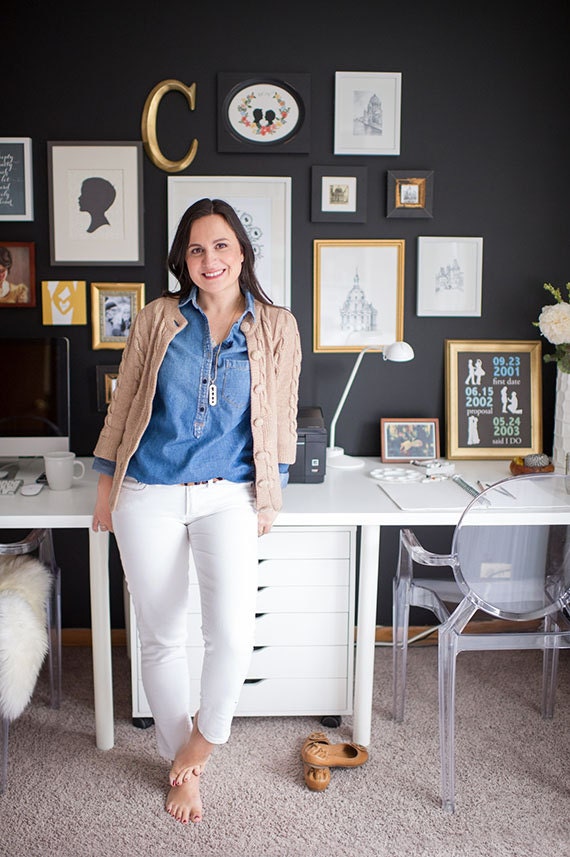 2. Standardize processes.
Once you've identified tasks ripe for systemizing, start with the one that will have the biggest impact on your time. Then, describe each step required to complete the task in as much detail as possible. For example, when my assistant started, I established a process for packaging and shipping that includes details like adding a personal touch to each item. Once I'm done with an illustration, I simply hand it off to my assistant, who follows the appropriate steps. Another huge time-saver for me has been keeping an up-to-date list of press contacts I've worked with in the past. Before, I started from scratch every time I had a product or story idea to pitch. Now, I simply go back to my list of contacts.
3.  Establish policies.
By creating clear shop policies, you're also creating time-saving systems. For instance, since we get a lot of questions about how custom silhouette orders work, we added step-by-step instructions for customers in our shop policies page. As a result, we spend less time going back and forth with customers about the process. Having a clear policy benefits us and our customers.
4. Just do it!
Before I established systems, I spent two to four hours a day on repetitive tasks. Now, I spend half as much time on those chores, which has given me more time to focus on illustrating, reaching out to potential customers and expanding the Le Papier brand. I not only improved the way my business operates, but also my work/life balance. These days, I am able to spend more time with my family and less time working. Thanks to systems, I'm working smarter than ever.

Words by Vana Chupp
Vana Chupp is a wife, mother of two sweet boys and the heart and soul behind Le Papier Studio. Before finding success as an entrepreneur, she earned a Master's degree in architecture. When she's not running her business, you will find her blogging about running a small business and capturing life's special moments. Follow her on Instagram,  Facebook and on the web at www.lepapierstudio.com.