New York City may be bursting with creativity, but it's notoriously tight on space. It takes a special kind of vision and organizational skill to create a functional and inspiring workspace here.
As an artist and connoisseur of small-spaces, I jumped at a recent chance to visit a handful of Etsy sellers in their studios as a part of our Seller Studio Tours program — designed to give Etsy Admin a window into the working lives of Etsy sellers all over the world.
Whether in a designated room of their home or a separate studio space, Etsy sellers are pros at creating practical and efficient spaces infused with unique style. Read on for their stories and tips on creating a workspace that works for you.
Anna and Juan Donado | Goose Grease | Brooklyn, NY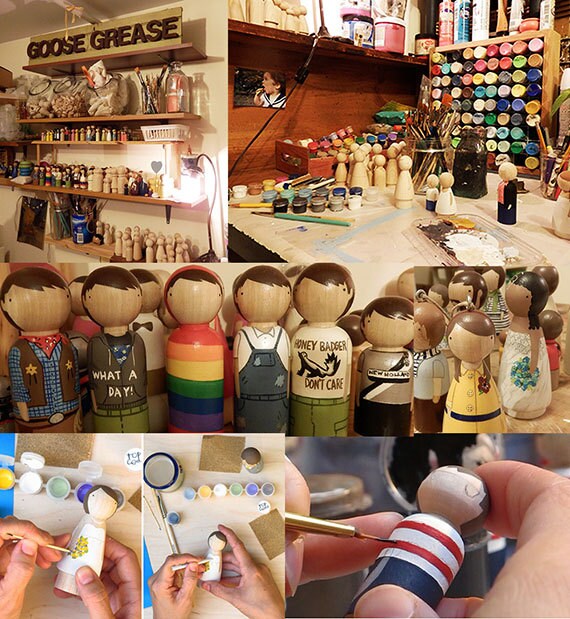 Anna and Juan Donado hand-paint each Goose Grease wooden peg doll in the basement of the home they share with their young daughter. While the two-floor setup allows some division between personal and work space, it also makes it easy to spend long hours in the "happily chaotic" workspace. Their Brooklyn studio is filled to the brim with their signature colorful wooden characters, paint, brushes and creative energy.
How do you feel your studio reflects your brand?
It's pretty much a mirror image. We work hard and the space reflects that. Production can be chaotic, and we make sure to have the tools necessary to organize the chaos readily accessible. Our space also displays the final art pieces we believe Goose Grease dolls to be. We appreciate that people are coexisting with our dolls on a day-to-day basis, that the dolls live with them. The flip side of this is that the dolls are actually designed in a space that we ourselves can live in!
What systems do you implement for staying organized, saving time and getting inspired?
The studio's design was intended to maximize the space. We had to build some very basic furniture and shelving to fully profit from the nooks and corners that were available. In terms of an organizational system, we're still very rustic — a chalkboard is our handiest tool to date.
We try to surround ourselves with all types of art forms that inspire us. From paintings to books to music, our studio is the place we hope will provide us with ideas. The balance between functionality and inspiration is what drives the controlled chaos our studio sometimes resembles.
What advice would you give someone looking to establish a creative space for the first time?
Be prepared to spend more time in your studio than you anticipated. When you work for yourself you are always working. Because our studio is in our apartment, we can spend 8 to 10 hours in it on a long day. On other days, maybe 5 or 6. Often our daughter helps set our time limits in the studio (a space we also share with her own craft activities).
Leah Duncan | Leah Duncan | Brooklyn, NY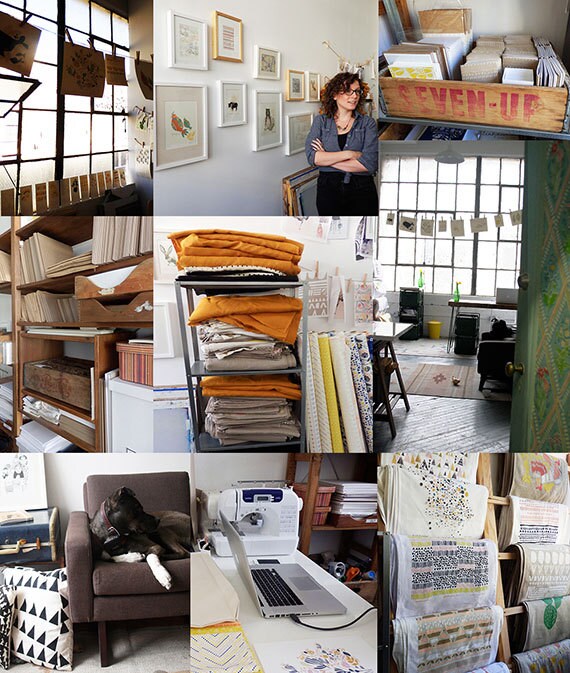 Lean Duncan's Brooklyn Navy Yard studio is aesthetically loyal to her Austin, Texas roots. Fabrics, tea towels and prints adorned with her playful, colorful illustrations neatly line the walls, shelves and hang from clotheslines in the small, pristine, light-filled space. When Leah relocated to Brooklyn, she had to give up some serious square footage, but she finds that having a separate, designated workspace gives her the chance to walk away (literally) from her work at the end of the day. "When you're able to create space between yourself and your work at the end of the day it makes for a much healthier balance and it gives me more energy for the next work day."
How do you feel your studio reflects your brand?
My studio feels modern, rustic and southwestern — all qualities evident in my work. I think it's important to have a space that constantly inspires you to be yourself and that shows everyone who visits exactly who you are as an artist.
What systems do you implement for staying organized, saving time and getting inspired?
Shelves! Shelves and towel racks are the best things that have happened in my studio. I think it's important to have designated areas within my space, so I have a packaging area, a sewing area and a designing/desk area. The designing area is far from the door because I thought it would be quieter. The packaging area is closer to the door, so if I have anything heavy to ship or receive it's closer to my UPS guy.
My studio is in an old warehouse that houses many other artist studios. Just having the energy of other creatives in my surroundings makes me feel normal. It radiates through the hallways and I constantly hear creation happening, from sewing machines to saws. It's like the art school I never had and it inspires me to just do and be — regardless of the results.
What advice would you give someone looking to establish a creative space for the first time?
Start with the basics. Shelves, large tables and things that make your space comfortable will go a long way. Keep in mind the things you use often and the things you use only occasionally. Store the things you don't need on a daily basis in the harder-to-reach places.
Stephanie Maslow-Blackman | metalicious | New York, NY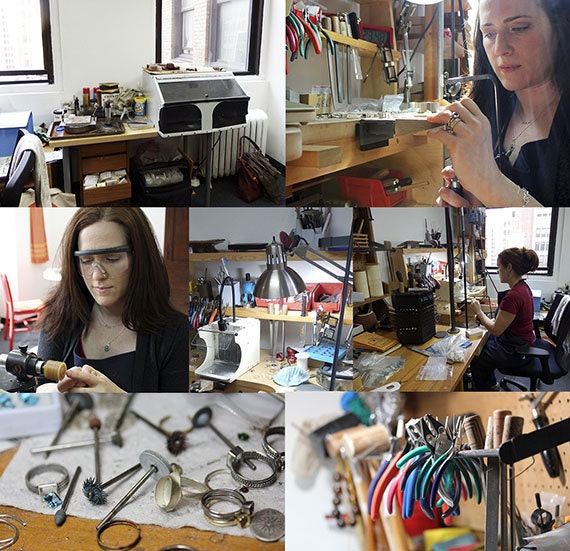 Stephanie Maslow-Blackman crafts her jewelry in a Manhattan studio space she rents just blocks from her home. She spends anywhere from 4-8 hours in the studio Monday - Friday, taking weekends off to be with her family. "I've had my studio for 9 months now and I still get a smile on my face every time I open the door and turn on the light. It's like my little creative home."
How has renting a separate studio space affected your work-life balance?
The best thing is that my kids no longer think I'm working all the time. Now that I have my own studio space that I  commute to, I have to plan my workday better; when I'm home, I'm home. I feel more productive both at home and work since I became used to a new routine.
What systems do you implement for staying organized, saving time and getting inspired?
Bins, shelves, peg board, file cabinets and lots of tables.
I designed my studio strictly for work flow. My polishing and soldering stations are a chair-roll away from my workbench. On the other side of my studio is my desk with all my paperwork, my computer, etc. That's mostly so it will stay clean — being a jeweler is dirty work.
I am mostly in my own head when I'm working so my surroundings don't matter so much to me. I like things organized and clean, and I love having more space to do that.
What advice would you give someone looking to establish a creative space for the first time?
For parents with small children, remember to childproof your office the same way you would your home. You never know when your kid has to have a sick day at the office with you. Make sure you have proper ventilation and permits if you have gas tanks. Don't be opposed to moving your furniture around a few times until it feels good to you. You're the one who has to work there every day, so it should make you happy.
Where do you work on your Etsy shop? Share your tips for effective studio organization and creating an inspiring work space below.

Words by Audrey Manning
Audrey Manning grew up in Brooklyn, just blocks from the Etsy office. When not writing educational content for sellers, she can be found knitting for her Etsy shop, abrooklynheart. Keep up with her on Pinterest.