Participating in craft fairs can help you reach new audiences, diversify your income sources and see how in-person shoppers react to your items. But finding the right craft show for your shop – and filling out the application –  can seem like a daunting process. To help out, we put together the following tips from craft show pros.
1. Find the Right Show for You
The more you know about a show, the easier it will be to decide if it's right for your business. First, decide if a juried or non-juried show makes the most sense. Non-juried shows, which are often run by community organizations, usually review applications on a first-come, first-served basis, so applying early is key. Juried shows, on the other hand, are curated by a group of judges who vet applications and choose the ones that seem like the right fit. Juried craft fairs tend to be larger events with higher booth fees than non-juried ones.
A show that aligns with your brand is more likely to attract customers interested in your products. Get a sense of the aesthetic by looking at past year's vendors and the show's marketing materials. Ask other shop owners who've attended the fair what their experience was like. "Talk to people who will be brutally honest about whether a show is a good fit for you," says Nancy Pizzaro, co-owner of Circa Ceramics in Chicago, Illinois. Check in with a local Team in the show's location, search the Etsy Forums for other sellers talking about the show and, if you belong to an Etsy Team, ask fellow members for advice.
Nancy, who's been selling at in-person events for 15 years, also suggests checking out social media posts about past fairs to gauge a show's popularity. Instagram photos that show a room full of potential customers are a good sign, as are positive posts from participating vendors. "If a vendor took the time to give a shout out to the event, that's great," Nancy says.
2. Tailor Your Application
Once you've researched different shows, be sure to tailor your applications accordingly to appeal to organizers. Nancy and her co-owner, Andy Witt, consider each show's aesthetic when deciding which of their products to highlight in photos. "We try to show the broadest range of our work," says Andy. "But if we're applying to a show we know wants a more handmade look, we'll include ceramics with attachments like handles on cups or lidded bowls and pieces with more painterly colors." Look at the show's marketing materials and think about its target audience. If it's a gift show during the holidays, make sure to show a range of price points. If it's geared toward art collectors, showcase your most intricate work.
Many shows also ask for an artist's statement or description of your work. Nancy keeps five to 10 different versions of the Circa Ceramics artist's statement so she can easily tailor it to an application's requirements: some ask for statements as short as 100 words, while others ask more about process than inspiration. "Stick to the question they're asking you," advises Andy.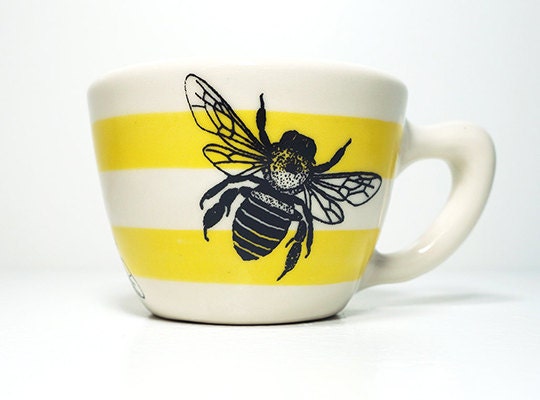 3. Stand Out From the Crowd
When reviewing applications, juries and show organizers are looking for the right mix of products and personalities that will make their show a success for both vendors and shoppers. A range of products and price points is important, but the little details that make your handmade business different from any other will make your application pop. "You're a craft artist for a reason," says Erin Hartz, artist relations manager for the One of a Kind Show and Sale holiday market in Chicago. "Why do you do it? Where do your ideas come from? It might seem basic, but that's what makes products stand out." A great story, says Erin, means you're more likely to engage customers, which makes the show more fun for everyone. Of course, creating a professional-looking application that shows how serious you are about your business should be your top priority. "The most important criteria we look at is a unique aesthetic and a cohesive voice," says Erin. "I want to clearly see what an artist is about."
4. Focus on Photography
Make a great first impression on a jury with professional-looking photography. There are three kinds of photographs you might be asked to include with an application: product photography, booth shots and photos of your workspace or process. Product photography should be cohesive and an accurate representation of the products you'd bring to the show. Submitting a mishmash of products in the hopes that something sticks might overwhelm a jury. "A theme is good," Andy says. "Too much variety that's not tied together can be a turn off." The same tips that make for good photos in your shop apply here: use a consistent background; natural, diffused light; and a crisp focus. If you've applied to a show in the past, be sure to include new photos – and ideally, new products – in your application to show how your business has evolved.
A booth shot gives organizers a sense of your branding and display and shows the relationships between your different product offerings. If this is your first time applying or you don't have high-quality booth shots from previous shows, it's worth setting up a tabletop display or tent in your work space or yard just to take photographs, says Erin. A good photo says more than a sketch could and shows that you're taking the application seriously.
If there's a place for them in the application, Erin recommends including photos of you making your work. "Process is important," she says. Recruit a friend or a hire a photographer to come shoot in your studio. Not only could these photos help reinforce the quality and originality of your work for a jury, they're also great for your shop's About page.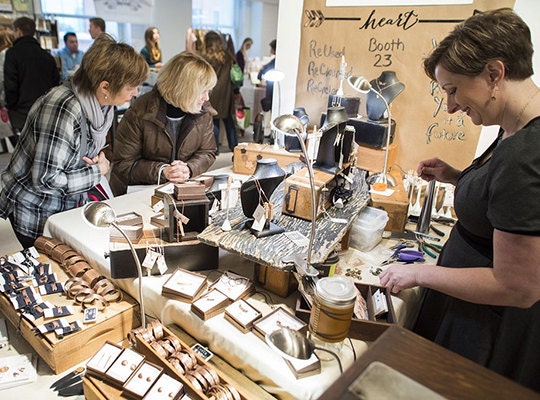 5. Don't Get Discouraged
Remember that rejection is not personal. In many cases, show organizers are choosing between lots of great artists, so if you're application wasn't accepted, it could be because they had too much of one kind of work that year. Visit shows to see what products are missing; that's where you could fill a niche next year.
Erin says it's okay to call a show organizer to see what you could do differently to improve your chances next year. "It's good to see that someone's determined," she says. "When I see an application come back to me and they've been accepted after being denied in the past, it's often because they created a more professional application." Mention that you applied in the past and explain what you've done to improve your business and application to show that you're a better fit for the show. "It's like dressing for the job you want," Erin says.
Share your best craft show applications tips in the comments below!

Words by Taylor Combs
Taylor Combs is a writer and editor for Etsy's Seller Handbook.