Start prepping for upcoming craft fairs now with hard-earned advice from Etsy shop owners who've been there. These six sellers vended in the Etsy Pavillion at One of a Kind Chicago in December. For most of them, it was the largest show they'd ever attended. Over the course of four days, tens of thousands of shoppers flooded the event space, eager to buy unique gifts. After countless conversations about their products and process, hours on their feet and tons of sales, here are the biggest lessons the sellers learned from the experience.
1. Have Cash On Hand
Although mobile credit card readers, like the Sell on Etsy Reader, are becoming more popular and customers expect to be able to use a credit card, it's still important to bring small bills to the show so you can make change.
"I'd heard from a past vendor that 95 percent of her sales were cards, so not to worry as much about having cash on hand for change," says Maren Misner of photo art shop The Tin Owl in Madison, Wisconsin. However, lower price points like a $4 bookmark and $6 magnet meant that more of Maren's customers wanted to pay with cash. "You don't want to run out of quarters and bills halfway through day one. It's a very unnecessary stress!"
2. Manage Your Expectations
Maren also learned an important lesson about avoiding disappointment. "There was a lot of hype around the show, rightfully so, and I slowly began to build secret ambitions and hopes that I'd earn four times what I did," she says. "While not impossible, it's good to remember that might not happen right away." When setting a goal for what you'd like to make at a show, make sure you're being realistic.
3. Get There Early
If you're used to being able to walk onto the show floor with a handcart loaded with bins of your products, you might be in for a rude awakening at a big show. At some larger convention centers and venues, union employees must perform certain setup tasks. Make sure to budget your time appropriately. "I thought I had planned for plenty of time to set up before the show, but I didn't take into account waiting in line at the loading dock for more than 2 hours," Maren says.
4. Bring a Wide Variety of Inventory
Shoppers are looking for products of all shapes and sizes and having a little bit of everything in your inventory can mean more sales. Chicagoan Cat Painter of Made by Cat Painter brought plenty of Windy City-themed merchandise to the show, but underestimated the number of out-of-state attendees. Luckily, she was prepared with products in a wide range of price points, which is especially important at pre-holiday shows where shoppers are looking for stocking stuffers or items for gift exchanges with spending limits.
5. Showcase Your Brand
Highlight your products and create a memorable experience for shoppers with a booth that speaks to your brand identity. Lindzi Shanks of Chicago-based shop The Trendy Sparrow outfitted her booth with a chevron rug, colorful tassel banner, pale pinks walls and gold accents. "Everyone loved that the booth, items, packaging — even my outfits — looked like they came from the same brand," Lindzi says.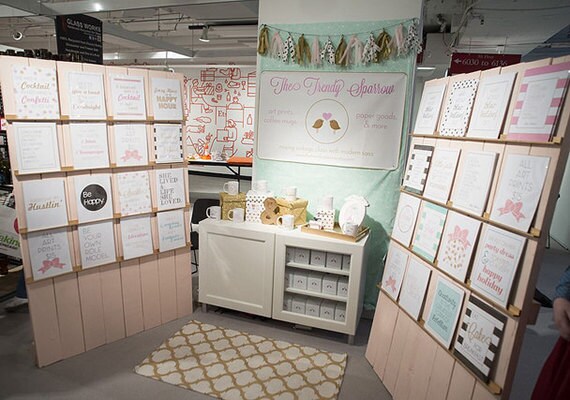 6. Offer A Small Discount
Offering special discounts or pricing for show attendees can be an effective way to turn browsing shoppers into buyers, but Sara Amrhein Firenze took that concept one step further by using a discount as a conversation starter. "I was able to sell almost all of my most popular necklaces by offering a small discount," she says. "I talked about the discount with anyone who expressed interest, rather than having it written down. It becomes more personal and helps you connect with your customer." Be sure you're accounting for your time, materials and the expertise you bring to your craft before offering any kind of discount. Read Mastering the Art of Discounts for more tips.
7. Be Comfortable Selling Yourself
Talking to customers about how her items are made was also a winning strategy for Sara. "Be prepared to explain how it's made without giving away your secrets," Sara says. Using the same keywords she uses in her tags helped Sara grab shoppers' attention. "People will stick around to learn more," she says. In-person events are also an opportunity to tell shoppers about the history of your shop and your background as a creative entrepreneur.
8. Give Shoppers Something Extra
Face-to-face interaction offers you even more opportunities to create an excellent experience for your customer than selling online. Peter Gaona of bow-tie shop ReformedSchool customizes bow ties on the spot, allowing customers to choose the fabric for the center of their pre-tied bow tie. "It adds a more personal touch and while I was sewing, it gave me a chance to talk to my customer," Peter says. He continues that conversation post-purchase by encouraging customers to tag him when they share photos of their ties on social media.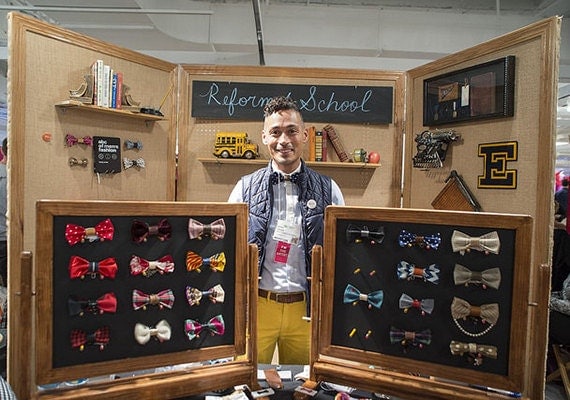 9. Treat Everyone Like a Potential Customer
Frances Barry, owner of men's accessories shop Barry Beaux, learned an important lesson about her target market by selling in person. "Don't hesitate to talk to everyone who walks by," she says. "People I thought wouldn't buy anything ended up buying and some people I thought for sure would make purchases didn't." Don't miss 5 Ways to Translate In-Person Events Into Online Sales for more ways to hone your target market through face-to-face interactions.
What lessons have you learned from selling in person? Share your thoughts in the comments below.
Are you interested in applying to participate in the Etsy New Artist Pavilion at the One of a Kind Show Chicago? Sign up here to be notified when the new application comes out each year.

Words by Taylor Combs