Every day is Earth Day for Earth Cadets founder Krissy Callahan. Her budding Chicago, Illinois-based business caters to environmentally-conscious shoppers with a keen eye for design. Krissy showcases bold, bright patterns on responsibly sourced fabrics, composed primarily of natural fibers with blends of plastic bottles and organic cotton remnants.
After graduating college in 2003, she dreamt of building her own T-shirt company from the ground up. "I started with iron-ons, then puffy paint, followed by bleaching and stamping," she says. "Screenprinting was the logical next step." So Krissy headed back to school at the Lill Street Art Center and took their beginning screenprinting class not once, but three times before setting out to build her own studio in her boyfriend's basement. Six months of trial and error later, she created her first successful burn. "I cried tears of joy as I washed out the screen and saw a crisp and clear image revealed." Shortly thereafter, she started teaching her screenprinting locally and developing her product line, taking the leap to quit her day job in October 2011.
Now a full-time Etsy seller, Krissy shares her experience and insights on creating an eco-friendly product line both on- and offline.
How has Earth Cadets evolved?
In the beginning, my focus was just totes, with a goal to replace plastic bags and eventually take over the nation. Realizing that might not happen as quickly as I would like, I introduced adult shirts and baby onesies. After a year of strictly selling online, I signed up for Renegade Craft Fair Chicago, took a pillow-making class at Chicago's The Needle Shop, and tried my hand at printing repeats to make my own fabric.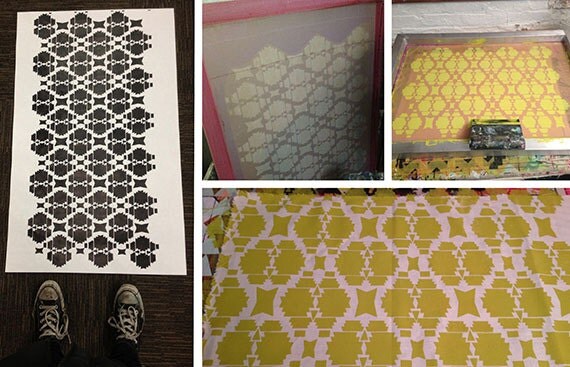 As a new seller, what challenges did you focus on overcoming?
Looking at my first listing photos always gives me a chuckle. I knew how important good photography was — I just wasn't sure how to achieve it. I wound up investing in a DSLR and after many hours of self-teaching, I was able to take some decent product pics. I still struggle with investing the time to capture the perfect image versus quickly listing an item.
When I started, the world was my target market. Now, I'm continuing to narrow and focus Earth Cadets as a brand in an effort to truly target my audience, and ultimately create a better end product.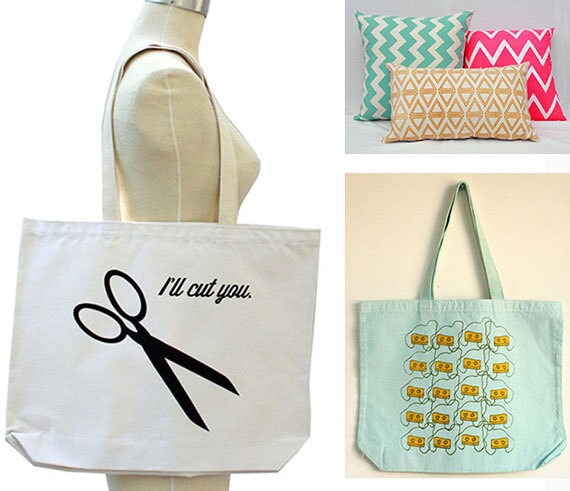 The name Earth Cadets seems to carry an innate brand promise, with environmental implications. What does maintaining those expectations require from you as a maker?
Since working exclusively with organic and recycled materials means limited options and, frankly, higher cost, it took quite a bit of work in the beginning to find the right vendors who supplied the base materials I was looking for. My hope is that buyers appreciate not only the handmade aspect of our products but our commitment to being responsible with all the materials we use.
As a handmade community, so many of Etsy's products are made consciously. We aren't giant factories, churning out mass loads of products. We make things with our hands and with intention. Being eco-conscious is limiting but also helps focus the brand.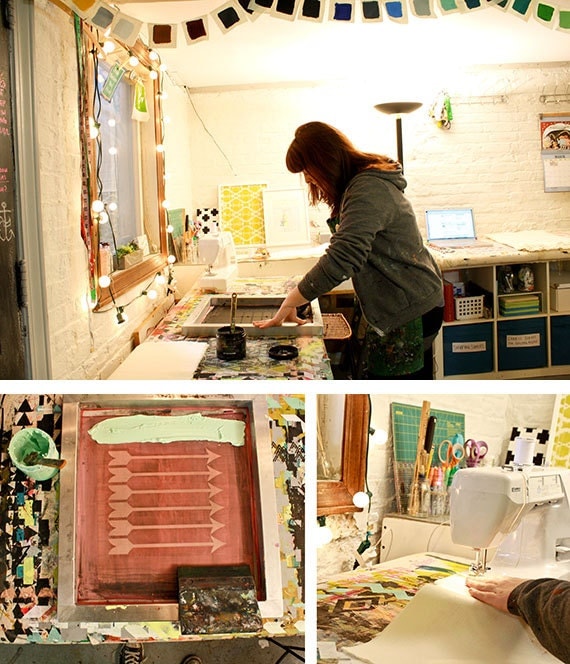 What are your top tips for creating or transitioning a business to become eco-friendly?
It's all about reducing, reusing, and being mindful.
Investigate your medium's options. There seem to be eco-friendly alternatives available for just about everything! As a screenprinter, there are many types of inks available, but I work with nontoxic, water-soluble inks because not only do they have lovely results, they are safer for the environment.

When it comes to fulfillment, use recycled products wherever you can. Recycled paper bags, tissue papers, labels, and boxes are available online and are a great way to make a responsible choice for your shop. I also love reusing the boxes my inventory and supplies come in.

I used to include the motto "grounded and responsible" on my business cards. To me, this means that as a company, Earth Cadets takes realistic steps to maintain its commitment to the environment. I can't work in the dark, but I'm mindful that every time I leave the room, I turn bright bulbs off. I make sure my sink hose is turned off and not dripping, and I replace paper towels with washable hand towels. These small steps add up.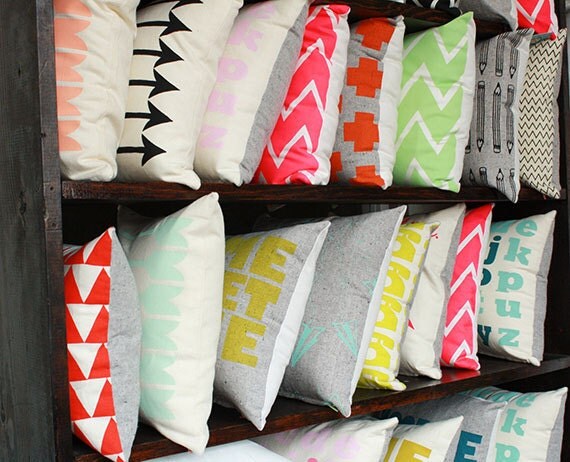 How has participating in craft fairs impacted your business?
I participated in the One of a Kind Show, Chicago for the first time in 2012, and there was something so magical about that entire experience. I learn a lesson from each show I participate in, and while sometimes hard to swallow, these lessons have helped me focus and better shape Earth Cadets as a business. As a deadline-driven person, selling at shows provides me with the pressure I need to keep interesting new products coming and my audience engaged.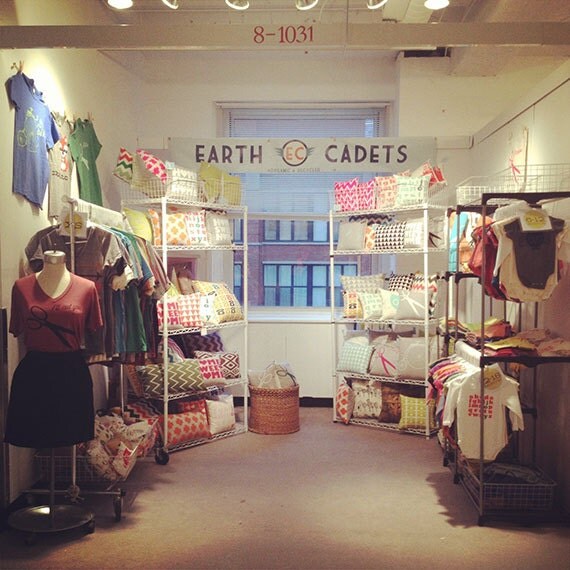 On top of running a full-time Etsy shop, you've taught screenprinting for the past three years. What makes teaching worthwhile?
Each class I learn something new from my students — as a one-person operation, that is so valuable to me. I often get so set in my this-is-how-it-is way that seeing the process through new eyes helps me better understand best practices and new methods. Ultimately, it's all about teaching each other.
Do you want to quit your day job to become a full-time Etsy seller? We'd love to learn about your goals in comments.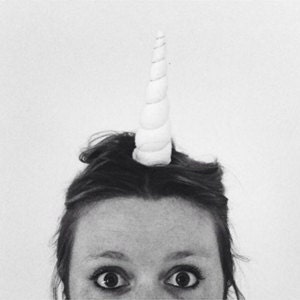 Words by Katy Svehaug
Katy Svehaug is a Senior Content Strategist at Etsy.