Tell us about your shops and the idea behind them.
My muse, inspiration and support is my husband Nicky. I made my very first scarf for him; you can see him. He gushed over it, "You could sell these and people would love 'em!" So, I designed eight scarves and took them to a local boutique — conveniently I live in a tourist town near the Grand Canyon — the store owner bought six on the spot. I officially became a scarf-selling addict; what a high!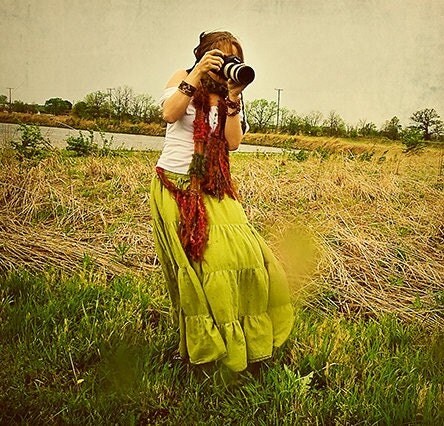 Once I had set up my Etsy shop, a portrait photographer contacted me and asked me to make a scarf with all fringe to use as a prop. I made her my very first Fringe-O-Rama™ and I was on a roll! Then a photo portrait artist for newborns saw it and asked me to make her a Fringe-O-Rama™ in a baby blanket shape. I cranked my poor, little brain and measured and fretted and fiddled until the Fringie™ yarn photo prop was born. From there I started adding more original props in different styles and colors and CricketsCreations was bustin' at the seams! So I opened BabyBirdz to provide more of a "specialty boutique" atmosphere for my baby and maternity props.
A few months later and for the same reason I started CricketsHome to showcase my home décor knits.
Tell us about your previous working situation/s and how you discovered Etsy.
I have to tip my hat to my family. My mom and grandma taught me a strong work ethic and also helped me understand that orders come when customers are having fun and feeling happy. Laughter loosens the purse strings. They were both at one time housewives who had careers through Tupperware. Watching them in action had a tremendous impact on me and taught me how to be successful in just about everything I tried.
My dad is a science geek who's obsessed with efficiency. He taught me how to be ridiculously productive by streamlining processes. On a typical day I knit five items without scrimping on quality, and know that it's a matter of knowing how to manage the workload. I considered these kinds of experiences as training wheels for eventually launching my own business.
I had been on Etsy part time for a year when I was laid-off from my day job. That exact week in 2008, sales on Etsy took off like a rocket and it's been full speed ahead ever since.
Confession: I'm bossy, opinionated, stubborn and refuse to know my place in the chain of command. I have been let go from multiple jobs for insisting on doing things my own way. Luckily that bull-headed persistence was just what I needed to succeed as a small business owner and entrepreneur. I discovered Etsy from a fellow crafter, when I went to the site I felt a jolt of electricity run through my body. There was this spark of recognition, as though I'd been looking for something like Etsy all along.
What steps did you take to prepare for transitioning into full-time Etsy selling?
While I had a day job during my first year on Etsy, I spent just about every waking hour that wasn't 9-5 on Etsy. So I was working pretty much full time on Etsy even though my sales at first weren't enough to fully support me. "Fake it 'til you make it," was my motto.
I created and listed new designs, made contacts on social networking sites, chatted in the Etsy Forums, sold at craft fairs and approached retailers. I've also written extensively about wholesale and consignment. Sales slowly increased and after 6 months of effort I could say that sales were steady. I noticed a big jump once there were 100+ different items available for sale in my shop. I would highly recommend offering enough colors, sizes and styles so that shoppers feel like they have plenty of choices and that their imaginations can run wild.
What is your favorite part of the process in knitting?
The texture of the yarns, the soothing repetition, the beautiful colors passing between my fingers. I love designing new products and placing different yarns together and coming up with crazy combinations. One of my favorite tasks is naming a new piece as I work. As I create, I imagine the person who will fall in love with the end product and how they will feel about it.
I avoid anything I don't like about the usual knitting process — for me, that's following a pattern and finishing/seaming. I simply find ways to design another way. It's so important to me that I follow my joy and my heart; otherwise, what's the point?
What are your best marketing tips?
Approach others with a sense of curiosity, genuine interest, sincerity and fun. Long ago I took a customer service course and learned that asking questions is vital and that I should listen more than I talk.
What have you found to be an unsuccessful promotion?
One major mistake I've made is not having enough supplies on hand. When I first started out, I'd only buy a few balls of each type of yarn because I didn't know how popular items made with that color would be. Then my shop suddenly went full time and I found myself running out of vital supplies. Now I stock up, especially on colors that I know will be popular or that are discontinued. My husband stopped freaking out about me buying several hundred dollars of yarn at a time once he saw that yarn translating directly into several thousand dollars worth of sales!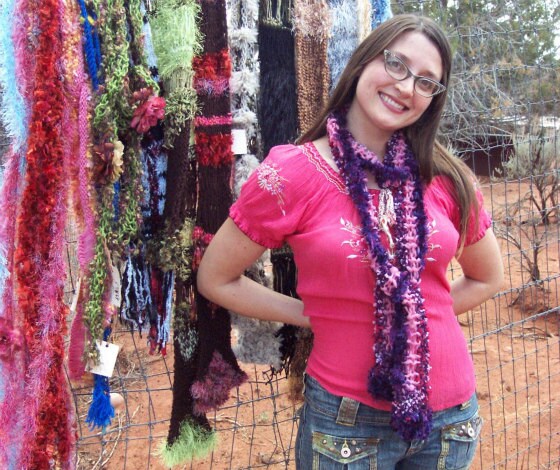 What is the biggest challenge you face during your daily schedule?
I joke that my "crafter's butt" has grown from sitting so much at the computer and/or knitting. Now that I know how much my time is worth and that my income potential is virtually limitless, I struggle with taking time out to do stuff that doesn't have a monetary reward, such as exercising or traveling.
What's the hardest part about running your own business?
I get really stressed out by taxes, paperwork and government documents; when I read all those legal terms my eyes blur and it's hard to make sense of it! I have an excellent accountant who does all my filings for me. When some form comes in the mail that I don't understand, I just call him and he explains it or does it for me; it's such a relief!
What do you enjoy most about not having a day job?
I love the direct results and instant rewards. For example, I used to work reception for an hourly wage at a veterinary clinic. It was only after I moved on that my boss called to ask, "How were you selling so many products from our lobby?!". Their over-the-counter sales had doubled while I was working there, and of course fell by 50% when I left. Now as my own boss, if I sell more products then I make more money right away — that's nice!
What is the most exciting thing that has come out of selling your designs through Etsy?
Where to start? I still get butterflies in my stomach at each new order. I love meeting people all over the world and getting to know them. It's such a thrill to be on the homepage of Etsy on occasion — the first time it happened, I started jumping up and down and babbling incoherently and squealing like I'd won a sweepstakes. My husband came running from the other room because he thought I'd hurt myself.
Probably the most exciting thing has been that Etsy's provided a platform for national magazines and celebrities within the photography world to discover my products.
What advice would you give someone considering a similar path?
Go for it! Etsy is affordable and it's okay to learn as we go; I'm big on taking reasonable risks. For me, healthy risks include accepting custom orders and personal checks, paying craft fair booth fees, trying out promising ad spots and making my shop welcoming to international customers.
Anything else you would like to share?
I'm all about living the dream and believe there's plenty of success to go around. If I'm asked to make a product or style that's already available from another designer or is vastly different from my signature style, I'll refer potential customers to another seller, instead. People seem to really respect my stance that as an artist I won't replicate another's designs or stray too far from my heart's work. I find frequently they'll either come back to my shop for something else later or end up buying one of my existing pieces.

Words by Celeste Myers
My name is Celeste (Crickets is my nickname). I am very blessed; my fulltime career is designing & crafting unique, handmade fiber art scarves, blankets and photo props from vintage & novelty yarns.