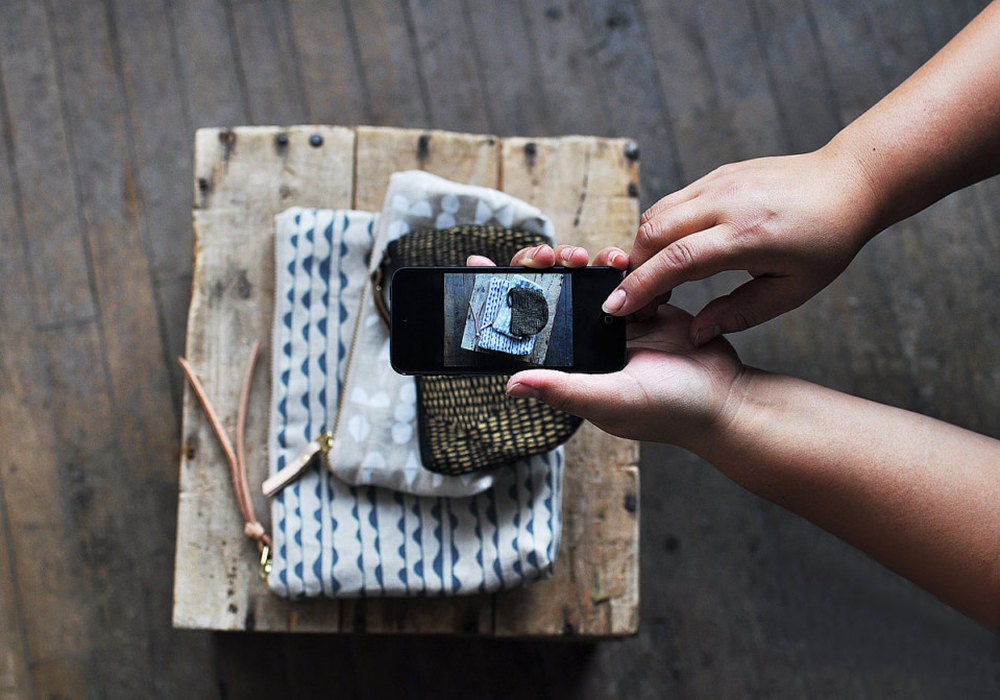 Product videos can inspire, clarify, and contextualize your items in the two-dimensional world of online shopping. Research shows that adding a product video to an online listing can provide increased transparency that boosts buyer confidence and conveys valuable information that they can't get from photos alone. (Via 2018 Etsy buyer research findings.) And thanks to the prevalence of smartphones, capturing that footage is easier than ever before. But how do you know what types of content to include?
Read on for ideas to inspire your own listing videos, with video examples from other sellers and insights from Etsy's Merchandising and Social Media teams.
1. Videos that address common questions
Any experienced online seller knows how difficult it can be to ensure shoppers take the time to read detailed listing descriptions. Take advantage of the multimedia video format to address common buyer questions, showcasing your product from a variety of angles, conveying scale, and highlighting unique details of the materials and design. If you offer item variations, like different sizes, colors, or materials, think about ways to demonstrate these options in a video.
For vintage items, a listing video can help communicate any signs of wear or flaws that a shopper might overlook in a written description, preventing customer service challenges down the line.
2. Videos that show your products in use
Videos showing your product in use can clarify your product's function and details, and help shoppers envision using it themselves. Research your target market to gauge how they might use your product. This information can help shape how you'll present the product in your video and also preempt relevant questions.
If you sell wearable items like jewelry, accessories, clothing, or shoes, filming your items on a model helps clearly convey scale and movement. It's also an opportunity to style the piece with complementary items in your shop to encourage multi-item orders, like earrings and a necklace or a dress paired with a jacket. Think about how you can use video to highlight any of your product's multidimensional components that might not translate in a static image.
If your items are used for a specific function, like a vintage french press or minimalist jewelry stand, uploading a simple demo of the product in use can have a big impact. For home and living items, consider adding a video demonstrating the ease of installation or showcasing styling suggestions to engage shoppers.
3. Videos that highlight the creative details
A driving force for many consumers buying handmade products is a respect and appreciation for the creative process. If the full details and dimensions of your items are more readily conveyed through your listing photos, you may decide to opt for a product listing video that highlights more of the creative process behind it. Try capturing the hands-on components of your work at different stages, such as a timelapse video of the process for making your item, or the careful addition of a customization option.
Additional insights from Etsy's Merchandising team
The following category-specific insights come straight from the Etsy Merchandising team to consider when taking your videos. Feel free to scroll through and find the insights relevant to your category.
Home & Living: Consider process videos that show quality and craftsmanship, or demonstrate how an item works. End your video with the finished product, and think about showing off scale and materials.
Bath & Beauty: Try videos showcasing ingredients, items in use, and end with the finished product.
Vintage: Show quality, along with any flaws or signs of wear.
Jewelry & Accessories: Try shooting videos that showcase items on a model to help visualize movement, scale, and details. For bags and purses, consider shooting the interior to show organizational features and using props to show capacity.
Clothing & Shoes: Use videos with on-model movement to show how the garment hangs or moves. A close-up video to show the material details, textures, and quality might be helpful, ending with the finished product.
Wedding & Party: Try up-close videos to highlight details and craftsmanship. This category also provides an opportunity to use lifestyle videos to show how items could come to life in real settings. For personalized decor, invitations, and gifts, consider highlighting the personalization process, ending with the finished product.
Craft Supplies: Use up-close videos to highlight details, materials and texture. You can also demonstrate your supplies in-use on projects, like yarn coming to life through a knit scarf, and ending with a finished product.
Art & Collectibles: Show the making process when possible, ending with the finished product, or staged lifestyle shots of the item to help show scale.
Toys & Games: Try showing the toy or game in use, showcasing the pieces that come with the game, and ending with the finished product.
Check out How to Make Listing Videos With Your Smartphone for simple instructions on filming and uploading videos for your product listings. When you're ready, you can easily upload your video by editing the selected listing in the Listing Manager. You'll find the option to upload your listing video below the listing photos section. Just select the file from your computer or phone, wait for it to upload, and hit publish. Videos longer than 15 seconds will be clipped.
Be sure to subscribe to our seller email list for important updates about your Etsy shop, new features, and personalized tips to help grow your business.