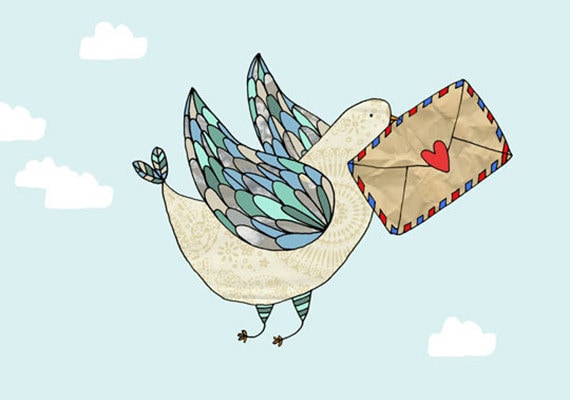 When you run a brick-and-mortar store, you have plenty of opportunities to create a great experience for shoppers — a friendly greeting at the door, for instance, or a layout that's easy to navigate. As many Etsy sellers know, creating a positive experience for online shoppers is often more challenging.
One of the biggest differences between in-person and online shopping? At the end of the checkout process, the buyer doesn't immediately receive her new item (unless it's a digital download). Whether she waits a day or several weeks before her purchase arrives at her doorstep, gratification isn't immediate. With that in mind, Etsy recently developed new shipping tools to help you turn what can be an unsatisfying experience for shoppers into a positive one. Below are some tips that will help you make the most of the tools, which will not only boost customer satisfaction, but also free up more of your time.
1. Keep Shoppers Informed
One way to help customers feel confident about their purchases is to keep them well informed each step of the way. Now, our Mark as Shipped feature gives you the option to add both carrier and tracking information in the same step. The information will be included in a shipping notification email to the buyer. Although adding the extra information is optional, it's a good idea to fill out as much of it as you can — even if you simply provide the name of your carrier — to set your customers at ease about delivery.
If you use Etsy Shipping Labels (now available for the United States Postal Service and Canada Post), you get the added bonus of having your tracking number and carrier included in your shipping notification automatically. (Fun fact: Etsy sellers can now purchase USPS First Class Postage for packages weighing up to 16 ounces.) In addition, Etsy now provides tracking information for more than 100 national carriers, including Australia Post and Royal Mail. For many carriers, Etsy can automatically detect your shop's carrier based on an item's tracking number, removing one more step from the process for you. Customers can track their packages right on their Etsy receipt and see a map showing the distance between you and them, which continues to set the right expectations about shipping time.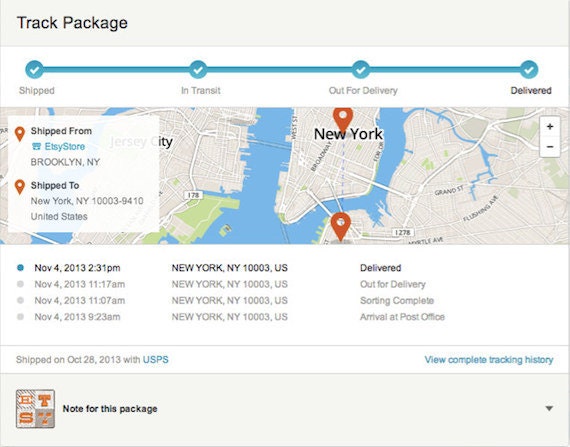 2. Make it Personal (Without the Hassle)
We've heard from many Etsy buyers that one of the things they like most is knowing they are purchasing from someone just like them: an individual who values uniqueness and recognizes the importance of personalization. Every chance you have to remind your customers that they are communicating with another person helps them feel more confident that their order is in good hands.
When you mark an order as shipped, you have the option to include a personal note to customers in their shipping notifications. Including a note is a great idea, but it can be time-consuming to create a different message every time. With Shipping Snippets, a new feature that is also available when marking an item as shipped, you can save up to 10 commonly used notes and select an appropriate one when sending shipment information to each customer. This allows you to deliver tailored messages without spending a lot of time on writing. To get started with Snippets, look for the blue speech bubble icon the next time you edit a Note to Buyer.
3. Time Notifications Accurately
We've covered the importance of sharing information with your buyers. It's also important to think about when you share that information. Keeping the timing of your notifications as accurate as possible is an essential part of instilling confidence in your customers. During a recent survey of Etsy buyers, we learned that the overwhelming majority of buyers expect to receive shipment information about their orders when the order has actually shipped, not when you're packing the item or purchasing postage for it.
Using scheduled shipping dates on Etsy can help you meet customer expectations without spending a lot of time corresponding with them. It's now possible to schedule a ship date up to two days in the future when you mark an item as shipped, or when you buy an Etsy Shipping Label. Say you're prepping your packages a night or two before you actually ship them out. Now, you can mark them as shipped or buy a shipping label as soon as they're ready to be packaged and schedule the shipping notification to go out the day they're actually shipped. Your buyer's receipt will indicate that her package is "shipping soon." When the scheduled ship date arrives, the receipt will be updated automatically to show that the package has shipped. As a result, you can let your customers know exactly when something is on the way — without disrupting your workflow.
4. Offer Options
Today, it is common for Etsy shoppers to require expedited shipping for their orders — for a rush birthday delivery, say, or a last minute personalized item for a wedding. Typically, you and your customer will communicate via Convo to arrange for faster shipping, if it's available. Offering Shipping Upgrades in your shop makes this process easier for both sides by giving shoppers the chance to select their preferred shipping speeds during checkout. Having the ability to choose a preferred shipping speed gives customers an added sense of control over the shipping process and sets clear expectations for delivery dates. To offer Shipping Upgrades in your shop, go to Your Shop > Shop Settings > Options, and select Enabled under Offer Shipping Upgrades. Added bonus: You'll most likely spend less time responding to Convos about shipping!
What's your best-kept shipping secret? Let us know in the comments.