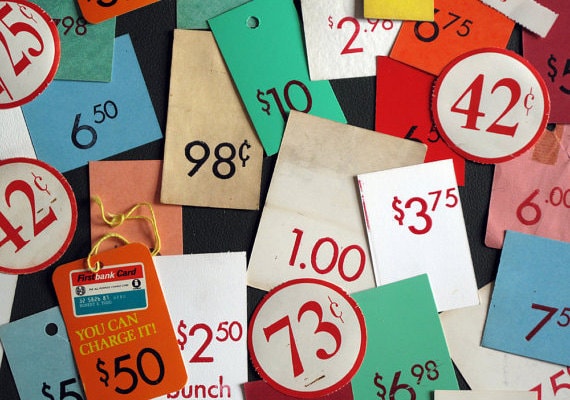 When you follow the path from discovering your true artistic love to opening your Etsy shop, it's easy to fall into the mindset of "You can't put a price tag on happiness." But your Etsy shop is indeed a business, and businesses need to make a profit to stay viable. The pure fulfillment you derive from creating — or the thrill of the vintage hunt — isn't going to pay the bills. Using this love as payment rather than profitable prices can be a step towards burnout and frustration and may end up extinguishing that spark of joy that drew you to set up shop in the first place.
So how can you harness this creative energy to add value to your shop — and honor your talents and those of the whole creative Etsy community? Unfortunately, there's no magic formula for determining prices. As nice as it would be to toss a handful of fairydust at your listings and — poof! — a perfect price tag appears, it's up to you to tailor prices to the contours of your own business. Putting a dollar amount on your products can be very personal, not to mention challenging. In addition to obvious factors such as material costs and market rates, you must also consider your level of experience, business goals, product category and related industry standards. Here Etsy sellers share a glimpse into their lightbulb moments and creative solutions to common pricing challenges.
Pinpoint Value
Independent creative businesses have an edge over bigger, impersonal companies. Your prices should reflect that specialness, value, personal connection and craftsmanship. "You never know how your work might resonate with someone," says Megan Carty, owner of Me and Wee, a greeting card and art print shop in Pepperell, Massachusetts. "I think that's what handmade does; it touches people in a personal way." When calculating the time element of a pricing equation, factor in the time you spent designing, sourcing materials, photographing, listing, packaging and shipping items. The depth of your knowledge has value, too. Megan has an art degree and 13 years of experience as a professional artist. All told, she's been creating art for more than 30 years. "So, when asked how long it takes to make a painting, I could argue it took me all that time!" she says.
Much like handmade items, vintage pieces require an outpouring of energy to prepare for listing, from cleaning, steaming, styling and photographing these one-off items, not to mention sourcing. Maresa Ponitch, owner of Brooklyn, New York-based Dusty Rose Vintage, encourages sellers to account for all this effort when pricing for vintage, in addition to the proven durability and high quality of the items. "If you go to a discount store to buy a new shirt and it's already pilling on the hanger from all the processes that went into making the fabric, imagine what's going to happen the first time you wash it," she says. "With vintage, you know it has been washed and how it's standing up. Say that the same store has flannel shirts on sale for $34. Even if you charge $34 in your Etsy shop — even if you charge more — in my mind your vintage flannel is a better deal, because it's proven to last."
Know Your Target Market
What you are willing and able to pay for a product may differ vastly from your target market's budget. Michelle Maddux, owner of Toledo, Ohio-based jewelry shop Serenity in Chains, had this epiphany while watching a video recording of The Art of Pricing for Profit, an Etsy talk featuring Megan Auman and Tara Gentile, two entrepreneurs and creative consultants. In the recording, Megan Auman coaches shop owners to pinpoint their target market and notes that, "You are not your customer." Michelle realized she was making that very mistake. "My pricing strategy had been 'How much would I pay for this?' This usually amounted to 'How much could I afford to pay?'," she says. "It always ended up being less than what I felt the piece was really worth, and barely covered costs and didn't even account for profit."
As an artist struggling to make ends meet, it was eye-opening to recognize that her customers have different income levels and that the concept of affordability is totally relative. Michelle took Megan's words to heart and customized a pricing formula to fit her shop's needs. As a result, she raised all of the prices in her shop by 30 percent to 100 percent. She didn't lose customers, as she had feared would happen, and her business blossomed.
Here's a look at her formula:
For wholesale items: (hourly overhead + production cost + profit) x 2
For retail items: (hourly overhead + production cost + profit) x 4
And here's how she calculates each of the formula's three components:
Hourly Overhead: business expenses over the last 12 months divided by the hours she expects to be able to create in that period of time (her average is 14 hours per week or 728 hours per year)
Production: her wage (hourly wage x hours spent creating the piece) + materials cost
Profit: the markup that she builds in to grow her business
Learn more: Unsure who your target market is? Read How to Find Your Target Market for guidance.
Untangle Your Heartstrings
When you drop an order in the mail, a little piece of yourself stays in the package. Putting a price on something close to your heart can be a vulnerable and humbling experience. Michelle Maddux, who runs Toledo, Ohio-based jewelry shop Serenity in Chains, has struggled to overcome this emotional hurdle to pricing. She says, "I'd be ready to put up a listing, but stop and lose confidence, thinking, 'Well, I love this, but no one else is going to see the worth in this that I do.'" Her advice? "I have heartburn, sleepless nights and some gray hair from it, but I let math take the emotion out of it," she says. "I enter the numbers into my formula spreadsheet, put the calculated price on Etsy and press publish."
To build confidence and step beyond the fear of rejection, Michelle encourages sellers in the testing phase to leave each listing alone for a month. "It won't cost you any more money than the 20-cent listing fee," she says. "In a month, if you still feel it's too high, then you can adjust it. But don't be discouraged if it doesn't sell in a week."
Learn more: Read What's Your Biggest Strength? to start down a more confident path.
Get a Handle on Wholesale
If you're eager to take on opportunities like wholesale, having prices poised for profit is essential. Retailers who purchase at a wholesale rate will want to mark up the wholesale price by at least double your wholesale price when they sell your products. For example, if you sell an item on Etsy for $50, the wholesale rate would be $25 and the stockist would charge $50. This published retail price is known in the trade industry as MSRP (manufacturer's suggested retail price) or RRP (recommended retail price) in the UK. If you're only able to offer 30 percent off MSRP, you're less likely to attract wholesale opportunities. If you can't make a profit at 50 percent off MSRP, then that particular product might not make sense for you to offer wholesale.
If you're a craft supply seller, you may be in a special position within the pricing ecosystem, like Simona Van Vliet, owner of Jewelers Paradise in Woodland Hills, California. Part of her business caters to designers, so when she is determining prices for her jewelry components, she considers if her customers will be buying one item at a time or in bulk. "Oftentimes, I'm selling supplies wholesale to designers because they're, in turn, wholesaling finished jewelry," she says. "They have to be able to do that and make a profit, too. I'm the bottom of the chain — I have to be the wholesaler." No matter which category your items fall into on Etsy, determining whether your retail prices leave room for a profitable wholesale price or not can reveal if your prices are on point.
To avoid stagnation and keep buyers coming back, frequently re-examine your prices and add varied price points to your product lines. After all, just like your shop as a whole, prices are a perpetual work-in-progress.
Editor's Note: If you want to learn more about pricing, check out our upcoming article Seller Handbook article with more details on specific pricing formulas.
How have you overcome a pricing challenge? Share what you learned in the comments.