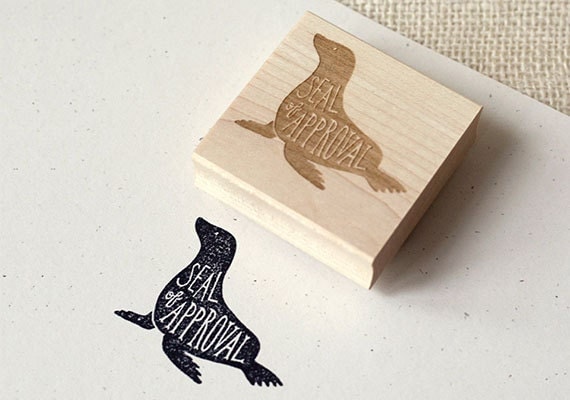 When I opened my Etsy shop, Seaside Press, four years ago, I didn't know much about running a business. But I was certain about one thing:  I wanted my buyers to be next-level happy after every experience they had with my shop, which sells custom letterpress designs.
Now, after more than one hundred sales and 100 percent positive reviews, I'm proud of my reputation, especially because it didn't come easily. Since I specialize in wedding invitations, my target market is not necessarily the simplest to please. One average custom order from my shop involves roughly 40 Convo exchanges; three or four design proofs; phone calls with mothers-in-law; second, third, and fourth opinions; and a significant time commitment for production. Not only do I need to please my buyers, but I also need to please their partner, their parents, their wedding planner and their friends. A small mistake can result in a tidal wave of problems for an already stressed bride or groom, so it's in my best interest to remain attentive to their happiness while fulfilling an order.
Throughout these frequent exchanges, I'm laying the groundwork for positive reviews and potential referrals from my customers. My primary customer service principle is simple: I make sure my buyers are always taken care of, regardless of the scale of their purchase. Below are a few of the fundamentals I like to keep in mind for bolstering positive buyer feedback.
1. Treat every buyer like they're your first.
Your shop's success is dependent on the people that purchase from it, each and every one of them. I never let an order pass through my shop without reaching out to thank the customer personally. This means going beyond the automatic email that's sent out when an order is placed and sending a direct Conversation message, written by me, expressing my gratitude. Not only is a timely thank-you note a great way to convey how much you value their support, but customers will often take the direct connection as an opportunity to ask last-minute questions that might be important to address before you produce or ship their order.
2. Keep your shop honest.
When you're focused on capturing beautiful product photos and writing snazzy copy for your item listings, it can be easy to overlook the obvious question: Will your buyers actually know what they'll receive after looking at your listing? Your photos and item description should set clear expectations for your buyers: Do your photos showcase each item's size and what will be included with their purchase? Do your item descriptions answer any possible questions buyers might have? You may also consider including a link to your shop policies within item descriptions, just to cover your bases.
3. Deal with mistakes right away.
Mistakes happen, no matter how hard we try to prevent them. Customer service snafus can be a total nightmare, and no matter who is in the right, ask yourself, is it worth arguing with a customer? What solution would you want if the situation was reversed? For me, this is the most painful aspect of running a shop on Etsy, although the best solution is often a no-brainer: Give the buyer what they're looking for, and come up with ways to prevent the same issue from happening in the future. While this isn't always as easy as it sounds, I can say from experience that what may initially feel like a loss can result in a worthwhile gain down the line.
4. Ask yourself, "Is there anything else I can do?"
What leaves a lasting impact on me as a buyer boils down to having a better-than-good experience, and I confidently assume the same is true for my customers. As I've gotten to know my target market, I've figured out what they're looking for and how to please them. As a result, I'm able to strategically address their unique needs to ensure the best possible outcome.
Think about what else you can you do for your buyer to ensure an exceptional experience. For me, this often manifests in how I package an order; I'll include a little print as a wedding gift or include a handwritten note congratulating the couple on their upcoming wedding. After all, who doesn't love to receive a thoughtful bonus with their order?
5. Always follow up.
Strategically following up with buyers after an order is processed is great for a number of reasons. First, you enable your buyer to alert you if they had any issues with their order so you can resolve the problem before they leave a negative review. You can also inquire about ways to improve, and proactively make changes to your shop policies and workflow to prevent similar issues from happening again. Your final correspondence is also a great opportunity to encourage buyers to leave feedback for your shop.
The messaging and timing of your follow-up message is key, since you don't want to seem spammy or too aggressive. (You can read more about Etsy's policy on communication here.) I normally reach out around the time the item is expected to arrive to ask the buyer if they've received everything safely and as expected. I'll also give them instructions for leaving feedback if they're so inclined — that way I'm making the process as simple as possible.
You can learn a lot from your buyers if you're willing to use their feedback to make your shop better. How do you leave a lasting impact with your customers? Share your suggestions in the comments.
For More Information:
Learn more about how reviews work, including information about Etsy's anti-extortion policy.