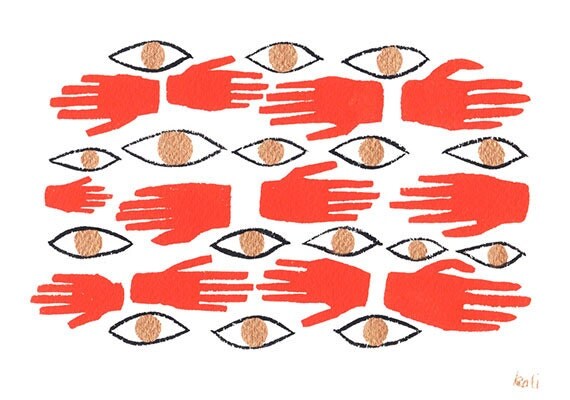 Many Etsy sellers dream of the moment when they'll wake up to find their item featured on the front page of their favorite lifestyle blog or curated website. But how do you go from publicity daydreamer to merchandising maverick? To get to the bottom of the marketing mystery, I reached out to Emily Bidwell, Senior Merchandising Specialist and resident style expert at Etsy.
Emily and her team develop strategy for producing shopping content on Etsy, including email campaigns, browsing experiences, live events, product suggestions for media placement and more. She's offered up her style expertise for The Martha Stewart Show, The New York Times, The Wall Street Journal, The Washington Post and The Huffington Post. Her approach to curation at Etsy? "Co-creation between the Etsy community and professional merchandisers who can guide content to the right audiences."
Read on for Emily's timeless tips on the fundamentals of visual merchandising, from curating collections to catering to your most likely customers.
1. Know Your Goal
"Merchandising means a lot of different things to different organizations. At Etsy, our Merchandising Team specializes in visual merchandising. Using data, such as sales results, trend reports and shopping behavior on the site, we strategically place products based on successful themes to select shopping content intended for buyers. Our current goal is to increase overall sales for all sellers across the site. Through experimentation, we have found that shopping themes represented by strong product examples (namely, item listings), work to disseminate traffic throughout the site, which in turn is more likely to result in a sale."
In Your Shop: Read Start With an Etsy Goal to measure the success of your merchandising efforts in your own shop over time. Keep an eye on Trend Watch for more ideas on making the most of seasonal themes in your listings.
2. Keep Your Shop Visually Cohesive
When selecting shops to feature, curators and editors want to be sure that they're providing their readers with the best possible experience. For online shops, that means easily readable and cohesive product photos. But does that mean you're limited to a stark white background for curation success? As Emily notes, "While some of Etsy's community curators may favor white backgrounds for Treasury collections to create a cohesive poster effect, white is not a criteria. Our team looks for collections that have consistent backgrounds for the homepage."
In Your Shop: "Creating a good experience in your shop starts with beautiful photography that provides a sense of story. Develop an environment with a feeling of presence shoppers will want to inhabit. A shop that has a least one full page of products appears complete, well stocked and reflects a committed seller. Choose products that complement one another, and commit to a particular line or aesthetic for a curated affect. People are drawn to beauty, stories, consistency and a sense of trust in the seller." Read How to Make Your Photos Publicity-Ready for more tips from the pros.
3. Cast Off Those Homepage Woes
"Etsy's homepage is complicated." Here's how Emily breaks it down: "On one hand, it's a place where community curators are featured, which is a wonderful expression of the people that use Etsy. On the other hand, while the Merchandising Team is primarily vetting collections for appropriateness, the goal for the homepage is to service shoppers and disseminate traffic throughout the site." So why does it seem like certain listings see more of the spotlight? "In merchandising, featuring trending products (often called "repeats") is considered common practice — it converts more buyers throughout the marketplace."
In Your Shop: Hoping to ensure your products are feature-friendly? Dedicate time to strengthening your photography skills and spend time strategizing how your items work with seasonal themes or upcoming holidays that curators may be seeking while creating collections. Adapt titles, tags and photo styling accordingly so relevant products are easy for curators to discover.
4. Curate an Enticing Shopping Experience
"Curation is an important element of shopping online; it engages shoppers, and is more likely to lead to overall sales in the marketplace," says Emily. "A great curator has the ability to compose compelling lists based on their own tastes. The value is found in the trust your followers have in your choices, confident that you have no direct personal gain.
In Your Shop: "Members of the Etsy community can test out their curatorial skills by making Treasuries and actively Favoriting products," Emily shares. Why spend time highlighting other shops? "Ultimately there is a cyclical nature to curation, because the more you circulate products on Etsy, the greater chance you have of making a sale. Pinterest and blogs that feature editor's picks deliver traffic to Etsy using curation, which benefits more than just the shops featured in curated content."
5. Tread Lightly With Treasuries
"The value of Treasury is the joy of creating one. To use a Treasury effectively for marketing, the collection needs to be shared and needs to be discoverable," explains Emily. "Tagging appropriately is really important. In some cases, people might think that if they label their collections with all trending tags, that they will capture more incoming traffic. It actually has the opposite effect, where shoppers leave when they don't see relevant content."
In Your Shop: By researching popular Treasuries and exploring Etsy for eye-catching listings, you'll likely learn a thing or two from the products that stand out from the crowd. Think about how you can apply your findings to your own listings. Revisit your item tags to make sure they are relevant, while reflecting applicable trends.
6. Think Like a Shopper
If you're overwhelmed with the curatorial possibilities, don't be afraid to go back to the basics. As Emily says, "Putting yourself in the shoes of potential customer is a helpful exercise." For instance, "If you're creating a Treasury collection of gifts, think carefully about price points and potential recipients."
In Your Shop: Check out How to Find Your Target Market to start collecting data on what your own customers are looking for. Once you've identified your most likely customer, think about pitching your shop to relevant blogs with How to Win the Hearts of Bloggers.
Do you take pride in curating your Favorites and bringing cohesion to Treasuries? Share your reasons and ideas for merchandising success below.