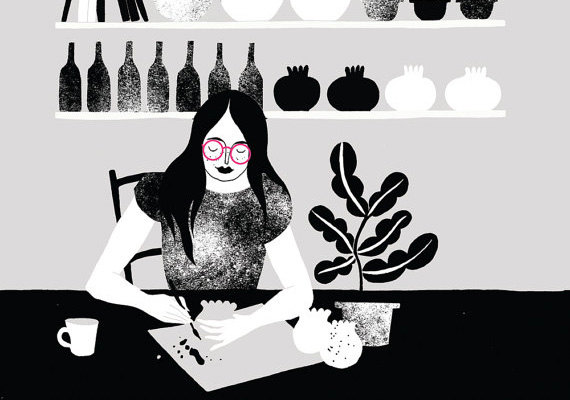 Like the backup singers of Etsy, shop employees work behind the scenes to create harmony in businesses across the site. Providing able hands to aid with everything from packing and shipping to technical production processes, these skilled helpers allow Etsy business owners to focus on their true passions and talents. But hiring a perfect match and learning how to be an effective manager is no easy feat. Read on to find out what three Etsy shop owners have learned about managing employees and building productive work environments founded on open communication, flexibility and mutual benefit.
Norwegian Wood
Hiring Story: Having worked as the head designer at fashion companies, Angie Johnson gained experience overseeing designers, patternmakers and sample sewers. So managing staff for her own business wasn't wholly unfamiliar territory for Angie when she founded her clothing and accessories business, Norwegian Wood, in Montréal, Canada in 2007. Through a Craigslist ad that Angie posted for an internship, she found Lissa Paul. When the business started getting high-profile work from Topshop and Anthropologie, Angie hired Lissa as her first long-term employee. She hasn't looked back.
Division of Labor: These days, Lissa works 20 hours per week as a patternmaker, grader, cutter and jewelry assembler for Norwegian Wood. The extra help allows Angie to focus on design work and expanding her collection. Meanwhile, the flexible work schedule has allowed Lissa to pursue a degree in accounting.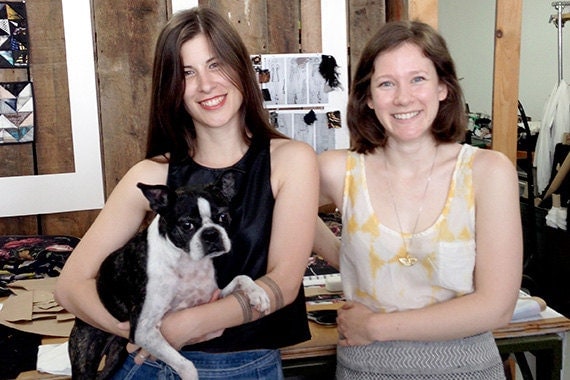 Angie's Management Tips:
Take Time to Teach. Before Angie had hired Lissa, her mom came to help with a big order. Since her mom had taught her to sew in the first place, Angie put her right to work without doing a demonstration. "I'd been locked away sewing in a bedroom alone for way too long and thought it was second nature to everyone," she recalls. If someone is skilled in an area, don't take it for granted that they'll innately grasp your personal production style.
Craft a Professional Environment. When working on a very small team, it pays to set boundaries and check personal frustrations at the door. A trying call with a faulty internet provider might make her want to scream aloud, but Angie has found ways to keep her cool and not unleash bad vibes into the workspace. She balances the schedules for her assistant and interns so that she has alone time in the studio to regroup and plan ahead.
Claudia Pearson Illustration
Hiring Story: Cheery drawings of fresh produce and city landmarks adorn the prints, posters, tea towels and aprons that stock Claudia Pearson's eponymous Etsy shop. In 2008, after years of working as a commercial illustrator, Claudia decided to start working for herself. She opened her Brooklyn, New York-based Etsy shop and quickly began to garner national press. Since then, she has made more than 3,600 sales on Etsy and landed wholesale accounts at boutiques and major retailers, including West Elm. This year, her business is on track to print a record 40,000 tea towels, with the aid of a family print business based in Michigan. Mimi Yang, who recently graduated from Pratt Institute's illustration program, has been working as Claudia's part-time assistant for just over a year. She landed the job after emailing Claudia, who serendipitously was looking for help at that moment.
Division of Labor: Mimi handles order fulfillment, prep work for in-person markets and the occasional design project, including a new product brochure. Claudia focuses on her design work for clients across the world, and special projects like a pop-up shop in Grand Central Station and a collection for West Elm Local. Claudia also works with a rep and is in the process of looking for a studio manager so she can take herself out of more of the equations of her far-reaching business and focus on design work.
Claudia's Management Tips:
Set Clear Expectations. After hiring a seasonal helper who took lengthy personal phone calls during work time, Claudia realized that she needed to set ground rules around what happens on her clock. Now she's upfront about the specific expectations of the job, including hours, order of operations and the level of tidiness in her shoe-free workspace.
Find a Good Personality Match. On Mimi's first day of work, Claudia remembers her bounding up the stairs and bursting into the studio bubbling with energy. "When it's just the two of us, it really is quite intimate," Claudia says, describing her workspace that's in the same brownstone home where she and her family reside. Finding a compatible counterpart is a key to a harmonious working relationship.
Uncommon Handmade and Dust Furniture
Hiring Story: Husband and wife team Vincent and Jessie Leman started their own business in 2005 and have been running their Etsy shops, Uncommon Handmade and Dust Furniture, since 2009 in Valparaiso, Indiana. They make and sell modern wood furniture, clocks and home decor, drawing on Vincent's years of woodworking experience. Over the years, Jessie and Vincent have hired 11 employees for varying durations to help with sanding, painting, building and customer service for their collections.
Division of Labor: Jessie handles customer service and takes care of their nine-month-old son. Vincent designs and oversees their two full-time employees: Aaron Zerza, who builds the furniture, and Jasna Jokic, who finishes the pieces. Jasna says that she enjoys having a job where her Bachelor of Fine Arts degree is an asset, and her vacation schedule is flexible. Each year she takes a month off to visit her family in Serbia. "We're being treated like a family here," Jasna says. "Especially in this world of big corporations that don't take much stock in their employees, it's nice to work for a really small company that is passionate about what they're doing, and it's awesome to help them get there."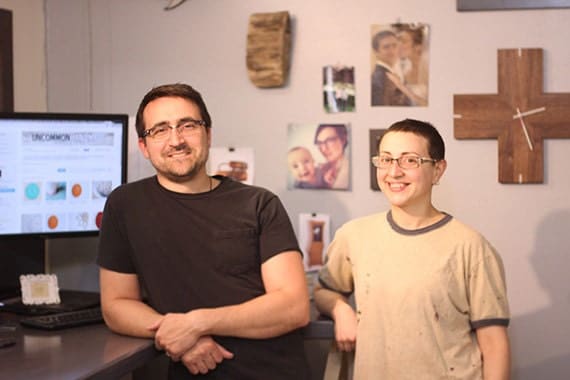 Vincent's Management Tips:
Know When to Call it Quits. "If someone needs to go, politely usher them onto the next career choice," Vincent says. If other staff members notice you're not taking action when it's clearly needed, it could demotivate them, he warns. While Vincent says it's easy to drag your feet on making a tough decision, he tries to remember his responsibility to his family, other employees and the business as a whole.
Aim to Empower. Vincent used to delegate daily tasks during morning meetings, but soon realized this approach was not motivating to his staff. Now, he assigns clearly defined job responsibilities to each employee and allows them to divvy up tasks on their own. He buys them bonus tools, like the new paint gun he bought for Jasna, to make their workflow smoother. He also makes improvements based on his team's input. For instance, a past employee developed an innovative technique that reduced the time it took to sand furniture.
Get Out of the Way If you're constantly micromanaging instead of doing work yourself, you're not actually improving anything, Vincent notes. Making the effort to hire somebody with the skills to work independently, and trusting them to do so, will boost productivity and overall well-being – both yours and your staff's. "You have to have the bravery and self-control to step back and let them do their job properly," he says.
Have you ever hired an employee? What's the most important lesson you've learned? Share in the comments.