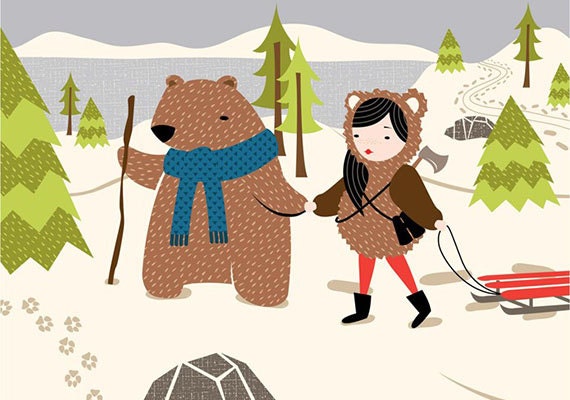 Long-time Etsy seller Ryan McAbery of littleputbooks is living proof that for many creatives, entrepreneurship and innovation are simply a way of life. Based out of Portland, Oregon, Ryan has been selling on the site since 2006 and was one of the first to be featured on Etsy's Quit Your Day Job series. She has since launched a brick and mortar space, Hillsdale Art Supply, and an additional supplies shop on Etsy. The main difference she's experienced since developing her business offline? "Having a physical retail space means I can't go to work in my pajamas — no matter how tired I am."
We invited the infamous Ryan girl to stop by the Seller Handbook for an update of her 2007 tips for surviving the holiday rush. Read on for the inside scoop on managing holiday traffic and setting your business up for long-term success.
1.Plan Ahead
My biggest piece of current (and unchanging) advice is to be well-organized in advance. Stock up on shipping labels and boxes before the busy season hits. Create an inventory sheet of office and craft materials; be sure to review it before heading out. Don't forget your printer ink and packing tape too! Who wants to run to the office supply shop in the middle of the fray?
Pro tip: Print out Etsy's Inventory Planning Guide to create your own strategy  this holiday season.
2. Work in Seasonal Batches
Learn how to create maximum output with the lowest amount of stress. The holidays are a great season to focus on items that you can duplicate easily rather than developing new, one-of-a-kind products. This is a time saver, times two: it allows you to re-list a sold item without adding new photos or descriptions and working on multiple items at once can speed up the production process. If you work solely in OOAK or vintage products, make sure you have the inventory well in advance to support the increase in sales.
3. Clean Your Desk
Having an organized workspace can make life a lot easier.  Keep your tools where you need them, your supplies ready and waiting, and remember to put everything back when you're done. When I'm disorganized I feel like I lose more time looking for my scissors than I do making my product.
Pro tip: Read 10 Tips for Making Time to Make for organizational inspiration.
4. Remember Slow Days Don't Last
Even if your business has been steady, you will undoubtedly experience a few slow days during the holidays. It's likely that people are window shopping and preparing to buy and will  come back all at once to finish the sale. Use the downtime to restock your shop, or shoot photos of new products. Don't let late-in-the season customers catch you off-guard — be prepared for business well into January.
Pro tip: Make the most of your down time and Prep for the Holidays During the Seasonal Slowdown.
5. Make Sure You're Well-Stocked
I know it is a bit late in the season for some of you experiencing your first holiday rush, but if possible, use your free time to make more. Having plenty of stock this season has been a lifesaver for me.  If I hadn't been planning for Christmas since August, I would be sold out by now.
Pro tip: Learn about the payoffs of adding to your inventory by reading Add More Items to Make More Sales.
6. Stay One Step Ahead of Your Orders
If at all possible, have the items in stock before you list them. Don't sell items you haven't made yet. If you choose to do custom work, put your time frame in your shop announcement. Communicating clearly with customers will keep them happy and help you keep track of their needs as well.
Pro tip: Learn the tried and true methods of other sellers in Your Customer Service Guide.
7. Keep Up With Your Shipping
Send items out on scheduled intervals.  Pick two or three days per week just to focus on getting things ready to mail.  Take advantage of Etsy's shipping tools. If you're in the United States, print your labels online and arrange pickup with your mail carrier.
Pro tip: Cover the basics of domestic shipping and beyond by reading 4 Steps to Shipping Success.
8. Hire Help
Don't be afraid to enlist someone to help you get caught up. It can be a huge relief to have a support staff.  If your product is something only you can make, find someone to help with shipping or emails. Allow a helper to take over the office work so you can focus your energy on producing a great product!
Pro tip: Hiring help comes in all shapes and sizes. Read Getting Help From Your Community When You Need It to know your options.
9. Remember That Presentation is Everything
Whether your work is sitting on a shelf or being photographed on your kitchen counter, you want your product to look great (and be even better in person). As always, take clear and well-lit photographs, including ones that denote scale and function.  Make sure your listing descriptions and tags are stellar so that you can stay focused on fufilling orders and customer service during this busy season.
Pro tip: Polish up your shop with Surefire Techniques to Make Your Listings Sizzle.
10. Don't Forget About Yourself
While the holiday sales season may seem like a lot of work and chaos, it can be well worth it — both financially and for fostering the long-term success of your business. But don't get lost in it and miss out on everything else that's happening.
Take time to exercise. Take time to breathe in fresh air.  If you cook, pre-make a few healthy meals whenever you are in the kitchen so you can have something good to eat on the fly. Plan a fun night off at least once a week. Don't be afraid to say no to custom requests if you feel maxed out. As long as you offer a good product and good service, you are doing a great job.
We can do our best when we take care of ourselves and balance work with fun. If you don't burn off the stress hormone, it will burn you out. If you have to, schedule break time into your work week and leave your electronics at home. And if that doesn't work to calm your nerves, there's always chocolate.
Pro tip: Think things over with 5 Ways to Define and Achieve Success on Your Own Terms.
How do you stay sane during a busy holiday season? Share your tips in the comments.