Sisters Eva-Dewi and Johanna Pangestian Harahap started their family business together. They run Nauli, a handcrafted paper-goods business named after their Indonesian grandmother, who taught them how to sew when they were small children. "I still remember how she held my hand with the needle and thread," says Johanna. "Nauli" also means "beautiful" in Batak, an Indonesian language. This is a fitting way to describe the sisters' line of carefully hand-bound books and other products made from fine papers.
Even before going into business together, Eva-Dewi and Johanna enjoyed tackling creative projects as a team. While still children, they set up a booth in a local Christmas market alongside skilled local crafters, and sold to adult shoppers. "It was quite business-like for being so young," Johanna says, laughing. Their business is now built on a passion for working with paper — and for working together. They live next door to one another, just outside Munich, Germany, along with members of their larger multigenerational family. Eva-Dewi lives with her daughter, husband and grandmother, while Johanna shares a home with her parents that also houses the sisters' studio. Their family's constant curiosity and enthusiasm for their business has helped it grow. Read on to learn how these sisters have built a successful and satisfying partnership by tapping into each other's strengths, sharing goals and respecting one another.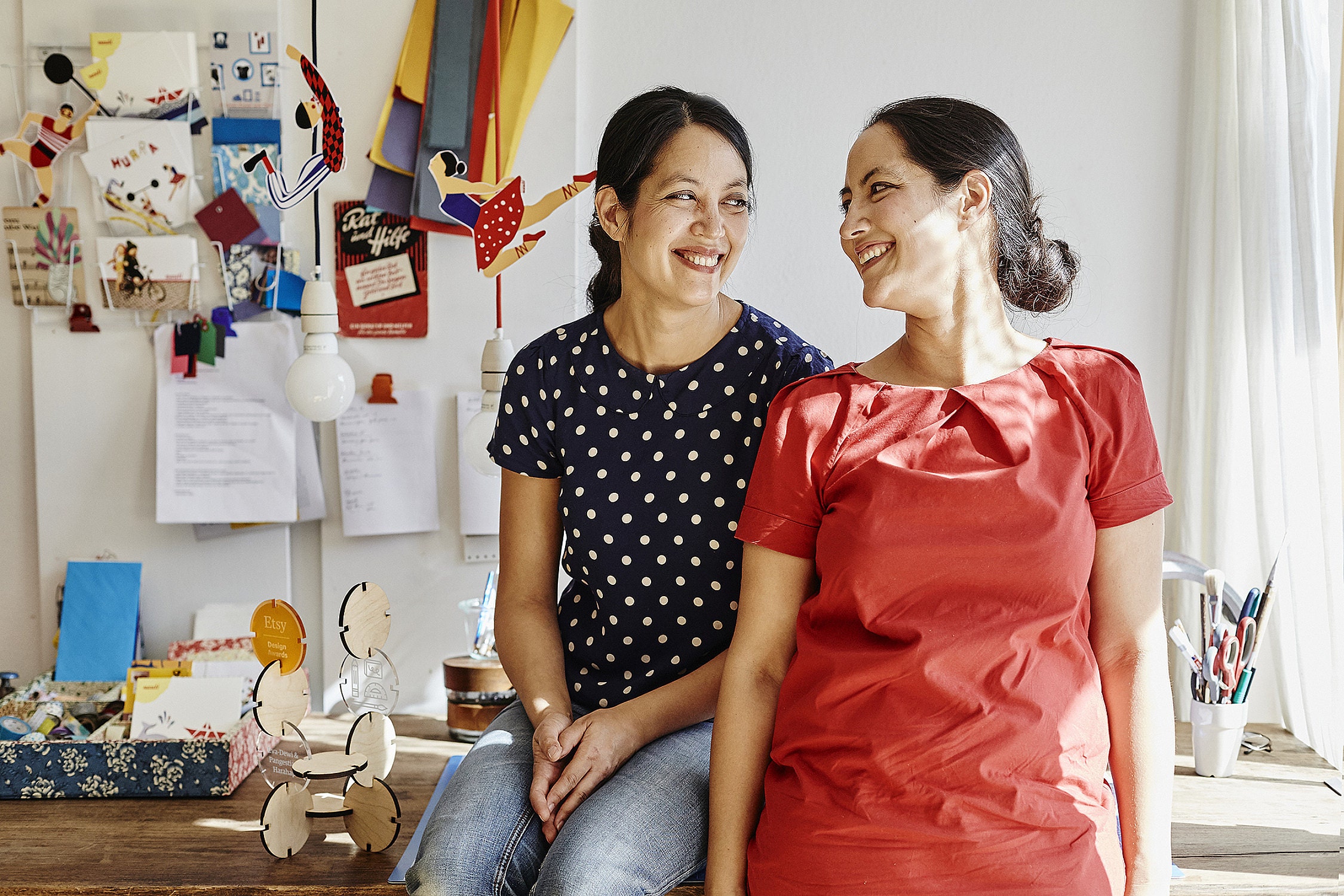 Eva-Dewi and Johanna started their business in 2008, driven by the desire to do work they could personally stand behind. They began by selling in-person at markets. At the time, both sisters were self-employed. Eva-Dewi was working as a graphic designer and Johanna as a language and culture coach. They wanted to start a creative business together. Nauli naturally formed around paper, a material they'd enjoyed working with ever since Johanna took a bookbinding class in sixth grade. Growing up in a home full of books, they share a love of colors, patterns and high-quality materials, including paper. Eva-Dewi and Johanna spent many hours as children reading and looking through family photo albums. "We want to produce things that last a very long time," says Johanna. When designing photo albums, the sisters enjoy imagining the albums being passed on through the generations.
After opening their Etsy shop in 2009, Nauli quickly became a full-time job for the sisters. Though Eva-Dewi and Johanna did not initially plan for their business to be mostly online, their Etsy shop, which they filled with stock from craft fairs, quickly began receiving orders. During those first growing years, the sisters lived on personal savings, until eventually their business could support them financially. Their product line has since expanded to include photo albums, notebooks, diaries, guest books, calendars and planners. Recently, the pair produced a series of silkscreened paper "cable artist" acrobat figures, which can be displayed on light cables or anywhere else in the home for a bit of fun. The project earned them a jury prize in the Art and Illustration category of the Etsy Design Awards.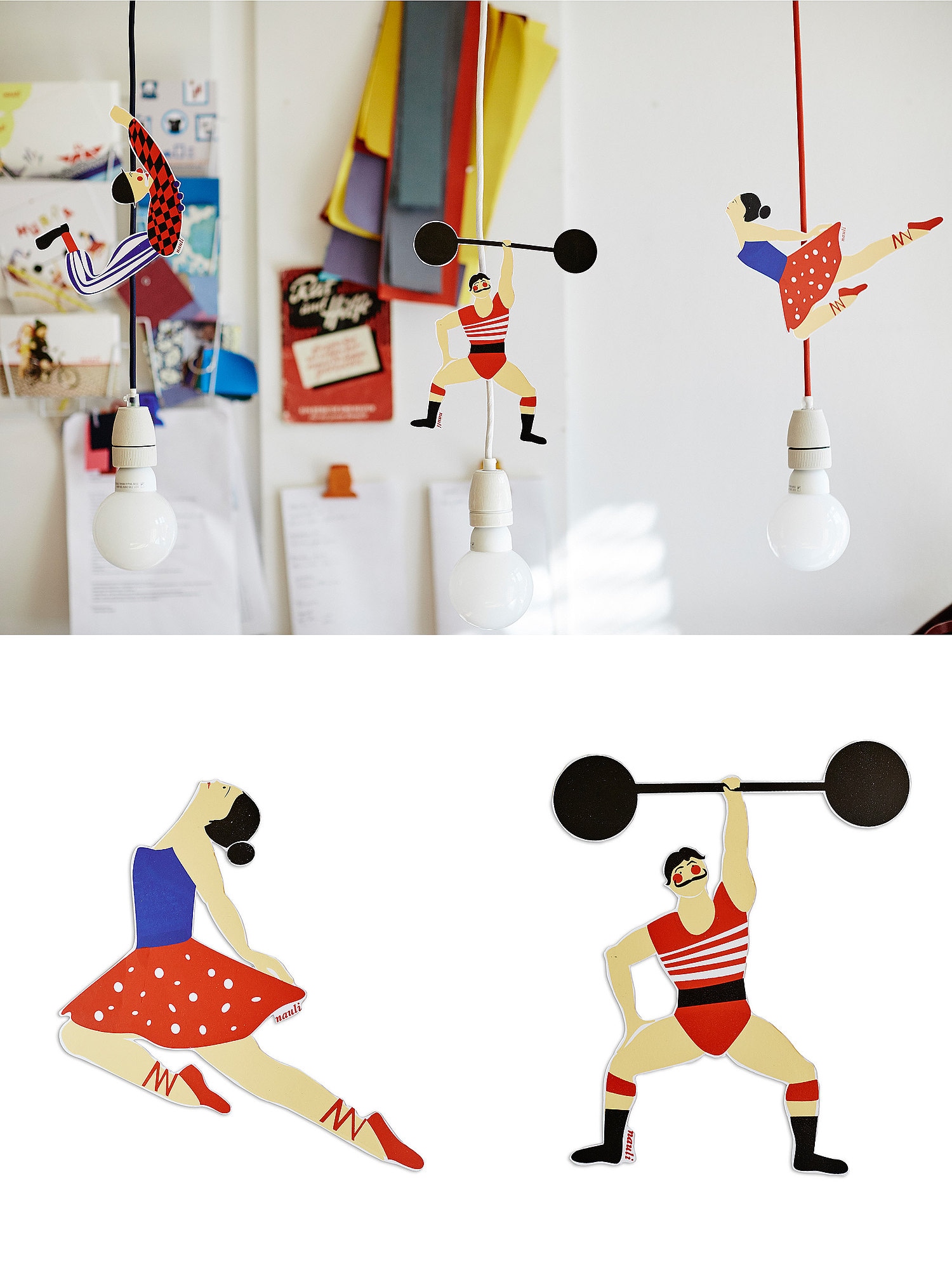 When Nauli first started, Eva-Dewi was living in Munich and Johanna was living in Hamburg. This living arrangement forced the sisters to split up their tasks. Eva-Dewi handled the production and design, and Johanna did the online marketing and customer service. Johanna would come help with production for two months before Christmas. Three years ago, after Eva-Dewi gave birth to her first child, Johanna moved to Munich. "It was clear we wouldn't be able to continue the business from two different places," Johanna says.
Since the move, the sisters have balanced their tasks more evenly. Sharing responsibility and knowledge of all tasks provides a sense of security. "If someone gets sick or needs a break, then the business can still go on," Johanna says. Their work is so precise and consistent Eva-Dewi and Johanna say they're unable to tell each other's work apart.
Johanna begins each day by tending to customer service, followed by a family breakfast at 9 a.m. Although the whole family is present, conversation often revolves around work, with the sisters hashing out their plans for the day. Next, they work from the studio for most of the day. They often work late, till 1 a.m. and through the weekend. "Working from home, it's more difficult to split up the work from the personal," says Eva-Dewi.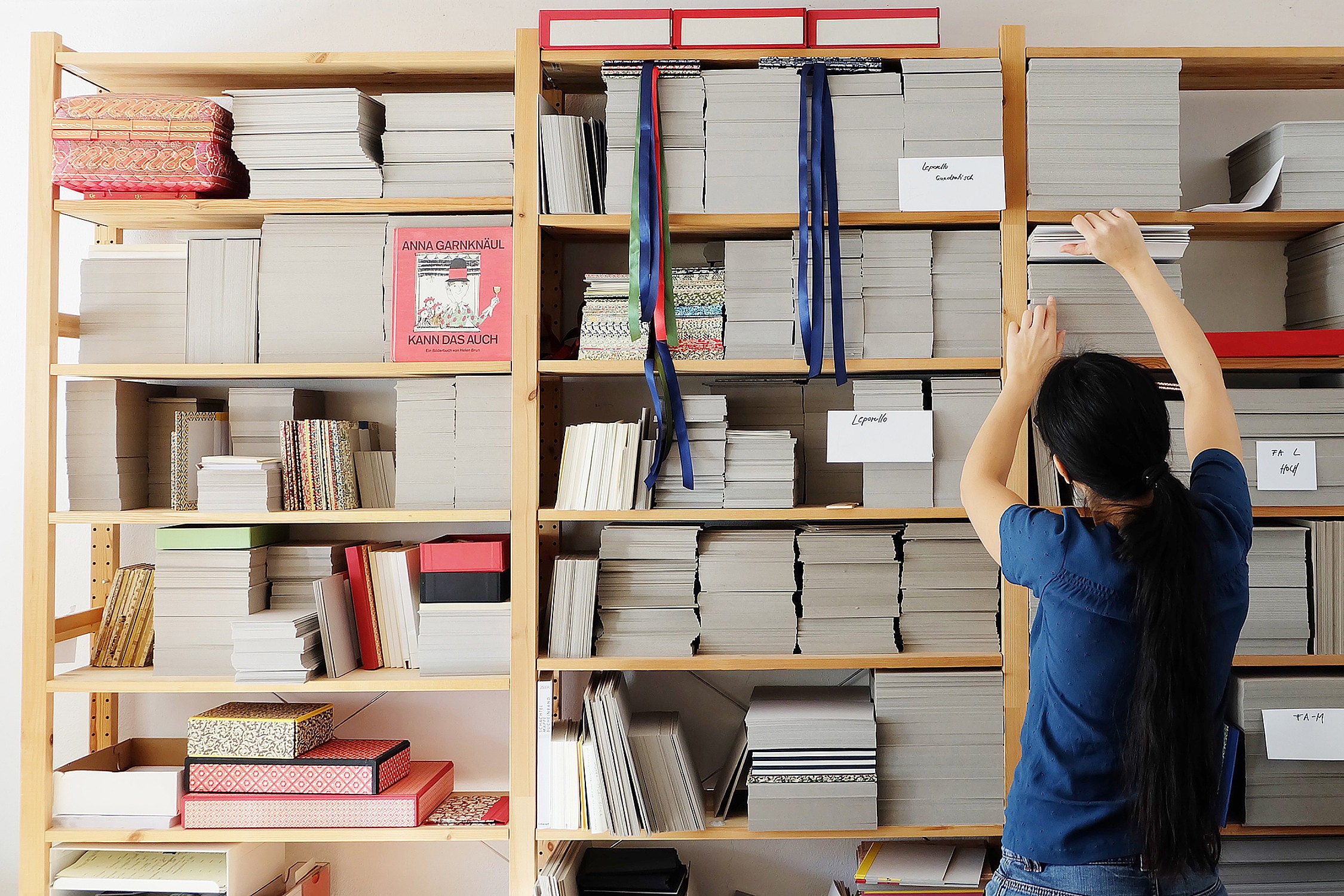 Working together allows constant input from one another and easy discussion, about whether a trend could work for their brand, for example. "It's more productive than working alone," says Johanna. The pair has always made communication a priority. "Even before when I was in Hamburg, we had Skype on all the time and we'd talk while working on other things and multitasking," says Johanna. Working together, each sister is able to bring fresh perspective to the other's struggles by putting them into a larger context. "We are never frustrated at the same time!" says Johanna. "The other always helps to pull us out of it."
In addition to running the business, both sisters are captains of the Etsy German Street Team. In working to energize the team, they draw on their social media expertise and their experiences as sellers. Depending on what campaign the team is currently running, the work can range from one hour a week to several. "Teams on Etsy have inspired us and given us so much knowledge," says Johanna. "Giving back to the community is a big thing for us."
As they look to the future, Eva-Dewi and Johanna aim to grow in several ways. "It was hard in the beginning when we were living off our savings," Eva-Dewi says, "but now growth can be many things." In addition to increasing sales, they are focused on increasing engagement with their customers on social media and landing more press features. As they gain experience, shoppers seem to be more confident making purchases. "I think buyers may trust us more now that we have over 1,000 sales," says Johanna.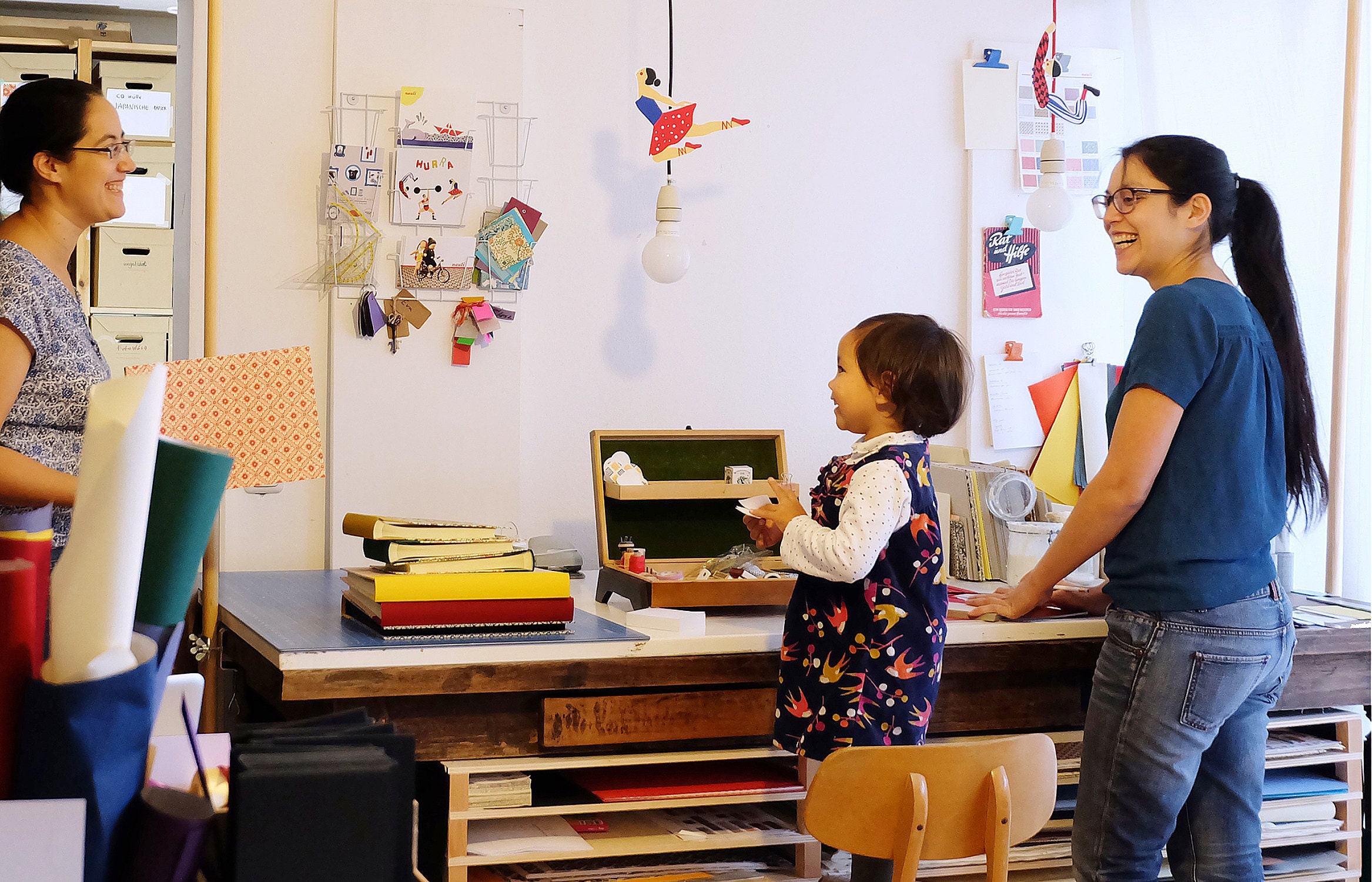 Although working with family has worked well for Johanna and Eva-Dewi, they recognize that the arrangement is not for everyone. Johanna suggests only working with another person if you think you'll be a good team. Even for sisters who enjoy working together this much, being dependent on another person can have a stressful side. "We have to stick together because of this business," says Johanna. "I can't just decide that I want to move — sometimes it's a bit scary." The upside, however, is that the sisters get to enjoy their success together. "We really know each other's strengths and the weaknesses," Eva-Dewi says. "And, most importantly, we really love each other."
For more tips on working with family members, read How to Mix Business With Family. Do you have tips for working with family members? Let us know in the comments below.

Words by Audrey Manning
Audrey Manning grew up in Brooklyn, just blocks from Etsy HQ. These days she's living in PA and busy trying to keep up with a soon-to-be toddler.