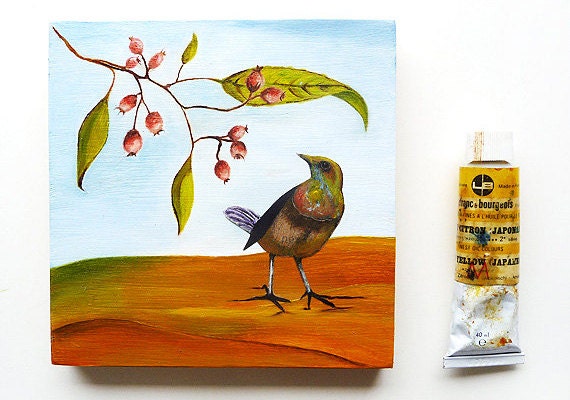 You've got a portfolio of exhibition-ready work, but how do you get your foot in the gallery door? From making a pitch to a compatible venue to forging a good relationship once you've signed a contract, the gallery world can be complex to navigate. Here, seasoned pros share their wisdom for making your first foray into the gallery scene.
Find a Good Fit
"You don't want to waste a curator's time – and your own time – by presenting charming watercolor botanicals to a gallery specializing in meaty abstracts," says Aja Apa-Soura, painter and owner of Sagittarius Gallery in Schenectady, New York. It pays to do your homework when scouting prospective galleries. Consider these questions: How will the gallery advance your career goals? Will the gallery push you to grow as an artist? Who are the gallery's ideal customers and how does the gallery market to them? Is it the right market for your work? To gather this information, connect with fellow artists online via Etsy Teams and social media. Comb through related blogs and websites. Talk to peers at art openings, trade shows and conferences in your field.
Submit a Proposal
Once you've found some promising options, it's time to get on each gallery's radar. Artist Harriete Estel Berman, who resides in San Mateo, Califonia, is no stranger to this process. Her jewelry and sculptures made from reconstructed tin cans have been exhibited in galleries and museums around the world, including the prestigious Smithsonian Institution in Washington, D.C. Harriete advises artists to scour the gallery's website for instructions on how to submit images and materials for review – and follow these instructions to a tee. Often you'll be asked to send a cover letter briefly stating why your work is a good match for that particular gallery, a resume (one to two pages), an artist statement (one to two paragraphs), images of your work and an image description sheet listing the title, date, materials and dimensions of the work.
Your image portfolio, whether submitted through file attachments or a link to your website, should look professional and accurately represent the work that you make through top-notch photography. "Gallery owners may reasonably assume that the quality of the photographic documentation you submit is representative of the quality of your work," Harriete says. "While this assumption may not be true, visuals do play a critical role and their quality and appearance may influence the gallery's assessment of your work." Make your artwork the focus of each image by filling the frame with your art, paying attention to proper lighting and exposure, and opting for plain backdrops, such as white or graduated grey.
Form an Agreement
Before you sign a contract with a gallery, you'll need to determine the terms of the agreement. For one, will the gallery be selling your work on consignment, or will you establish a wholesale account? When consigning, the artist loans the gallery a selection of work. The gallery pays the artist only when work sells, and takes a commission. Typically, the artist sets a wholesale price, which is the sum of money that she will be paid when the gallery sells the piece, and the gallery often doubles that wholesale price to determine the retail price. Galleries commonly take 50 percent of the retail price for the commission, though others have a different percentage split. For more information about pricing for retail, read 4 Ways to Conquer Pricing Pitfalls .
Some galleries will purchase artwork from the artist upfront through a wholesale agreement. Andy Cooperman is a metalsmith, writer and teacher, based in Seattle, Washington, who has navigated many of these relationships over his career, including with the Victoria and Albert Museum in London. "Selling outright to a gallery is not a bulletproof solution," Andy notes. "Many galleries expect to have a grace period — a year, for instance — during which they can trade work already purchased from an artist for newer or different work." This arrangement usually involves a percentage trade back, such as two old pieces for one new piece.
Before signing the contract, clarify any questions you may have about process and expectations. Andy suggests asking questions like these: Do they require an exclusive relationship? If so, what are the parameters? How often are artists paid? What is their policy for work returned to the gallery by customers? Who is responsible for damages to consigned work? Only sign a contract when you have clarity and consent regarding the terms.
For more information about wholesale, read Wholesale Guide for Etsy Sellers. Harriet has also created a handy collection of professional guidelines for artists, including one for consignment contracts.
Build a Working Relationship
Once you've signed on with a gallery, it's up to you to forge a fruitful partnership. As in most relationships, communication is key. Keep the gallery in the loop with regular updates your work and career. Check in occasionally to see if they would like to refresh their inventory of your work. You can send the returned work from one gallery to another gallery. "It's often surprising how regional tastes vary," Andy notes. "One gallery's unsellable piece is the next gallery's hot item."
Do you have experience working with art galleries? Share your top tip in the comments.