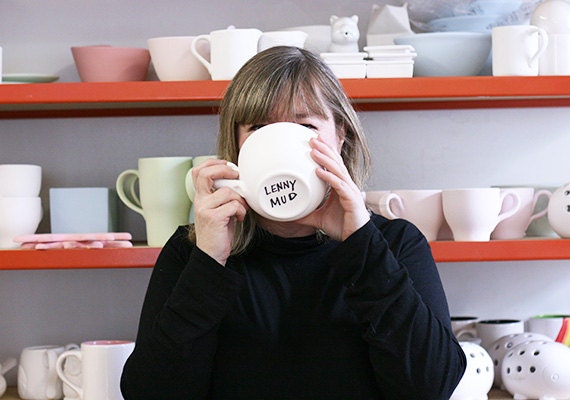 When you step into Lenny Mud's headquarters in Haddonfield, New Jersey, the first thing you see is founder Lorrie Veasey's witty ceramic wares lining the floor-to-ceiling shelves. Her work features bold hues, witty tributes and irreverent, quirky humor (for instance, a dinosaur mug featuring a "tea-rex"). Inspiring words of encouragement, including "Today will be Awesome," are pinned to every wall of the sun-filled, white-walled studio, and upbeat music sets the tone for the workday. The studio is aptly located on Potter Street, which has housed local potters since the eighteenth century.
The daughter of a potter, Lorrie grew up with a ceramic studio in the basement of each of her childhood homes. In her early twenties, she taught kindergarten at a school on Park Avenue in Manhattan. When the paychecks stopped during the summers, she returned to ceramics as a way to fill the income gap. During this time, she honed her process and developed ways to produce work quickly and efficiently. "After college, I spent many years in cooperative ceramic studios, but I outgrew them when I started to experience success at street fairs and festivals," she recalls. "It was difficult to do the kind of production I needed to do in a shared space. It's like being the person at the party who eats all the celery on the veggie plate."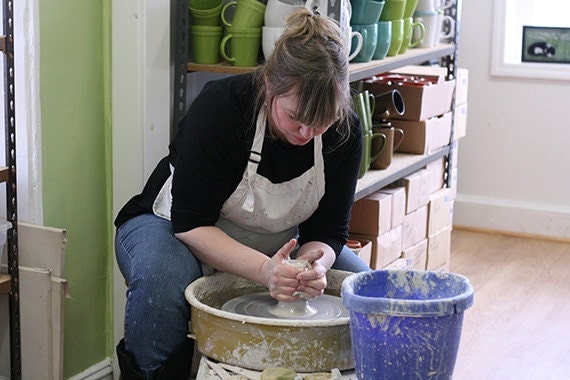 From 1987 to 1995, Lorrie and her husband, Kip, ran a company called Our Name is Mud. The business-savvy duo sold their wares at fairs and festivals around New York City — sometimes selling 1,000 items in a day during peak seasons. They also ran four retail locations that helped spur the East Coast paint-your-own pottery craze. In 2007, they sold Our Name is Mud to a Chicago-based company called Enesco. Lorrie still serves as creative director and senior designer of the company. (The office for her day job is just up the stairs from her studio.) Standing on the first floor of the 650-square-foot workspace, which is located in a converted colonial house, Lorrie says, "I live in the handmade world in the studio down here, and go upstairs to my day job and work for a multimillion dollar company that sells my [mass-produced] designs."
As Kip prepared tea in Lenny Mud's signature mugs, Lorrie gave Seller Handbook writer-editor Julie Schneider a behind-the-scenes tour of her studio space.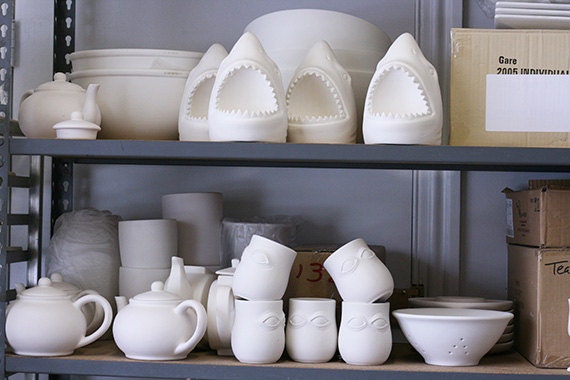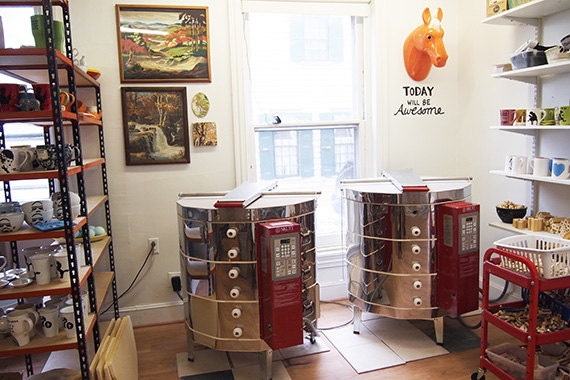 Lenny Mud's distinctive ceramic pieces are made using a blend of processes, including wheel throwing, hand-building, ceramic blanks and upcycled thrift store dishware. Next, Lorrie adorns the pieces with decals, transfers and free-hand painting.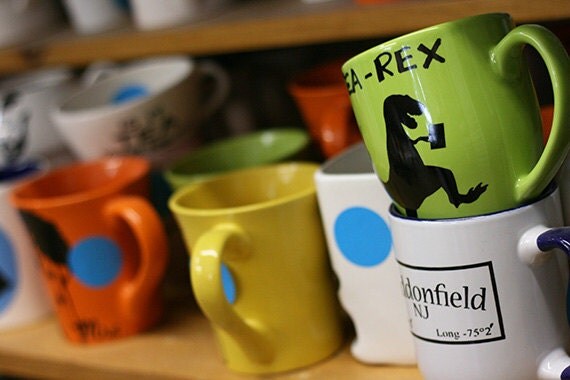 Even though late winter snow was still on the ground at the time of our tour, Lorrie was already producing items for the 2014 holiday shopping season. "When I first make a design, I make a minimum of three of them," she explains. "Based on how quickly they sell, they either become a staple design (and get a blue sticker so I can remember what they look like and can duplicate them each time exactly) or go upstairs into a hall of shame that gets donated yearly."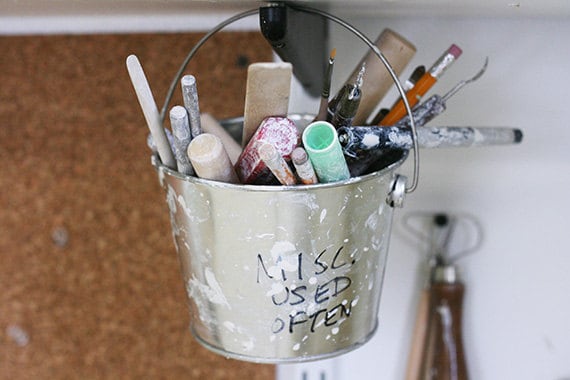 As a business grown in the notoriously tight real estate of New York City, Lorrie is an expert at adapting to space constraints. Her first studio was in a small one-room commercial basement office in Manhattan. "The upstairs neighbor was so paranoid about having a kiln below him that my husband and I agreed to switch apartments with him," she says. "We went from a large, four-room railroad apartment to a tiny studio and had to get rid of almost all of our possessions. It was oddly freeing." Lorrie's top tip for managing studio time and tools? "Do the thing you least want to do first. If you haven't used something in six months, it should be packed up and put away. If it's not used in another six months, donate it."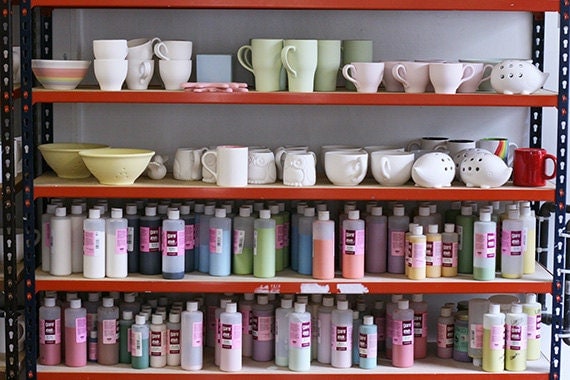 The Veaseys moved from New York City to Haddonfield about three years ago to live closer to Kip's family and stellar schools for their two children. Since then, Lorrie has completely rearranged her studio space six times. To stay organized and inspired, she re-evaluates her priorities on a regular basis, thinking in terms of little steps. "Your studio space should be able to grow and change just as you grow and change," she says. "If you can make it zombie proof, that's a bonus."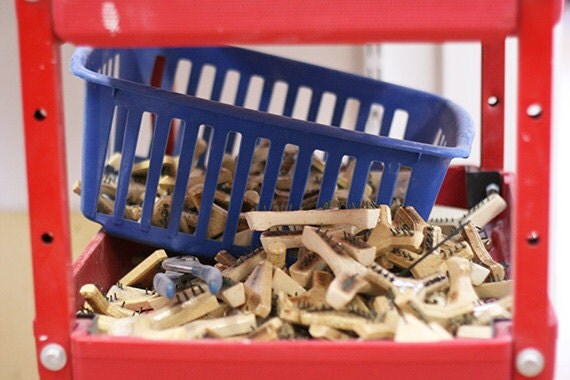 For example, the stilts she uses to support ceramics being fired in the kiln used to take up two shelves. Now, she stores them on a cart with wheels. "I tried to make things more movable," she says. "The biggest lesson I learned is that the only constant is change. I try to reorganize with flexibility and adaptation in mind. Everything in the studio can be relocated tomorrow, except those darn kilns."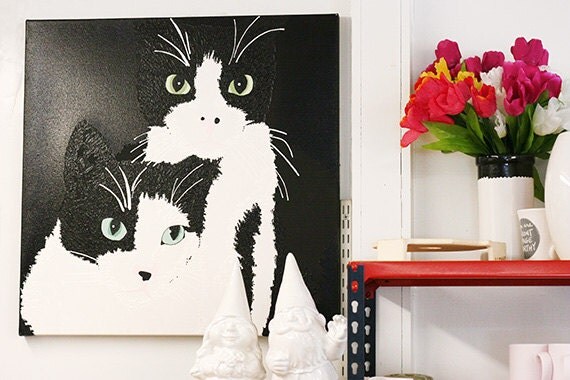 The Etsy shop is named after the Veasey's studio cat, Lenny, who fell into a bucket of glaze when he was a tiny kitten. "He was swimming around for half an hour before anyone noticed and he almost drowned," Lorrie says. "As a result, he lost the ability to accurately judge the distance between objects." In her studio, she adds, the expression "like a bull in a china shop" could be revised to "like a brain-damaged tuxedo cat in a clay studio." These days, Lenny doesn't hang out in the studio. At age 16 (or 81 in human years), he has retired to the Veasey's home, which is a five minute drive from the studio, to live out his golden years.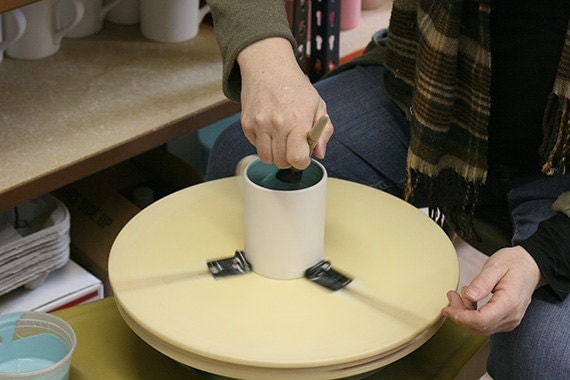 At work in the studio, Lorrie applies bold blocks of colors to her pieces using a banding wheel. While holding a brush laden with glaze against the interior of a mug and slowly moving the brush up toward the rim, she presses the pedal of the banding wheel. The centrifugal motion of the wheel works with the glaze brush to create an even layer of color.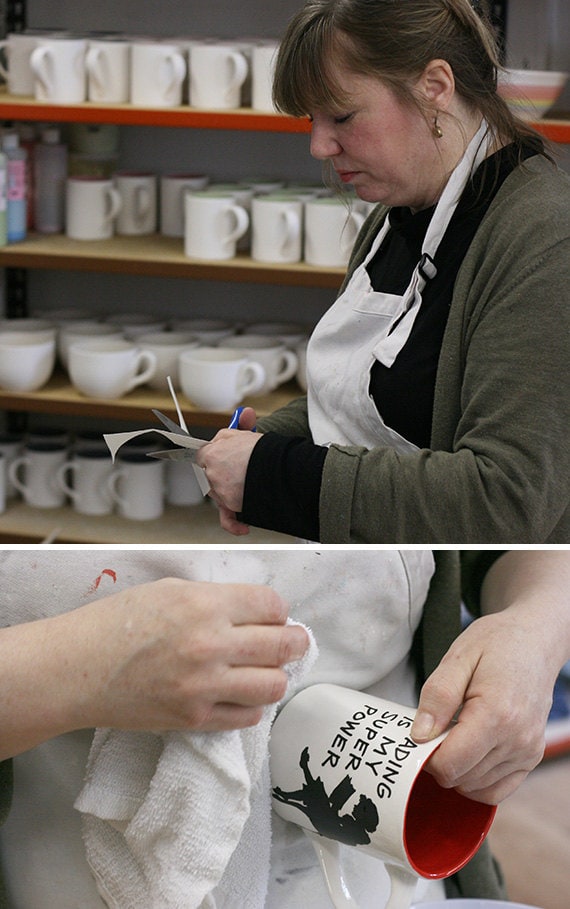 Decals are one of Lenny Mud's secret weapons. Lorrie designs the imagery, prints it out and runs it through a decal machine. She then cuts out each decal and submerges it in a bowl of water. When the decal floats away from the backing paper, it is ready to be applied. She places the decal on the mug, using a clean rag to carefully smooth out any air bubbles. After wiping the mug dry, she brings it to the kiln.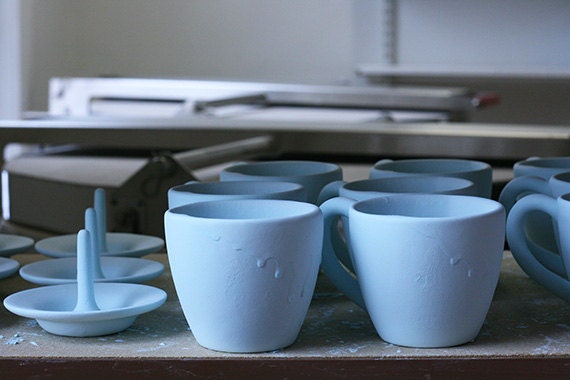 All earthenware pieces are coated with a blue glaze that will come out of the kiln clear after firing. Lorrie smooths out any drips in the glaze before placing a piece in the kiln. A load typically spends about 16 hours in the kiln, including 11 to 12 hours to fire the glazes to temperature followed by four to five hours for the ceramics to cool. The process often takes longer, but Lorrie has gamed the system with her efficiency superpowers.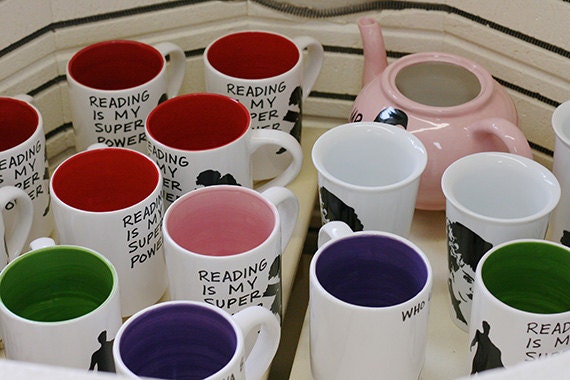 Lorrie's efficiency doesn't stop with her clay work — it extends into her shipping workflow, too. She has set up her studio's mailing area so that she and Kip can get an order in ship-shape in less than two minutes. First, they wrap sold items in a protective bubble wrap envelope. Then, they press the button on their Ranpak machine, which spits out brown paper to fill the box and further protect the ceramics in transit. After the shipping label is applied and the branded box is taped up securely, the order is ready to go off into the world. To help speed things up further, they pre-pack popular sellers.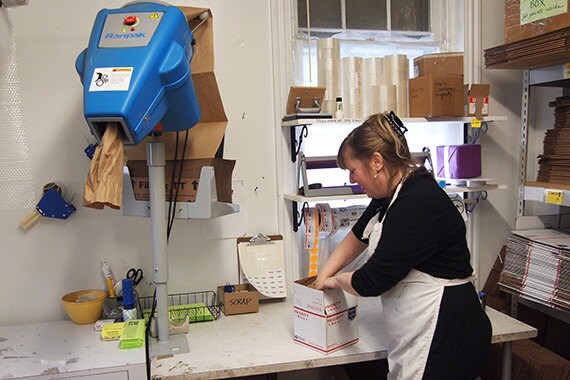 The Veaseys recently opened Ex-Machina, a brick-and-mortar store in Haddonfield. It serves as a gift shop (largely stocked with products from the Etsy New York team), art gallery, paint-your-own-pottery craft space and a spot for gatherings, including an upcoming meeting of local Etsy sellers. Through the shop, the Veaseys aim to support local artists,  build a creative community and share the business smarts they have gleaned from years of hard work. Their generous spirit shines through in their new store, as well as their approach to Lenny Mud.  "For every one thing I give away, I get ten things back in return," Lorrie says. "I never set out with that intention, but it always works out that way in the end."
What is your favorite studio-wall-worthy saying? Share your most inspiring quote in the comments.