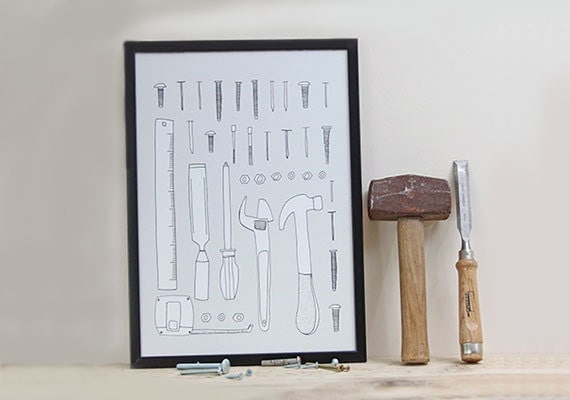 Have you assembled your own virtual toolbox of go-to sources for managing and improving your shop?
After checking in with Etsy Admin and sellers from around the world to ask for their nominations for the most useful on-site resources for making Etsy shops thrive, we compiled the following list of the top 10 tools (in no particular order). Don't see your favorites? Chime in with a comment or join the discussion in this Etsy Success Team thread.
1. Shop Stats
Do you ever wonder how you're getting found on Etsy (or why your items aren't so search-friendly)? Shop Stats allows you to see where your views are coming from, the most-viewed items in your shop, and the keywords shoppers use to find your items in Etsy Search and other search engines. "For example, I found that more people look at the felted animals in my shop than my tea cozies, so I made more of those and am now selling more," says Holly from TheWanderingEwe, a Maryland-based shop that sells handcrafted wool items.
Lisa from HoneyLemonDesigns says she tries to improve her search rankings by tweaking her item tags. "The insights I get from Shop Stats are helpful, because I can see what's working and what isn't," says the Utah art prints seller.
To view your own statistics, go to Your Shop > Shop Stats.
2. Etsy Mobile App
Are you a busy businessperson with places to be and people to see? If you want to manage your shop on the go, Etsy's mobile app is the tool for you. Some sellers (like Sol Maldonado of bySol, a South American digital items traveling seller) use the mobile app to answer Convos and edit item photos on an iPhone (read Top Tips for Smartphone Photography for details).
Others merely enjoy the instant gratification of hearing a "bing" sound every time they make a sale. The iPad and iPhone apps are available for download from the Apple App Store. Visit Etsy's mobile page for more info.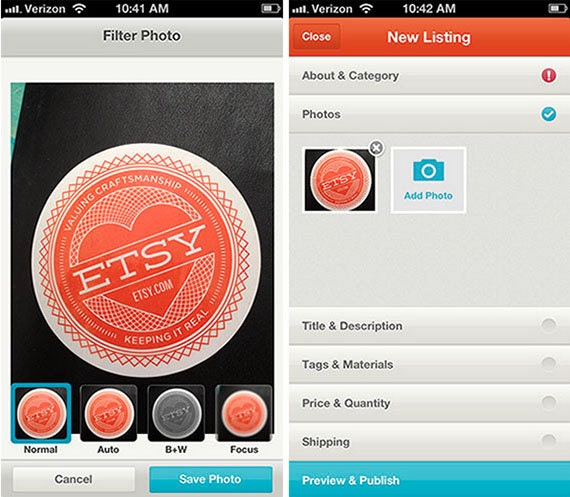 3. Shipping Labels
If you're a US seller, you have access to this onsite postage tool for shipping domestic and international packages. Shipping Labels can be big time-savers that make it easy to organize your shipping records. And, get this: Shipping Labels include tracking numbers, postage is available at discounted rates, and, um, you don't have to wait in line at the post office.
"Etsy shipping labels makes it so easy when you have those first-sale nerves — especially when shipping international," says Sarah from Birchmoonrocksfibers. "I had no idea (and still don't) how to do customs forms — I love that Etsy does it for me. I just fill in the blanks."
Access labels by clicking Print Shipping Label in your Sold Orders. Read more in this comprehensive guide: 4 Steps to Shipping Success.
4. Forums
Want to talk shop with new and experienced Etsy sellers to discuss just about everything from marketing tips to technical troubleshooting advice? Etsy's Forums are a great place to join a conversation with sellers around the world.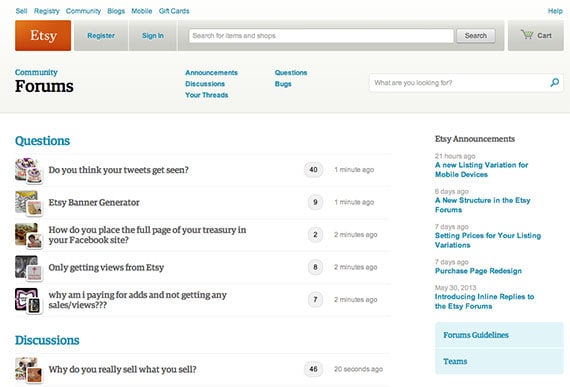 5. Teams
Vintage Etsy Society, SASsy Critiques, Wired — these are just a few of the thousands of Etsy Teams that connect and network over common interests and selling techniques. "I started selling 16 months ago and joined many teams — 8,147 sales later, I'm grateful that I joined them because that's where I've learned everything," says itrhymeswithorange from PartyHQ.
Read How to Find Teams to Grow Your Etsy Shop and visit etsy.com/teams to find the best teams for you.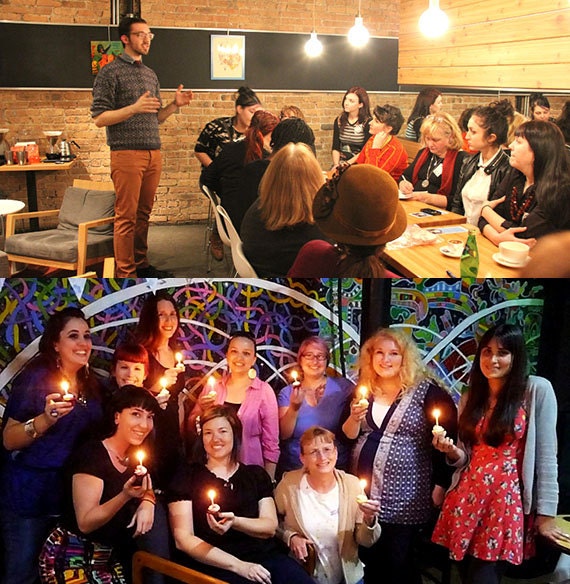 6. Etsy Success Newsletter and the Seller Handbook
Do you want to stay in the know about the latest Etsy tools and advice for growing your business? Sign up for Etsy Success, the twice-weekly newsletter that highlights the latest seller tips from the Seller Handbook blog. For a deep-dive into the the back catalog, explore the categories on the Seller Handbook.
7. Etsy Search
Etsy's Search bar not only helps buyers find what they're looking for, it also helps sellers perform market research. Here's how: Start typing words to describe what you sell in the Search bar. The words that appear are popular customer search terms. This will give you the exact keywords and phrases shoppers are searching, so be sure to use words that are relevant to your product in your titles, tags, and item descriptions.
Read more search tips in this Seller Handbook post: How to Get Found in Search
8. Listing Variations
If you're a fan of saving time whenever possible, you'll love Listing Variations, because they reduce the likelihood of multiple conversations about an item and ensures that you can begin making or shipping an item as soon as an order comes in.
Use Listing Variations to offer a variety of options within the same listing (for example: different sizes and colors of jewelry). If one of your variations affects the price of an item (say, a larger size being more expensive), you can add pricing to your first variation. Add the variation that will affect pricing first if you wish to offer pricing on your variations. Read more about Listing Variations in this FAQ.
9. Coupon Codes
Looking for savvy marketing moves? Coupon Codes are a clever way for Etsy sellers to generate repeat business, and a popular choice among new sellers trying to put their stake in the ground. For tips, read Encourage Repeat Business With Improved Coupon Codes or watch this video: Etsy Success Series: Keep Buyers Coming Back (Coupons).
10. Seller Apps Page
From EtsyOnSale to Virb Websites with Etsy Integration, etsy.com/apps is a hub of third-party apps to help you make the most of your Etsy shop.
Ready to open your Etsy shop? Get started today.